Japanese whiskies were first modelled on Scotch whiskies and are produced in much of the same way. However, despite both calling it 'whisky' (without the 'e' as per the Irish and Americans) there are differences in places….
As reported on the WHISKY magazine article entitled 'Japanese Zen' (edition 138/ 2016), up until the mid-60's, all Japanese blended whisky were made with 'blending alcohol' (neutral spirit that mostly never touched any wood) rather than single grain whisky as defined in Scotland. This came out of necessity at the time and eventually it changed. As per the extract from the magazine:
In 1964, Masataka Taketsuru brought a Coffey still over from Scotland and started making proper grain whisky.
Over time other Japanese whisky producers also moved to producing grain whisky and 'blending alcohol' was phased out even though it remains legal to use in the production to this day.
Other differences which remain in place between Scotch whisky and Japanese whisky are:
Chief blenders in Japan create their blends to work well when drunk in a long drink i.e. such as a highball
During fermentation, a wide variety of yeasts are used by the Japanese. These yeasts have different characteristics and some even grow and create their own strains e.g. Suntory and suntoryeus lactobacillus
Low pressure distillation, sometimes naturally induced by high altitude, is used in Japan with a lower boiling point (note that Girvan grain distillery in Scotland also works with lower boiling points)
Japanese whisky tends not to be as peated in flavour as Scotch whisky
One of the interesting dynamics of the Japanese whisky industry and one which creates a remarkable difference against Scotch whisky, is that the Japanese tend not to swap whisky stocks. This is common practice amongst other traditional whisky producing countries as highlighted in the WHISKY magazine article, with the entire palette of components for blending having to be produced in-house. The Japanese whisky companies have to be self-sufficient and produce what they require for their products. The exception is the smaller companies which do not have their own grain distillery and import from abroad, mainly from Canada. As the Suntory Chief Blender Shinji Fukuyo says on the magazine article:
Blenders in Scotland usually blend whisky from many distilleries, not just their own. We, however, start from distilling our own 'unblended' whiskies. We can decide what type of whisky to distill depending on the blending plans. Being able to make whisky from a blender's point of view is a salient characteristic of Japanese whisky making.
Interestingly, as I have found out recently, there is at least one distillery in Scotland with the capability to produce different styles and types of Scotch whisky in one single location: Loch Lomond Distillery (some pictures below). This is because it has a number of different types of stills and it can produce both single malt and single grain scotch whisky on the same site. Pictured below is a copper pot still with a rectifying head on the left and on the right a more traditional looking copper pot still.
The distillery is owned by the Loch Lomond Group, a company which is an independent distiller and blender with heritage dating back to the start of Scotch whisky production. It has a history of continual innovation and development of its production capabilities to enable a degree of self-sufficiency unmatched in Scotland. This is different to Japanese whisky and its high degree of self-sufficiency (at least for the biggest players, Suntory and Nikka) but also differs to most other Scotch wh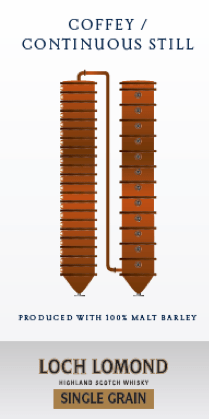 isky distilleries.
One of the stills used at Loch Lomond Distillery (graphically represented here) is a Coffey/ Continuous still, with copper on the inside and producing Scotch whisky only with malted barley. This would be a single malt if it was not for the continuous distillation process, rather than batch, and therefore it is called a single grain scotch whisky. It is also non-chill filtered.
The product is called Loch Lomond Single Grain Scotch whisky (below a picture of the travel retail packaging coming out in 2017).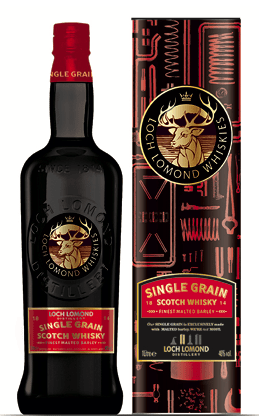 The Japanese produce a similar type of product, although it is called Coffey Malt whisky (which would not be permitted by SWA regulations in Scotland), such as the example below from Nikka.
Loch Lomond Distillery also produces a Blended Scotch whisky whereby all of the whiskies inside the bottle were distilled at a single location. This is possibly unique within Scotch whisky for blends. The product is called Loch Lomond Signature Deluxe Blended Scotch whisky and is made using a 100 cask solera process (below a picture of the travel retail packaging).
The Japanese and Scotch whisky industries have its differences and the Japanese are currently enjoying a share of the limelight through its products but innovation remains alive and well within Scotland also…
For the article on 'Japanese whisky and the links to Scotland' – please click on this link.