Monthly subscription boxes allows us to experience some of the best spirits the world has to offer as well as giving us access to hard to find new spirits, all this whilst also helping us create our own mixed cocktail drinks. Want to find a new way to impress your friends? Just check the list below and make your own choice based on budget, location and alcohol preference….
Some of these subscription clubs are specific to one spirit type (such as Gin in the UK) whilst others are more open and offer a wider choice, giving you the option to pick the spirit category or even to be more focused on cocktails for example. Beer and Wine are available also but I have focused on spirits only for this blog post.
For Reference: Direct to Your Door: Gin Subscription Clubs
Flaviar (price £45 every 3 months or £160 per year – available in the UK, EU and US also)
Flaviar is a "band of spirits enthusiasts, inspired by culture, rich history and the art of distillation. We forage the World of Spirits for the finest, rarest and most unique expressions out there and pack it all into a 21st century Members Club. You are what you drink, diversity and quality matter and all that should most certainly be enjoyed with style and in good company."
ILoveGin (price £14 per month – UK only)
The UK's #1 Gin and Tonic Club – they sell a monthly G&T subscription box, and help partner brands reach new fans through their huge online audiences.
Each month, Flavourly's team of top gin experts helps their community discover the best small batch craft gins from the most exciting distilleries in the UK (and beyond!).
Craft Gin Club (price £40 per box – UK only)
Jon Hulme and John Burke, business school friends who met while studying in Madrid, hit upon the idea for Craft Gin Club while reminiscing over some of their favourite Spanish-style gin and tonics in a London bar. The pair founded Craft Gin Club in January 2015 with the mission to reinvent the way gin lovers discover and enjoy new gins, all while supporting amazing craft producers. Little could they imagine the incredible gin journey they had in store!
In the summer of 2016, Jon and John appeared on BBC Dragons' Den, attracting offers from four Dragons before winning the investment of entrepreneur Sarah Willingham, who now works closely with the company as a member of its board.
Tiki Cocktail Box (price £50 for a box every 2 months – UK and Worldwide)
The Tiki Cocktail Box idea is the result of a discussion between two rum drinking Tiki loving enthusiasts. What started out as a conversation at a rum festival quickly snowballed and has how become a reality.
Bottle in a Box (price £40 or more depending on option of club – UK and EU only)
Bottle in a Box, as the name suggests, put bottles in boxes including in their subscription boxes. You can sign up to receive a monthly bottle in a box, containing the up and coming quirky spirits ranging from local micro-distilleries to worldwide newbies. Choose from Gin, Vodka, Whisky or Rum subscription clubs and discover exciting new drinks, packaged with premium mixers, delicious nibbles and cocktail cards specially centered around the contents of your box.
The Dram Team (price £27.50 per month – UK only)
Whether you're a curious newcomer to the world of whisky, or a seasoned professional, The Dram Team introduces you to a brand new world of whisky, plus delivery is direct to your door so you don't even have to leave the house! Each box is themed and comes with a high-quality set of whisky cards to give you a little drop of insight into the story behind the tipples you're enjoying, as well as some tasting notes. Prepare to be a whisky connoisseur in no time!
Pour & Sip (price £29.95 per month – UK only)
Pour & Sip was developed by the team behind Drinks by the Dram and Master of Malt, who love tasting new whiskies as much as they enjoy re-appreciating long-time favourites. They decided to take as many people as possible on this flavour adventure through the launch of Pour & Sip.
Each month, they'll curate a set of five 30ml tasters and ship them directly to your door. Every single dram will be hand picked, so you can be sure that each is a small measure of something wonderful.
Their live tastings happen twice a month and are a huge part of their culture and proposition, and hope to see you there so the Pour & Sip team can share their thoughts about the next drams. 
How Pour & Sip works:
1. Select how often you wish to receive your rolling subscription box; either monthly or every two months. We also have a 3-month subscription which is perfect for gifting.
2. In your very first box, you will get a how-to taste whisky card and your first five whisky drams, as well as a pair of tasting glasses as a little gift to welcome you to the club!
3. Your Pour & Sip box will arrive every first week of the month, so you can sit back and relax while we do the hard work – plus, shipping is always free for members. 
4. With your membership, you'll get access to our exclusive Member Store and you're also automatically enrolled in our rewards program.
Summerton Whisky Club (prices from £50 every 2nd month – UK and Europe)
Summerton Whisky Club is a members club established back in 2018 – the premise of the club is to provide access to full bottles of rare and unique whiskies delivered to your door every two months, for less than if you bought them yourself. Delivery months are February, April, June, August, October and December. This year there will also be a Summerton Virtual Whisky Festival in May 2020 – check out the video below:
The Dram Club (prices from £24.95 per month – UK only)
Online retailer Master of Malt is responsible for this service available for gin, rum and whisky. Each month subscribers receive five different 30ml samples and new members also receive a Welcome Pack containing two Master of Malt crystal tasting glasses, plus a free gift after 3, 6 and 12 months as a subscriber.
Whisky-Me.com (prices from £7 per month – UK only)
From £7 per month you can subscribe to receive a 'mystery' scotch whisky delivered in a 50ml pouch (see below). The drams have been selected to demonstrate the diversity of Scotch whisky by the founders.
Reserve Bar (prices vary from US$139 – US only)
Reserve Bar "was born out of the passion of its founders to allow friends and customers to celebrate and share good times in a uniquely American fashion – by giving the best of premium, reserve spirits, luxury champagne and fine wine as the perfect gift for any holiday, occasion or celebration."
"Faced with the need to send a gift of several bottles of premium vodka to a college friend, who lived across the country, the founders were frustrated to learn that no website existed that was devoted exclusively to gifting of spirits, wine and champagne that offered easy ordering; upscale gift packaging; and fast and reliable delivery."
Mash & Grape (prices vary from US$49 per month – US only)
Mashbox Club's aim is to help you to discover rare, small batch spirits from artisanal distillers around the world.
"Our passion is helping you discover better drinking, and celebrating the craft of exceptional artisans…Making this exploration easier is our job and we scour the planet looking for products that excite and amaze us, so that we can share them with you."
Taster's Club (prices vary from US$59 per month depending on club option selected – US only)
Taster's Club offers 11 different club options, each specialising in a different spirit, and each giving you background information like distillery history and tasting notes with every bottle. Gifting is also an option.
SaloonBox (prices vary from US$37.50 per month – US only)
Get craft cocktails delivered directly to your door – that is the premise from SaloonBox. SaloonBox is headquartered in San Francisco and partners with liquor retailers to sell and ship their cocktail kits across the US. SaloonBox launched in 2015 with a Kickstarter campaign, then shipped their first monthly kit in October of 2015. They've shipped over 20,000 cocktails since!
In 2012, while working at The Jefferson hotel in Washington, DC, Christopher Wirth teamed up with his friend and colleague, Massimiliano Matté, a renowned mixologist and nominee for the prestigious "Perfect Barman de Paris" award known for his collaborations with celebrated chefs like Alain Ducasse and Heinz Beck.
They founded American Juice Company with the goal of turning the evolution into a revolution by creating incredibly unique juice blends and making them available to every bar, restaurant, hotel, and home. The American Cocktail Club is their way of curating michelin-star quality cocktails for customers in the comfort of their home.
Cocktail Courier (price US$49.99 per kit – US only)
When you join Cocktail Courier, you'll get personalised cocktail kits featuring seasonal-award winning recipes from master bartenders.
Cocktail Porter (price from A$65 per box – Australia only)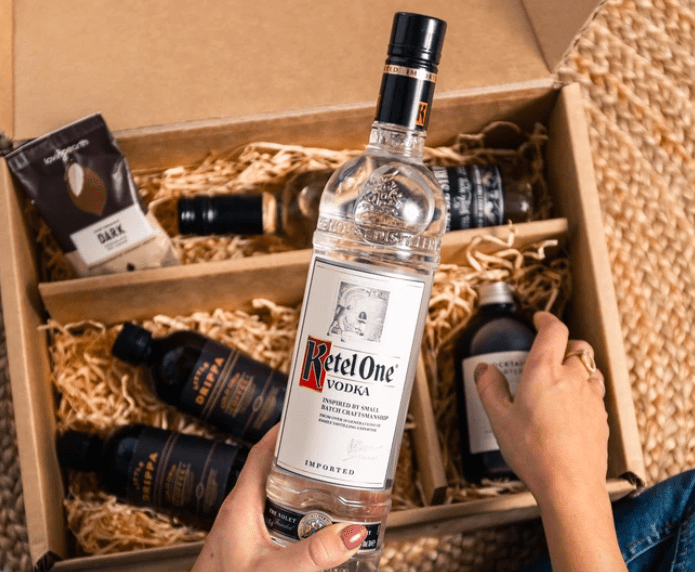 Cocktail Porter is only every cocktail lover's favourite new delivery service. Their team of bartenders create hand crafted cocktail kits and bottled cocktails so that you can enjoy bar quality cocktails in the comfort of your own home.
White Possum (price from A$59 per box – Australia only)
In every delivery, you'll find a bottle of Australian spirits and a tasting card. That's it, nothing complicated about it. White Possum spirits subscriptions are a great way to taste a wide range of Australian spirits.
MicroBarBox (price £29 per month – UK only)
Cocktail Club Member's get to try something new and exciting every month. Included is a combination of cocktails, spirits and mixers, bringing you new flavours and taste combinations in one delivery. There is a variety of artisan brands together with more widely-known favourites, sourced from the UK where possible.
TASTE wants to help you make bar-quality cocktails at home. They sell a range of cocktail kits and equipment to help you discover new ingredients and recipes, and find your new favourites. TASTE goes into detail about the history of your drinks and the story of the people who created them in booklets in the box, and through their online magazine.
The Cocktail Man is a seasoned mixologist working within the London cocktail scene, whose mission is to help you craft mouth-watering cocktails from the comfort of your own home. Every month you will receive all the ingredients needed to make four delicious cocktails, along with the signature garnish and a recipe card with instructions.
Tipple Box (price £25 monthly – UK only)
Tipple Box is a monthly cocktail delivery service, featuring premium ingredients each month, with ever-changing spirits sourced from the best distilleries across the UK. Rated as the UK's Best Buy Cocktail Kit by The Independent, the box also features snacks, insider cocktail knowledge and exclusive rewards & offers.
There are also some subscription boxes just requiring you to add the alcohol….
Shaker & Spoon (prices vary from US$40 per month – US only)
A monthly cocktail box with 3 unique recipes for 12 drinks and everything you need to make them besides the alcohol.
Finally, if you want to start your own Alcohol Subscription Box Company, then check out the advice found here by Evans Distribution Systems…