A combination between food and alcohol offers opportunities for new tastes of food and Müller yoghurt is the latest example of a food product using an alcohol brand and/or flavour to attract consumers. In this case, Müller is looking to capitalise on the gin boom in the UK with a new Müllerlight gin and tonic-inspired yogurt. Containing 0.5% gin, the fat-free yogurt contains no added sugar and is said to be high in protein. Here are some other examples….
The existence of alcohol flavoured food is nothing new, in fact there is a long tradition of using alcohol with food in meals and desserts. Examples include 'coq-au-vin' with wine and 'tiramisu' with Marsala, Madeira wine or other liquors. Other more unusual products have also been available on the market for a long time. One such example was whiskey flavoured toothpaste, already available since the 1950's.
Other more recent and unusual examples include the food spread Marmite and their limited releases, such as champagne-flavoured and Guinness-flavoured editions.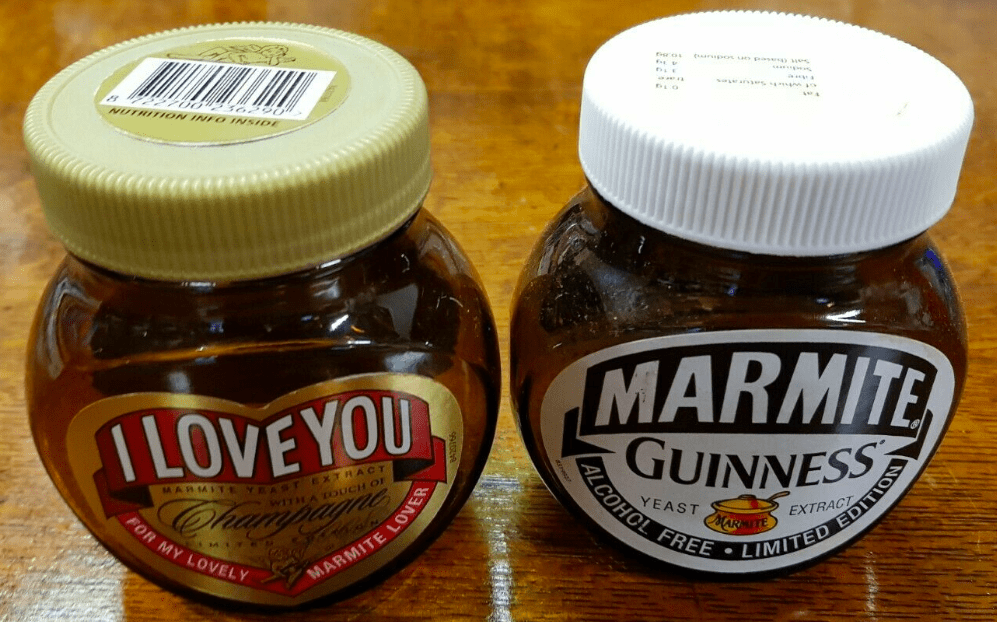 YOGHURTS
Aside from Müller's recent launch, other brands of yoghurt have also tried to tap into this consumer demand bringing food and alcohol together for enticing new flavours.
"Müllerlight is one of the nation's favourite yogurt brands, but with constant shifting consumer behaviour we need to find smart ways to grow the brand and drive category growth," Michael Inpong, Müller chief marketing officer
Organic dairy brand Rachel's expanded its Greek-style yogurt range in 2018 with the launch of a limited-edition strawberry and champagne variant (pictured below). In the previous year, Rachel's launched a Greek-style lemon and gin yogurt, the brand's first foray into alcohol-infused yogurt flavours.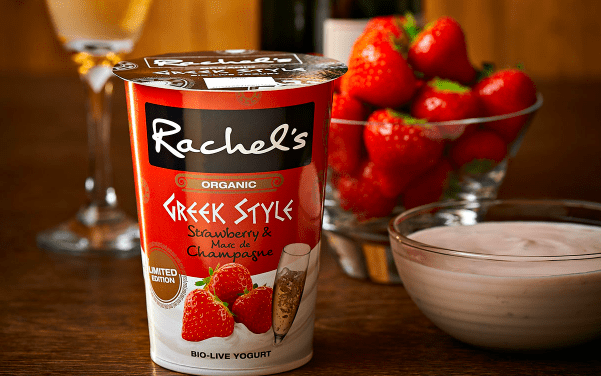 BISCUITS/ CAKES
In Australia, Arnott's (owned by US food giant Campbell's) produced Tia Maria flavoured Tim Tams chocolate biscuits and also Kahlua flavoured mint slices biscuits. The biscuits contained 0.1% alcohol.
In the US, Baking powder manufacturer Clabber Girl Corporation has released non-alcoholic Baileys-flavoured baking chocolate chips in 2018.
Another baked product comes from Brodies of Edinburgh, in this case a Whisky Cake. This delicious single malt whisky fruit cake has been baked in a traditional oven, from the finest ingredients.
CHOCOLATE
The association between alcohol and chocolate is an obvious one and has been in place for quite a while, a more recent example comes courtesy of Cacao di Vine in Portugal. Their 'wine chocolate' product is packed in a solid tube made with 100% original Portuguese cork, taking advantage of the corks's thermal qualities.
In Japan, Nestlé launched a limited-edition sake-flavoured KitKat, combining "chocolate with the mellow body and smooth aftertaste of sake" at 0.8% alcohol.
There are also plenty of examples of alcohol brands associated with chocolate, such as Malibu premium chocolate made by Turin, and Finnish company Fazer with chocolate made with Finlandia vodka.
Swiss chocolate company GOLDKENN has an even wider Liquor Collection offering well-known brands such as Jack Daniel's, Rémy Martin, Cointreau, The Famous Grouse, Amarula, Captain Morgan, and many others.
FROZEN (ICE CREAM/ SORBETS/ ICE LOLLIES)
The world's first ice cream with alcohol was launched on the Dutch market back in 2003. The alcoholic version of Freaky Ice contained 4.8% alcohol and available in different flavours such as: Red Vodka Energy, Cocktail, Tequila & Lime and Energy.
More recently, Häagen Dazs launched the Spirits Collection, a variety of alcohol-themed ice cream flavours at less than 0.5% alcohol including: Rum Vanilla Caramel Blondie, Whiskey Chocolate Truffle, Irish Cream Coffee & Biscotti, Vodka Key Lime Pie and Rum Ginger Cookie.
The first wine based sorbet was launched by Wine Cellars Sorbets back in 2006 with the target market being adults. Flavours were not particularly sweet and included examples such as Pinot Noir, Riesling and Champagne.
Blending high-end Belgian ingredients with alcohol to create a range of cocktail-inspired ice creams and sorbets, LiQ is a new frozen product launched in 2019 offering a lower sugar alternative with a hit of alcohol up to 5% ABV. Alcohol used includes amaretto, limoncello, rum, bourbon, etc.
There are quite a few alcoholic ice lolly cocktails for adults (or Poptails) available in the market and these were covered on a previous Inside the Cask blog post: 'It's Summer…time for a frozen cocktail?'
POPCORN
The UK company Joe & Seph's has a number of gourmet popcorn products made using real alcohol 5% spirit and their range include cocktail inspired flavours, as well as Prosecco and Gin & tonic amongst others.
FOOD SPREADS AND CHEESE
Aside from Marmite and the examples already shared with Champagne and Guinness, other unusual food spread products combining alcohol and food include those available at Firebox online such as Spreadable Rum (spiced rum marmalade), Spreadable Gin (gin & tonic marmalade) and the Gin Gift Set, Beer Belly Jelly (spreadable beer), Spreadable Pornstar Martini (vodka & passion fruit marmalade) and the Spreadable Whisky (single malt marmalade).
Isle of Kintyre Cheese in Scotland has a few products combining the local cheese with Scotch whisky such as their Glen Scotia 15yo Whisky Cheese Mature Cheddar. Combining their superior cheddar with Glen Scotia 15-Year-Old single malt, distilled in Campbeltown, the subtle notes of vanilla and aromatic fruits in this whisky bring new depths to this delicious cheese.
SWEETS
In the US, sugarfina collaborated with Casamigos tequila to create "a new line of tequila-infused candies" containing at most 5% alcohol.
They also produce a 'Cocktail Candies' range including Champagne Bears (grown-up gummies made with Dom Pérignon Vintage Champagne); Rosé All Day Candy (gummy bears and roses infused with real rosé wine); Tito's Handmade Vodka Candy Collection (gummy bears infused with vodka) and many other examples, including Single Malt scotch cordials of a chocolate shell with a liquid center of scotch whisky.
In the UK, you can purchase alcoholic gummies at 7% alcohol from Smith & Sinclair. All of their gummies are made with fresh fruit, herbs, premium spirits and syrups mixed and coated with garnish infused sugars.
As the name suggests, The Marshmallowist is all about marshmallows and they have a 'The Boozy Ones' gourmet collection crafted from fruit, organic herbs and boutique alcohol. The collection includes Raspberry + Champagne (made using  premium rosé champagne); Spiced Tomato + Vodka (the world's first Bloody Mary marshmallow); Blueberry + Gin (crafted from Sipsmith Gin).
Confectionery brand Jelly Belly also has an alcohol flavoured jelly bean, the 'Cocktail Classics Gift Box' aimed at adults with flavours such as Pina Colada, Strawberry Daiquiri, Mojito, Peach Bellini and Pomegranate Cosmo, although there is no actual alcohol in the product.
CRISPS/ SNACKS
Scottish firm Mackie's created the world's first whisky flavoured crisps back in 2014. The whisky & haggis-seasoned crisps combined flavours of sherried whisky Aberlour a'Bunadh, The Famous Grouse and single malt Talisker for a "spicy" note.
Other crisps examples include Burts' Guinness hand cooked potato chips and also Hobgoblin Spit Roast Steak flavoured crisps; Beef, Red Wine & Shallot seasonal edition crisps from Kettle Chips; Gin and Tonic flavoured crisps from the retailer Aldi; Winter berries and Prosecco hand cooked crisps from Marks & Spencer.
On the Pretzels, there is Whiskey Stix by Kathy Boswell at Udoughgirl in Ohio, USA. These dark pretzels are covered in a coating made of a blend of sugars, spices, and whiskey. All of the alcohol is completely cooked off during the production process.
COFFEE
The Edinburgh Tea & Coffee Company has a whisky flavoured ground coffee available bringing the delicate nutty flavour coffee with traditional Scottish Whisky flavour.