The BBC show in the UK has been broadcasting since January 2005. It allows several entrepreneurs an opportunity to present their varying business ideas to a panel of five wealthy investors, the "Dragons" of the show's title, and pitch for financial investment while offering a stake of the company in return. But who were the alcohol drinks brands that stepped up to the Den?
Series 20 has finished airing in the UK in 2023 and I have tried to add any drinks brands as they appeared on the show…up to episode 14!
Scotch Galore Whiskies, the 'auction alternative' collectable whisky company (2023)
Husband and wife duo Steven and Jacqueline Pyne brought their whisky company to Dragon's den in episode 14 of season 20 looking for a £65,000 investment for 10% equity in their family business, started in 2019.
The family business provide a free-to-use online platform for buying and selling whisky, earning a small commission on each exchange. Unfortunately, no investment was forthcoming on this drinks related pitch, which took place on the last episode of series 20.
Quarter Light G/N – the light spirits brand (2023)
Fabian Clark and Rohan Radhakrishnan came into the den in episode 13 of season 20 promoting their low alcohol spirit brand Quarter Light G/N, originally launched at the end of 2021. They were looking for an investment of £50,000 for 2% equity but received offers from two of the Dragons (Touker an Debra) at a higher equity than they were willing to concede so left empty handed.
The Potions Cauldron inc. Enchanted Real Butterscotch Beer 4.5% abv (2023)
Phil Pinder and Ben Fry are the founding wizards behind this drinks wholesale business which also includes the Hole in Wand Wizard Golf in Blackpool and York and the Potions Express in York. Their drinks brands include Enchanted real butterscotch beer, Spellbound beer, as well as rum, vodka, scotch whisky and other drinks. The pair came into the Dragon's Den in episode 12 of season 20 looking for a £200,000 investment in exchange for 5% equity. They received an offer from Peter Jones but were not prepared to agree on the equity that he was looking for at 15% once he got his investment back within 12 months.
Gasm Drinks Champagne-style cocktails (2022)
Richard Davies and his stepson Tommy have created an alcoholic cocktail range, combining prosecco fizz with fruit gins and they came into the Dragons' Den in episode 13 of season 19 offering 15% equity for a £50,000 investment.
Gasm Drinks currently produce a range in three flavours, their drinks are the raspberry-flavoured Razz Gasm, plum-flavoured Plum Gasm and a Sloe Gasm, however, despite the positive comments on the product, they left the den with no investment secured.
Panther M*lk Alcoholic Oat Milk (2022)
Paul Crawford, former owner of Glasgow's famous Sub Club and now CEO and founder of alcoholic oat milk brand Panther M*lk, brought his brand to the Dragons' Den in episode 12 of season 19. Paul originally discovered the drink in Barcelona, and launched his Panther M*lk brand in 2014 via a secret pop up bar. The drink was inspired by 'Leche De Pantera', a potent cocktail that has its origins in the hedonism and indulgence of 1920's Spain. 
Paul came looking for a £50,000 investment in exchange for a 7.5% stake in his business. He left with a deal made with Deborah Meaden, but in exchange for 25% share of the business.
Floreat Sparkling Botanic Wine (2022)
Low alcohol herb-infused sparkling wine Floreat was the product being offered on episode 9 of season 19. Entrepreneur Anne-Marie Hurst, accompanied by her partner Christian, is a medical herbalist and she pitched her low calorie wine with sulphates and high in biodynamic botanicals to the Dragons. Anne-Marie was offering 5% of her business in exchange for £50,000, however she left the Den with no investment.
German-born Max Rüther from O'Donnell Moonshine came to the Dragons' Den in episode 8 of season 19 to bring his handmade spirits from Manchester, inspired by the bygone age of American Prohibition. The name comes from the leader of one of the most infamous Moonshine gangs in Chicago – Mr Spike O'Donnell.
Perhaps Dragon Peter should have checked the alcoholic content (of 25% abv) before drinking it straight from the bottle, as his reaction on the picture below shows. However, Peter really liked the concept behind the hooch brand, at least until he and the other Dragons found out that the opportunity presented was on the UK business only, rather than the parent company based in Germany. So Max ended up leaving the Den with no investment. 
Berczy Alcoholic Sparkling Water (2022)
Old friends Nick Johnson and Nick Graham were hoping to capitalise on the growing popularity of alcoholic sparkling water, also known as hard seltzers in North America, where they first spotted this trend. They pitched their all natural British brand Berczy in episode 5 of season 19.
Despite the initial positive feedback towards their product, the pair left with no investment from the Dragons.
This functional non-alcoholic beer was developed by Mark Wong who was looking for an alternative to beer after being diagnosed with alcohol-induced liver damage. He presented the 0.5% abv beer (which is classified as non-alcoholic) to the dragons on episode 4 of season 19 as he was looking for £50,000 for 10% of his business, but despite some excellent feedback, he left the den with no investment. 
Founders Vaani and Keeran appeared on episode 2 of season 19 of the show, looking for investment in their beer targeted at women, created to change perceptions that beer should only be drunk by men. However, due in part to their high product price relative to competitors, the couple were not able to secure investment from the dragons.
Tom Hurst came into the Dragon's Den looking for a £25,000 in exchange for a 2% share of his premium rum business, Rockstar Spirits, in episode 11 of season 18. He managed to secure Tej Lalvani and Touker Suleyman by conceding a higher share of 8% split between the two dragons. 
Owner Deborah Lockhart was looking for £50,000 in exchange for a 10% share of her business, a company specialising in upmarket organic, fair-trade products with environmentally conscious packaging. Her product range includes tea, coffee, hand-sanitizer and gin. She asked the Dragons for £50,000 in exchange for a 10% share but left the den without the investment. Since appearing on Dragon's Den, the company has rebranded as Naked & Noble.
Entrepreneurs Thomas Aske and Tristan Stephenson secured a £75,000 investment from Deborah Meaden, Peter Jones and Tej Lalvani in episode 7 of season 18, for their whisky pouch subscription club, Whisky Me. 
Kate Darracott and her husband and co-owner Graham Darracott appeared on episode 6 of season 18 and although they left the den with some new customers, no investment was forthcoming from the dragons.  For any drinks brands wanting to take part in the programme, they have also created a blog post on 'How to apply to be on Dragon's Den'.
Established in October 2019 by two Scottish brothers, Double Trouble Drinks made a brief appearance during episode 3 of season 18. This family run drinks company targets the darts community and were not able to secure any investment from the dragons.
The Genius Brewing team of Charlie Craig and Jason Clarke pitched their low calorie, light craft lager to the Dragons in episode 2 of series 18. The craft beer entrepreneurs were seeking £120,000 of equity funding to expand their Glasgow-based business and they managed to receive an offer from dragon Tej Lalvani, who wanted more equity than they were willing to concede. 
Former village pub landlord Paul Stanley, failed to secure investment from the Dragons in episode 1 of series 17 for his Cloven Hoof Spiced Rum. The product is made with rum from Guyana and Trinidad and is produced in Chorley. It is a blend of rum made from the wooden pot still at the Diamond Distillery in Guyana where it is part aged in bourbon casks and caramelised, and blended with a lighter column still rum from Trinidad. Then infused with a mysterious concoction of natural spices, including cloves, star anise and cassia bark.
"I got bored of selling, cheap mass marketed corporate rum with a fake Caribbean history and standard vanilla flavourings, so I decided to make my own." Paul Stanley
"After years of experimentation in the George and Dragon's kitchen the concoction evolved until finally I felt inspired enough to go to market. Cloven Hoof Spiced Rum was launched at Rumfest in London back in October 2016 and now it's become the fastest growing spiced rum in the UK. The feedback was amazing and since then sales have rocketed"
The twins Daniel and Ben pitched their Cranes cider and cranberry Gin drinks business for investment on episode 5 of Dragons Den series 17.
Cranes Drinks launched in 2012, began as a part-time venture by the brothers. Their product portfolio includes; a range of 4% alcoholic ciders; a hand-crafted Cranes Cranberry and Blood Orange Liqueur and most recently, their Cranes Cranberry Gin.
"To start the business in 2012, we used our own savings which came from the gardening business we had set up. To help aid the growth of the business and our core product lines we set up our first wave of crowdfunding in 2016." Dan Ritsema
The brand was founded in 2017 by Mark Smallwood and Liam Manton (pictured above) and secured £75,000 investment for 33.3% of their business from Hyde-born businesswoman Jenny Campbell.
"Didsbury Gin is all about Mark and Liam. They instantly drew me in with their charm and I thought this could work. I also went to school in Didsbury so I thought that was a good omen! They knew their product and the numbers behind the business, they stood their ground when my fellow Dragons attacked and most importantly I liked them." Jenny Campbell
Camilla Brown and Liz Beswick (pictured above), co-founders of brand owner Young in Spirit, secured £50,000 investment for 30% of their business from Tej Lalvani, the CEO of vitamin giant Vitabiotics and Touker Suleyman, fashion retail entrepreneur and investor.
Scottish entrepreneur Stuart Ingram (pictured above) accepted a £80,000 offer on the programme for 10% equity in his business from business tycoon Peter Jones, but later decided to walk away from the potential deal.
The company's managing director Peter Smith (pictured above) moved to Spain in the mid-90's and pitched his company to Dragon's Den including the food side of the business, all of the products contain Tiger Nuts. This means the liquor is dairy, lactose, gluten and nut-free (note tiger nut is not actually a nut despite the name!) and perfect for lactose intolerant/vegan nut allergy sufferers who can't have vegan Baileys as it contains almond milk.
Peter was looking for a £100k investment in his company and although he did not secured the funding, he gained invaluable advice from the Dragons and decided to focus solely on the liqueurs side of the business going forward.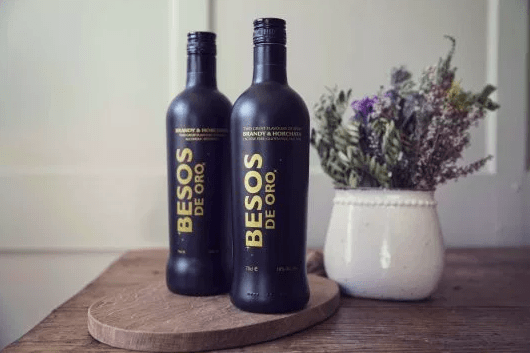 NOVELTEA Alcoholic Tea Blend (2018)
German co-founders and tea mixologists Vincent Efferoth and Lukas Passia (pictured above) were drawn to the Brits' passion for tea and alcohol. NOVELTEA takes the finest tea leaves and spirits from across the globe to produce the finest blends imaginable. It's traditional tea with a twist. 
Three Dragons offered £80,000 for 30% stake in their business which was rejected by the duo. Days after the show they completed a crowdfunding campaign which raised a whopping £342,000 for roughly 9%, giving their company a valuation of around £3.8m.
Co-founders Jon Hulme and John Burke (pictured above) secured an investment of £75,000 for a 12.5% stake from Sarah Willingham in their subscription box service business delivering monthly artisan gins and sparkling wines, along with snacks and magazines, to subscribers.
Managing director Jo Hilditch turned down offers of £50,000 from three of the Dragons in the BBC series Dragon's Den, who each wanted a 30% – 40% stake in the company.  It has also been relaunched under the auspices of parent company White Heron Brands.
Rocktails Frozen Vodka Cocktails (2012)
Naomi Kibble, and Helen McAvoy of Rocktails (pictured below) walked away from an offer of £80,000 for a 40% stake in the business offered by Peter Jones and Duncan Bannatyne, back in 2012. However, I could not find information on the brand and products except for the Alcohol-free products from Rocktails.
For Frozen cocktails, see the Inside the Blog post: It's Summer…time for a frozen cocktail?
Wine-in-a-Glass (2009)
James Nash's idea of a single-serve plastic glass of French wine with a tear-off lid was dismissed by the Dragons back in 2009. He was looking for a £250k investment for a 25% stake in his business. However, the product was later picked up by M&S and went on to experience growth and success.
If I have missed any drinks brands featured on the show – please let me know by contacting me!