The global sport of football is one of intense passion, of fun and enjoyment and in many cases, of supporting a club or team regardless of their performance on the pitch.
"In every corner of the world, football fans share a passion for their favourite teams and players, and they enjoy watching the games with a cold beer." Tony Ponturo, ex-Anheuser-Busch
I find interesting to see so many examples of beer brands trying to tap into this passion with an association with football. In my case, as anyone that has looked into my own background, I am devout fan of Grêmio FBPA from Brazil. So I was particularly interested to hear more about the release of the new Grêmio beer produced by Salva craft beer. Interestingly, it was Grêmio that actually approached Salva and its CEO João Giovanella to form this partnership and release the product from 2019.
In the UK, some of the 'Big Five' football clubs had released beer products back in 1987, such as Liverpool Super Reds, Manchester United Red Devil (pictured below) and Everton Premium Lager. The partnership was arranged at the time by entrepreneur Kenny Willmott and David Gillian from Cornish Breweries.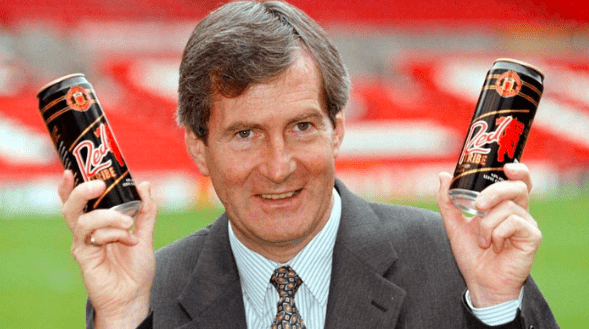 Unfortunately for the football clubs looking to take advantage of this new commercial revenue, there was an immediate backlash on the press and the project was stopped just as quickly as it began. Manchester United tried again 9 years later but failed to make it work apparently.
All this adverse reaction is even more surprising due to the fact that 18 of the football clubs in England at the time were being sponsored by breweries, such as Totenham Hotspurs and Holsten. These days, alcohol sponsorship of football club shirts in the Premier League is non-existent (as per the graph below courtesy of the BBC).
One of the few people to have samples of those beers from the UK is Thiago Pulzatto. He is an avid collector of football-branded beer products and the creator of the blog Latas Futebol Clube (in Portuguese). Below are some pictures from his personal collection.
This unique collection was also reported in the local news in Brazil (video below in Portuguese).
The collection by Thiago has examples of beer and football clubs from around the world such as (to mention just a few):
Football clubs are bringing beer brands closer to home, and in some cases, even having the brewery in their grounds. Tottenham Hotspur's new stadium in London has its own microbrewery managed by local independent craft beer company Beavertown. Plus they have an innovative way to fill up their pints of beer (see video below).
"The opportunity to work with Tottenham Hotspur to deliver the Premier League's first microbrewery is something of which we are immensely proud. The ability to brew on site and serve our beer just metres from where it is brewed is super exciting." Logan Plant, Founder & CEO at Beavertown Brewery
Other football clubs in England are also partnering with beer companies to launch beer products specific to their club, examples include Huddersfield Town and Magic Rock Brewing; Sheffield Wednesday and Thornbridge Brewery (label pictured below), Brighton & Hove Albion and Harveys Brewery amongst others up and down the football league.
The latest example is Aston Villa and Purity Brewing, with its CEO and co-founder Paul Halsey himself a Villa fan.
Here is a link on the sponsorship of football club shirts by beer companies, including previous associations such as Everton FC and Chang Beer – click on this link for 'Football shirts n beer sponsorship' blog post.
The Portman Group, which represents drinks producers, has a code of practice for alcohol companies wanting to get involved in sports sponsorship.