Following on the footsteps of the category leader Baileys, many brands have been launched in the market place including well known names such as Amarula Cream from South Africa, Coole Swan from Ireland and RumChata from the US. The defining element of a cream liqueur is the use of dairy cream; the base alcohol does not have to be only whisk(e)y, it can also be rum, vodka or another distilled spirit. They tend to have a relatively low alcohol strength, with the abv (alcohol by volume) being around the 17% mark on these products. But don't take too long to drink them, they usually last 6 months once the bottle has been opened…
A legendary anecdote in the Bailey's history is said to have occurred when Anthony Tennant took a bottle of Baileys to Abe Rosenberg, head of the Paddington Corporation in New York. Abe was a titan of the drinks industry and the man who had turned J&B Rare into the biggest selling Scotch in America in the 1960s (for more info – see article link below).
"The green background colour on the label reminds me of US uniforms in Vietnam" he said. And then, it is said, he pronounced the immortal words "That shit will never sell!"
For reference – article from The Irish Times: 'In 1973, I invented a 'girly drink' called Baileys' by David Gluckman
For reference – the book That S*it Will Never Sell by David Gluckman tells the stories behind the drinks he invented or worked on, including Le Piat d'Or, Aqua Libra, Sheridan's, Tanqueray Ten, Smirnoff Black and many others.
After its initial launch, Baileys attracted a raft of competitors around the world, mostly look-alikes at lower prices. Some of these were made with wine bases rather than spirit. There were also Irish competitors such as Carolans, and this trend has continued. In the early 1990's, Cadbury's Cream Liqueur was launched, made with fine French brandy and sold at full price rather than as a value brand. It enjoyed a rapid success in the UK, becoming the number two cream liqueur brand before disappearing from our shelves (pictured below).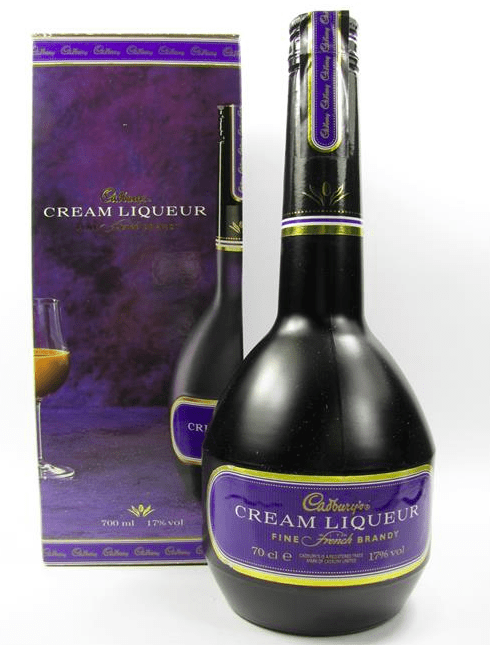 More recently, I have been interested in the number of Cream Liqueur brands made with and/or in association with whisky and whisky brands.
Some of these have disappeared over time such as Scotland's Heather Cream Liqueur from Inver House Distillers, first made in 1980 with cream and Balblair single malt scotch whisky.
Another loss was Mrs. Walker's Drumgray Highland Cream liqueur, made with cream and single malt from Deanston Distillery, owned by Burn Stewart Distillers (which in turn is now part of the Distell Group, makers of Amarula Cream).
But these have been overtaken by newer product releases, one such example is Magnum Cream Liqueur, initially launched in 2014 and made by blending together Benriach single malt scotch whisky with luxurious cream from Holland – the ancestral home of Holstein black and white dairy cows – at a 17% abv.
The Magnum stainless steel bottle (or flask) is quite distinctive looking and aside from being reusable, it claims to keep the liqueur chilled without the need for ice.
Other examples using a more traditional bottle include Arran Gold Cream Liqueur, originally launched in 2004 and made by Isle of Arran Distillers in Scotland at 17% abv. Fans of Arran scotch whisky may particularly appreciate this product, especially as it is not over-powered by sugar.
Another is the Edradour Cream Liqueur, made using Edradour Single Malt from Scotland's smallest distillery in Pitlochry at 17% abv.
Moving beyond Scotland's shores, there is Merlyn Welsh Cream Liqueur, named after 'the mighty wizard of Wales' and made at Penderyn Distillery using dairy cream and malted barley spirit (OK, not quite whisky but almost there!) at 17% abv.
In England, we can find Cotswolds Cream Liqueur, made by mixing their own new-make single malt spirit (again not quite whisky but almost there!) produced using 100% locally grown floor-malted barley with fresh Irish cream from Tipperary at 17% abv. A nice touch is the information on the bottle about the batch production (i.e. batch of 5,000 bottles produced on 02/2018), which also shows how limited the volumes can be for some of these products from smaller brands.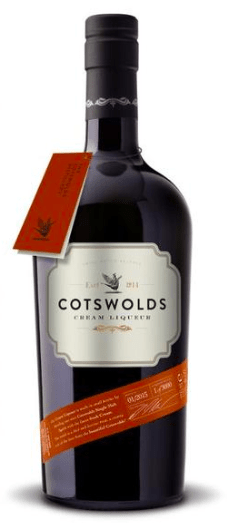 The English Whisky Co. has launched the Norfolk Nog Liqueur, an unusual name in an unusual bottle for this category of product. The abv is also slightly higher at 19% and this cream liqueur is made using English malt spirit (unaged malt whisky), fresh cream and honey for sweetness at St. George's Distillery.
Interestingly, a local farming estate has been making their own Nog for generations, and very kindly allowed the distillery to borrow/steal the recipe. The term nog is derived from the Middle English "noggin", a small carved wooden mug.
There are of course many other cream liqueurs being produced using other spirits (including whisky or whiskey) from around the world. The actual amount of these within the bottle will always be limited, by my guess at somewhere around 1-5% of the total.
However it may be no surprise that as the original cream liqueur from 1974, Baileys continues to dominate not only the cream liqueurs segment but the entire Liqueurs Category as per the table below (source: The Spirits Business).
For reference – Mintel blog post on 'How to make cream liqueurs trendy again'