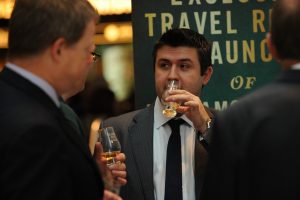 Inside the Cask is my personal blog, 100% by Andre de Almeida.
It reflects my experience as a drinks industry 'insider', an executive with experience of working across different retail environments and extensive global travel through work and personally.
All views on the Inside the Cask blog are my own and may not necessarily reflect the views of my employer. Others quoted were used for context only.
I decided to start writing blogs and sharing my own personal views relating to the drinks industry, experience working across retail and travel in June 2015. Since then I have received great feedback and this website is an extension of that idea.
Over the past 16 years, I've been fortunate enough to accumulate a vast amount of working experience across different sectors: Premium Wine & Spirits, Foodservice Wholesale & Grocery, and initially representing students at the University of Glasgow. In terms of Education, I have  been awarded an Honours degree in Biotechnology from the University of Glasgow and a MBA from the Warwick University Business School.
I have been trained in different areas including: INSEAD Leadership & Change Management, Sales training, retail environment training, financial analysis and data understanding, negotiation skills, advanced communication skills, training others/ coaching skills, teamwork effectiveness and leadership skills.
My professional experience is available on LinkedIn and includes working for companies such as:
Outside of work, I can reveal that I am Brazilian-Portuguese, with a hint of British, loving life, the family and fanatical about Gremio Foot-Ball Porto Alegrense! Drinker of Scotch whisky…
Please subscribe to the Inside the Cask blog, share your comments, give me feedback and get in touch if you want to exchange ideas.