The Mexican Chamber of the Tequila Industry (or Camara Nacional de la Industria Tequilera, CNIT) is the leading institution in charge of representing, promoting, and defending the general interests of the Tequila industry as well as Tequila itself. Founded in 1959, the CNIT is the oldest current institution of the sector to which the companies join freely and voluntarily to work hand in hand for Tequila, "Mexico´s gift to the world".
Tequila is a drink with Appellation of Origin which is made from the fermentation and subsequent distillation of sugars from the Agave Tequilana Weber blue variety.
Both the Tequila production process and the Agave cultivation process must take place within the territory determined in the Declaration of Protection of the Appellation of Origin Tequila. For a product to bear the name Tequila, its production must be carried out in strict compliance with the Official Mexican Standard for Tequila (NOM-006-SCFI-2012).
There are two categories, Tequila and Tequila 100% Agave; Tequila is made from a mixture of sugars in which at least 51% must come from the Agave Tequilana Weber blue variety, while the remaining 49% can originate from other natural sources of sugar that are not from the agave. On the other hand Tequila 100% agave has to be made solely from sugars from the Agave Tequilana Weber blue variety.
The CNIT also makes available data for production and sales of Tequila for those interested to know more about the industry. I have created the following graphs and tables from the data available in the public domain.
100% Agave Tequila production has surpassed standard Tequila since 2008 and now it is over 2.6 times larger.
Sales of 100% agave Tequila took a little longer to surpass standard Tequila and this only took place for the 1st time in 2018, and based on the latest figures for 2023, this is now almost 1.9 times larger.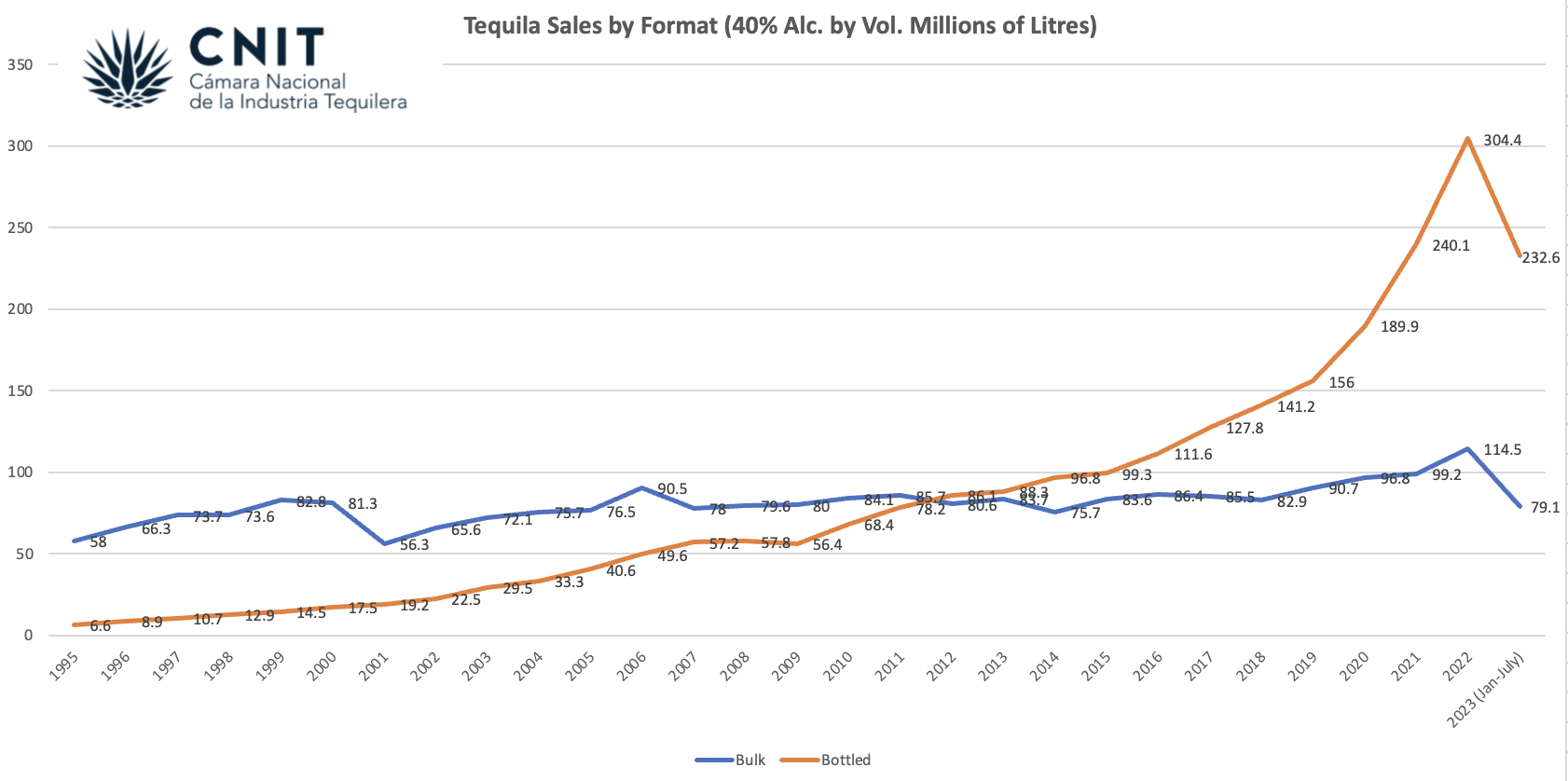 In terms of format, bulk sales of Tequila have gradually grown over almost 30 years whereas the real spike in demand has come from the bottled Tequila market with a sharp rise in sales, surpassing bulk from 2012 onwards.
Finally, the top 30 markets have shown a gradual share increase of the Rest of the World in comparison to the USA, which still dominates with over 77% of the market. The figures on the table above are in Litres at 40% Alc. by Vol.
The USA growth since 2018/19 amounts to 133,582,379 which is higher than the Rest of the World put together in 2022/23 (94,822,242).
Despite the significant growth in the USA of 68% over 5 years, the Total Tequila category has grown at a faster rate of 80% albeit at a smaller rate.