As a Whiskymaker and an ex-patriot Scot of Irish heritage,
Dr. Graeme Macaloney, Ph.D.
, has been living in the westernmost shore of Canada making his own beer and whisky. His dream was turned into reality with the support of over 270 independent Canadian individuals who came together to support his vision, becoming Founder-Owner-Investors, and turning their shared dream into
Macaloney's Island Distillery
.
Dr. Graeme Macaloney, Ph.D., was kind enough to agree to my invite and to spare some time to talk with Inside the Cask. All pictures included on this blog post are courtesy of Macaloney's Island Distillery.
Inside the Cask: Hi Graeme, you are the CEO and Whiskymaker at Macaloney's Island Distillery. However how did it all start for you? Where did the interest in drinks, and more specifically on whisky come from?
As a wee lad growing up just outside Glasgow, I was inspired to do a fermentation degree at Strathclyde University (previously Glasgow Uni's technical college) when I did a summer job in the Black & White whisky factory in Stepps as a high school student. Also growing up in Scotland, I was exposed to whisky from the earliest age during Hogmanay parties. My professors told me to upgrade my degree, so I did a Ph.D. in biotechnology but was then told by Scotch firms that I was over-qualified. This let me on a bit of a detour via Pfizer and Eli Lilly in England, then into biotechnology in Canada.
I specialised in fermentation and process optimisation, which has really helped me on the whisky side. But finally, I came to my senses and realised my life-long passion was single malt whisky – so I decided to create a job for myself by founding Macaloney's Island Distillery on beautiful Vancouver Island in British Columbia, Canada.
Inside the Cask: You had a long dispute with the Scotch Whisky Association (SWA) which was finally settled in 2022. How has this affected the distillery plans for exporting your whiskies abroad?
Now that the SWA lawsuit has been amicably settled, we are full steam ahead in terms of our export plans. Our product can be ordered for online delivery in the UK and USA from warehouses there by visiting our distillery website shop, www.macaloneysdistillers.com. Our whiskies are now available in Germany, Poland and the Netherlands, and also available for shipping to Italy, Austria, South Africa, Taiwan, Singapore and Malaysia in the next month or so.
Inside the Cask: Can you tell us more about Macaloney's Island Distillery? How did the late Dr. Jim Swan help you in Canada? What kind of innovations do you have on site (such as the peat-smoking facility at the distillery)?
Jim was truly a gentleman and a scholar. Frankly, he was a genius when it came to optimising the traditional Scotch process to make it the best it can possibly be. He said each time he does another distillery, he improves it again – and we were his second last distillery before he sadly passed away.
Both here at the distillery and on a cask-sourcing tour through Kentucky, Portugal and Spain, I spent many, many hours talking PhD-to-PhD with him and learned so much. As a result, our classic single malt new-make spirit was so good that I submitted it to the World Whiskies Awards (WWAs) in the UK and to came top three in the world in that category!
These are blind tastings done by industry-experienced judges where the world competes – so you know you're on to something good to win a gold medal and come in top 3 in the world. Since then, two of our mature classic single malt whiskies (An Loy and St. Mallie Portuguese red wine STR) have gone on to win 'Best in Canada' gold medals at the WWAs.
Since then, and since Jim's passing, I decided to apply my life-long learning to traditional triple distilled potstill whisky. I took what I learned in my earlier career and from Jim and optimised a traditional triple-distilled potstill (Irish-style) process. When we submitted this new make to the WWAs, it took home a gold medal and ranked top two in the world! Since then, two of our mature triple distilled single potstill whiskies (Killeigh and Kildara) have gone on to win 'Best in Canada' gold medals at the WWAs, and in fact the Kildara took on Ireland's best 12 year old, 15 year-old, 21 year-old, and 25 year-old potstill whiskies to win World's Best at the WWAs!
I then turned my hand as a 'fermentation engineer' (I also have an MSc in biochemical engineering from University College London) and Whiskymaker towards peated single malt whiskies.
As a traditionalist, I wanted to peat-smoke our local barley in the traditional Islay method but using local peat. So, I made 2 visits to Islay to see how Laphroaig, Bowmore and Kilchoman (only them and Highland Park still peat smoke at the distillery) to study their methods.
Back on Vancouver Island, we commissioned a 2 tonne peat smoker here at Macaloney's Island Distillery – each batch takes 2,000 kg of barley. I had our barley tested at the top laboratory in Scotland and much to my delight it hit a specification of 54 ppm! When we distilled it, the newmake was quite spectacular, so we submitted it to the WWAs and it won a gold medal for World's Best just this year! This has been maturing away in 1st use Bourbon, Portuguese red wine STR, Oloroso and PX casks and in anticipation of our official peated single malt whisky launch in June, we submitted some to the WWAs.
I am thrilled to say our Signature Expressions Siol Dugall and single cask Peat Project Portuguese red wine STR both won gold medals for Best in Canada at the World Whiskies Awards this year!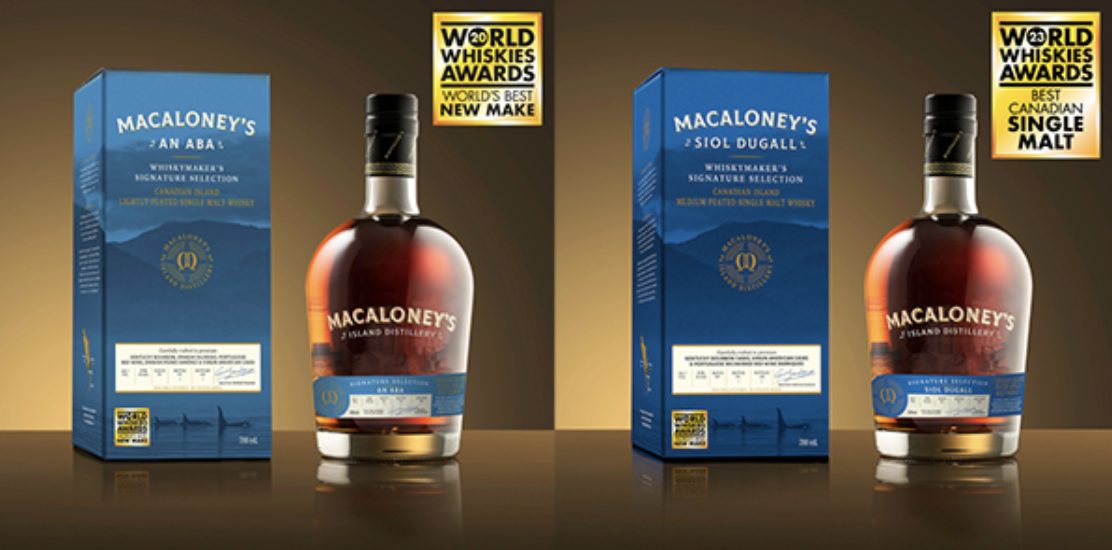 Inside the Cask: What style(s) of whiskies are you trying to create at the distillery for Macaloney's Island whiskies. The gift pack is a great way to showcase the variety of flavours being produced at the distillery, what kind of feedback have you received to date on Macaloney's Island whiskies?
Thanks. Yes, the five 5mL miniatures cover the range of classic single malts, triple distilled potstill whiskies and peated single malts. Back home it is rather unusual for a single distillery to do more than one style of whisky, but I love all three styles and want to show whisky enthusiasts how great each style can be when best traditional practices are applied.
Inside the Cask: Whisky remains a large and popular drinks category globally. Any up and coming trends or brands to watch out for in the category? What can you tell us about the Canadian whisky market?
In speaking with whisky enthusiasts all over the world, it is clear that enthusiast, and those new to exploring whisky, have tried the excellent range of Scotches and Irish whiskies but are now looking with excitement at exploring the amazing quality coming for international craft distillers like ours.
Canadian distillers have previously specialised in rye whisky but now in Canada, especially in British Columbia, and the US Northwest there is a growing number of world-class distillers including Shelter Point, Devine, Lohin McKinnon, Westland, Copperworks, Westward and Macaloney's Island Distillery starting to expand their offerings.
For reference – Dr. Graeme Macaloney was involved in the creation of the new Northwest Whiskey Trail featuring seven distilleries across British Columbia, Washington State, and Oregon. The trail showcases the best award-winning whiskies in the Northwest, including those made by Westward Whiskey in Portland, OR, Copperworks Distilling and Westland Distillery in Seattle, WA, Macaloney's Island Distillery in Victoria, B.C., Goldstream Distillery in Cowichan Valley B.C., Shelter Point Distillery in Campbell River, B.C., and Deep Cove Brewers & Distillers in Vancouver, B.C.
Inside the Cask: Can you tell us more about your personal background? What else are you passionate about?
Whisky of course! Being Scottish, it has been said that I was weaned on the stuff! And applying my fermentation and biochemical engineering knowledge to take Dr. Jim Swan's amazing work to a further level of excellence, as a nod to the great man.
When not immersed in this, I love the great, unspoiled Canadian outdoors – especially here on beautiful Vancouver Island where I can literally go hiking alongside black bears and see salmon running up the creeks with otters fishing for them, or Orca whales swimming a few miles from our distillery. It is no accident that our whisky has an island influence with coastal notes, a dry finish and even a hint of salt.
I am also the Seanchaidh for Clan Cameron Canada which means I am deeply immersed in medieval Scottish and Irish history. Our whisky packaging reflects this using Gaelic names and back stories associated with my family background as our Whiskymaker, and also with a gorgeous picture of Vancouver Island with swimming Orcas on our whisky cartons.
Inside the Cask: What would be your advice for anyone else wanting to work in the drinks industry?
It is a lot of blood, sweat, and tears, so expect to work your butt off. It is a pure joy to see whisky enthusiast and tourists alike with big smiles and anticipation as they come for a tasting, and then leave with great stories and some special whiskies to share.
Inside the Cask: What surprised you most about working in the drinks industry?
I came from biotechnology and pharmaceuticals which are highly regulated however, the regulations around alcohol production, marketing and export are much worse and seem to vary infinitely from province to province and country to country.
Inside the Cask: What is the favourite part of your job? Anything that you would like to share that not many people would know about you?
I love seeing how all of the investment of great equipment (Forsyths potstills), world-class experience (our whisky-making team), and the best ingredients (the best Kentucky, Portuguese, Spanish, French and other casks, and superior Canadian barley) come together to make great whiskies.
Part of my job is to track the quality of every single cask, and it is simply amazing how optimised traditional processes no longer take 12-25 years to become world class. It is amazing that we are already there in just a few years, AND, that every quarter or half year sees even more improvement in depth and complexity.