There are dozens of songs about whiskey for a reason. It's a timeless spirit. It's versatile and can be enjoyed neat, on the rocks, or as part of a delicious cocktail such as an Old Fashioned. It also makes for a great gift. In time for World Whisky Day on May 23 recently, financial solutions company Credello decided to analyse whiskey prices across the U.S. to find out how much a bottle costs in each state.
They analysed data from wine-searcher.com and www.totalwine.com to find the cheapest price for a bottle of Jack Daniel's Old No.7 Black Label 750ml in each state (or the official government price, for states under liquor control laws). Why Jack Daniel's Old No.7 Black Label? It's one of the most popular whiskeys in the country – and 750ml is the most common size for a bottle of liquor. Here are the surprising results of their research.
Top 10 most and least expensive states for buying whiskey
If you live in Alaska, you're out of luck. It's the most expensive state for buying whiskey, with a bottle costing $32. The other nine most expensive states for buying whiskey, from highest to lowest price, are North Carolina, Nebraska, North Dakota, Vermont, Utah, Alabama, Montana, New Jersey, and Pennsylvania.
On the other hand, California has the cheapest whiskey in the country – you can buy a 750 ml bottle of Jack Daniel's Old No.7 Black Label for only $14.95 in the Golden State. The other nine cheapest states for buying whiskey, from lowest to highest price, are: Colorado, Texas, Arizona, Maryland, New Mexico, Washington, Florida, Mississippi, and South Carolina. So, if you're in the area, you may want to take advantage of the lower price tag.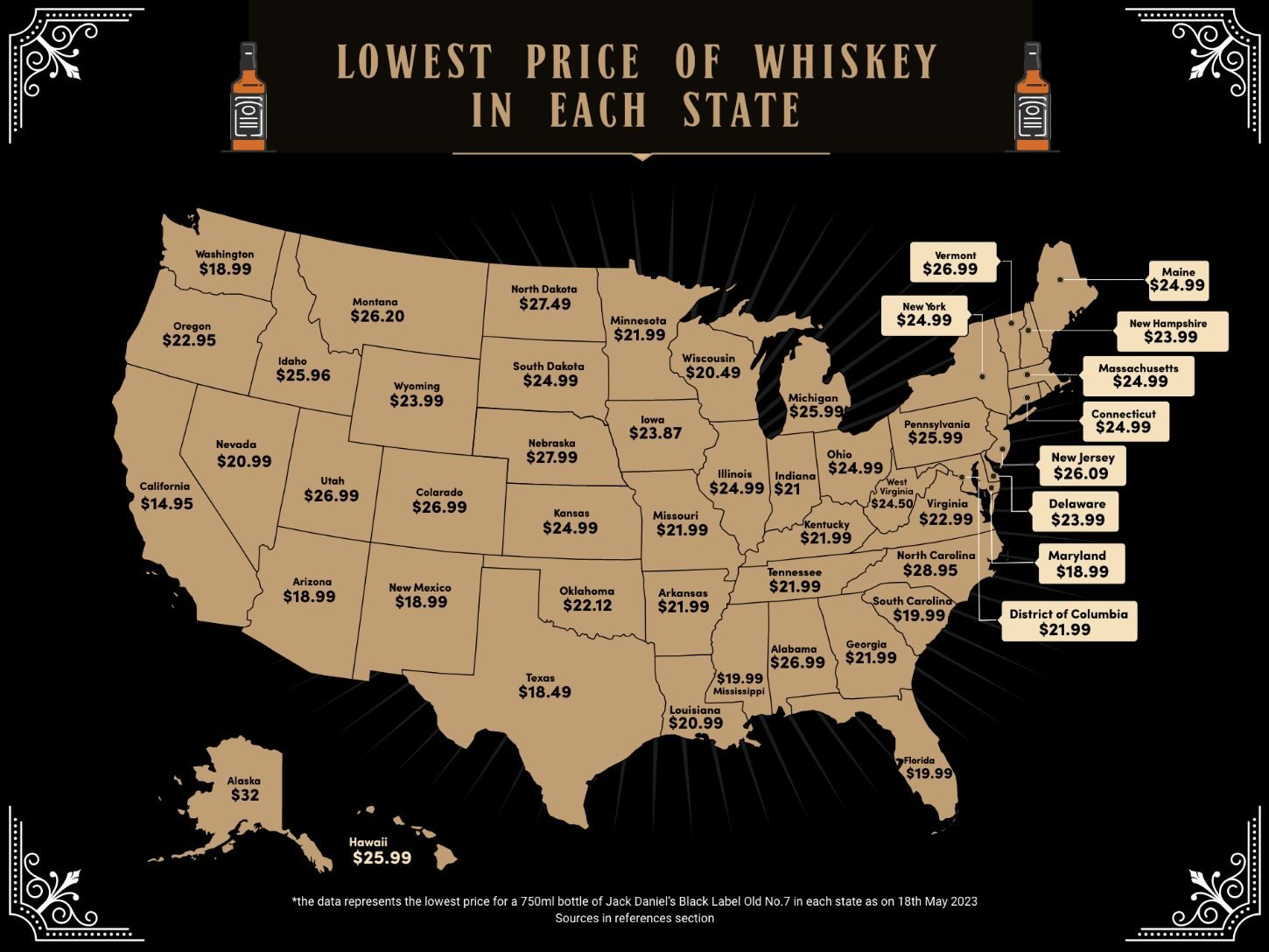 Taxation may be one reason for the discrepancy in these whiskey prices from state to state but it is not the only one. Each state places taxes on alcoholic beverages and this can vary the price point significantly. The cost of distributing whiskey from producers to retailers can also drive this fluctuation, depending on the location. Transportation expenses, warehouse costs, local regulations as well as if a state or region has higher distribution costs, can all contribute to the range in whiskey prices.
Regional preferences and market demand for whiskey can also influence pricing. If a particular region has a higher demand for whiskey, sellers might adjust the prices accordingly.
Alcohol Tax by State
An alcohol excise tax is usually a tax on a fixed quantity of alcohol. Producers, importers, wholesalers, and sometimes retailers pay alcohol taxes; however, the costs of these taxes are passed down to consumers through increased prices.
The federal government collects approximately $1 billion per month from excise alcohol taxes on spirits, beer, and wine. Taxes on spirits are significantly higher than beer and wine at $13.50 per gallon, while beer is taxed at $18 per barrel and wine is $1.07-$3.40 per gallon. This is because spirits have higher alcohol content than the other categories.
For reference – the ten USA states with the highest alcohol tax per gallon of spirits are:
Washington – $33.22
Oregon – $21.95
Virginia – $19.89
Alabama – $19.11
Utah – $15.92
North Carolina – $14.58
Kansas – $13.03
Alaska – $12.80
Maryland – $11.96
Michigan – $11.95
Alcohol Tax by US state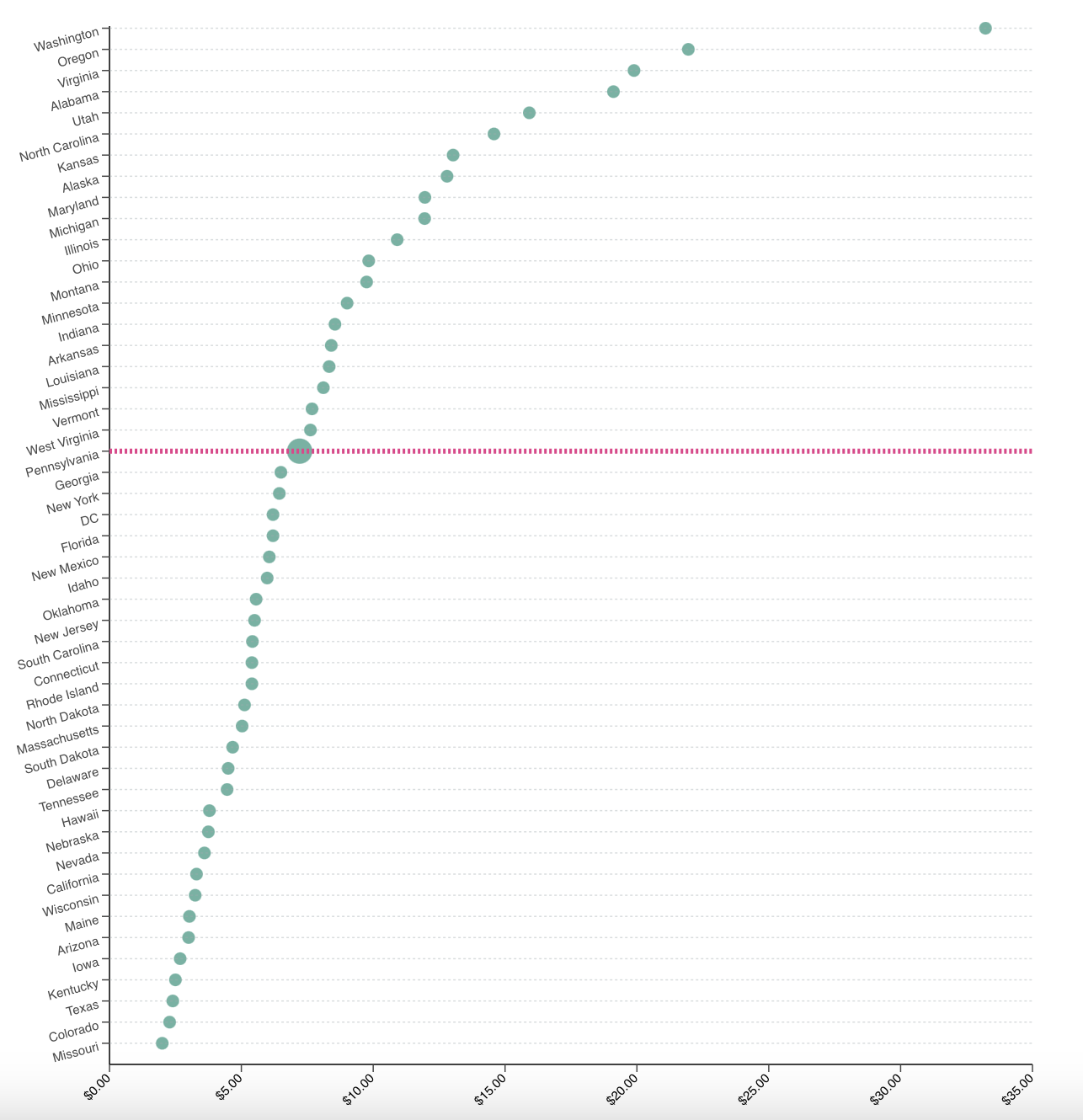 source: Tax Foundation