Peanut butter, banana and bacon – this one-of-a-kind unusually weird combination for a flavoured whiskey, pays tribute to Elvis Presley, the King of Rock and Roll. Elvis Whiskey, a line of spirits modelled after the musician, has launched a new whiskey based on the star's favourite treat. Midnight Snack is a 35 percent ABV whiskey that aims to taste exactly like a classic peanut butter, banana, and bacon sandwich.
It's said that Presley first enjoyed the unusual combination after a 1976 concert in Denver. He visited a local restaurant, Colorado Mine Company, for a bite to eat and ordered a Fool's Gold Loaf sandwich with a massive amount of bacon. This release comes after a 2021 licensing agreement between Grain & Barrel Spirits and Elvis Presley Enterprises. The distillery has since debuted a rye and whiskey paying tribute to the late musician.
Peanut Butter (Skrewball Peanut Butter Whiskey)
This flavoured whiskey, with an unexpected mix of sweet & savoury flavours, was born from a bestselling cocktail at the founders' restaurant in Ocean Beach, California USA. Founders Steven and Brittany Yeng claim that it was one of those drinks that people couldn't stop talking about, combining both smooth whiskey and creamy peanut butter flavours at the same time. Pernod Ricard has now acquired a majority stake in the business.
Pie (Piehole Pecan Pie/ Apple Pie/ Cherry Pie Whiskey)
This product was available around 2014-16 from Diageo and it claimed to be a 'tempting blend of Canadian premium whiskey & delicious pie-flavoured liqueur'.
Another pie offering comes courtesy of Iron Smoke Distiller's Rattlesnake Rosie's Apple Pie Whiskey, made with their own artisan handcrafted corn whiskey and upstate New York apple cider, cinnamon, vanilla and brown sugar.
Pumpkin Spice (Southern Tier Pumkin Whiskey)
This pumpkin whiskey from Southern Tier Distilling Co. has rich aromas of pie spice, buttery cream, and pie crust, Pumking Whiskey culminates in sweetness among mild whiskey notes. Southern Tier Distilling Co. has also released a variety of other flavoured whiskies such as: Confetti Cake; Hotter Cocoa; S'mores; and a Creme Brulee cream liqueur.
Sons of Liberty also used to produced a Pumpkin Spice Whiskey. 30,000 pounds of Rhode Island-grown pumpkins were roasted and juiced before being combined with a variety of flavourings such as clove, cinnamon, and orange peel to create this flavoured whiskey.
Chocolate (Kings County's Distillery Chocolate Whiskey)
Kings County's Chocolate Whiskey infuses their Moonshine with ground cacao bean husks from Raaka Chocolate, whose factory is in Red Hook. Bitter and surprising, this rich whiskey tastes like dark chocolate. The distillery also produces other flavoured whiskies such as coffee and grapefruit jalapeño.
Washington's Heritage Distilling Co. also have their own chocolate whiskey, Cocoa Bomb, driven by their 'love of hot chocolate'.
Chocolate Mint (Ballotin Chcolate Mint Whiskey)
Saloon Spirits from Texas produces Ballotin brand flavoured whiskies such as Chocolate Mint as well as other flavours such as Chocolate Mocha and Caramel Turtle amongst others.
Cookie Dough (Dough Ball Cookie Dough Whiskey)
This family-owned beverage company founded in California was inspired by a few of our favourite things, namely cookies, whiskey and their chubby little bulldog, Doughball.
Tennesse Distillery's Ole Smoky Cookies & Cream whiskey is an indulgent cream liqueur.
Gingerbread (Bird Dog Gingerbread Flavored Whiskey)
Kentucky whiskey combined with sweet gingerbread cookie flavours including ginger, cinnamon and spices to make this holiday inspired drink. Western Spirits also produces other flavoured whiskies such as red ruby grapefruit; praline and jalapeño honey amongst others.
Coffee (Kentucky Coffee Whiskey)
Inspired by the cowboys of the Wild West in the USA, Kentucky Coffee brings together coffee flavour with 'firewater', the strong, sweet whiskey that American grew to love.
Other distilleries have also released coffee whiskies such as Devils River Coffee Bourbon from Texas, Mosswood Espresso Barrel Aged American whiskey from the San Francisco Bay area and Sons of Liberty Coffee Flavored whiskey from Rhode Island.
Bacon (Ol' Major Bacon Bourbon)
Ol' Major is a combination of bourbon with real bacon. Through their own proprietary process of pressure infusion and step filtration, Ol' Major Bacon Bourbon has a bouquet of crisp bacon and honey.
Chipotle Pepper (Rogue Chipotle Whiskey)
This limited-edition whiskey from Rogue Farms was packed with multiple layers of smokey spicy chipotle flavour from the addition of chipotle peppers; which are jalapeño chili peppers dried and smoked over cherry and alder wood.
Tabasco Pepper Sauce (George Dickel Tabasco Barrel Finish Whiskey)
Two Southern brands from the USA, Diageo's George Dickel and McIlhenny Company's TABASCO® Brand Pepper Sauce, with their distinct tastes have come together in one bottle to create this limited-release George Dickel Tabasco Brand Barrel Finish. It brings a spicy kick, handcrafted and finished in barrels used to age red peppers for three years. The result is a smooth whiskey with a spicy finish.
Salted Herring (Fishky Whisky)
Klaus Pinkernell, the German behind Pinkernell Whisky and who previously ran Cadenhead's business in Berlin, is the person behind using a 14yo sherry cask-aged Bruichladdich and finishing it for 3 months in herring casks. The website 'stupidcask.de' shown on the label is no longer available.
As the name suggests, this is a snake-infused whisky apparently with its origins traced back to traditional Chinese medicine.
Reindeer (Reindeer Horn Whiskey)
Courtesy of Thailand Unique (a trading name of JR Unique Foods Ltd), this was a product offered by one of S.E. Asia's largest producers of edible insects and bug-related products for the retail and wholesale. They also offer a huge variety of vodkas infused with various insects and bugs. Apparently this whiskey had a rich earthy finish with a woody aroma, and a slight sweet taste with a hint of liquorice.
Smoked Sheep Dung (Floki Single Malt Sheep Dung Smoked Reserve)
Handcrafted and produced from 100% locally farmed Icelandic barley, smoked using traditional Icelandic methods and materials. This is an old traditional Icelandic smoking style using sheep dung to smoke the barley. It is a Single barrel whisky aged for 3 years in ex-Flóki Young Malt barrels under the base of mount Hekla.
Beaver (Tamworth Distilling Eau de Musc Castoreum Whiskey)
Eau De Musc ("Water of Musk") is a limited-edition beaver castoreum whiskey by Steven Grasse and his team at Tamworth Distilling.  This is an 44% abv straight bourbon whiskey infused with the oil found in the beaver castor sacs below the tail. The full-bodied, 2yo bourbon whiskey used has a bolstered mouthfeel with a vanillin nose and notes of spice. The addition of birch oil, raspberry and Canadian snakeroot, a woody spice akin to ginger, comingle with the natural fruitiness of the castorerum, making the finish warm and crisp.
Green Crab (Tamworth Distilling Crab Trapper Whiskey)
For this release, Tamworth Distilling teamed up with the University of New Hampshire to find a use for their state's invasive green crab population. Crab Trapper is made with a bourbon base steeped with a custom crab, corn and spice blend mixture.
The team at Tamworth Distilling also has other unusual releases such as: Graverober Unholy Rye; Corpse Flower Durian Brandy; Deerslayer Venison Whiskey and the Bird of Courage Roasted Turkey Flavored Whiskey.
and finally….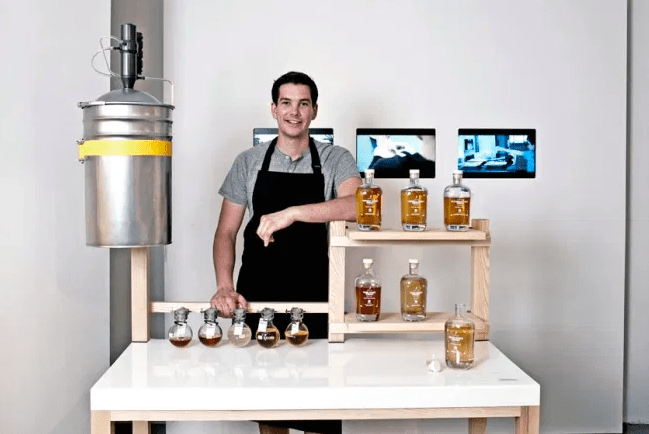 Human Urine was the starting point of this most unusual whisky. Back in 2010, James Gilpin made a series of personalised whiskies as part of his project, Family Whisky.  This was inspired by the fact that large amounts of sugar are excreted on a daily basis by diabetic patients, especially older people, who do not have adequate control of their sugar levels. James is an English Creative Director and artist who was inspired to create his own whisky after being diagnosed with Diabetes himself.
James started the process by cleaning the urine using the same techniques that are used for purifying water stock. Sugar molecules are large and will form crystals which can then be removed and purified separately.
This sugar was then added to the mash stock and used to accelerate the fermentation process. This was a sort of a cheat as traditionally the sugars would be made from the starch in the mash. After the brewing and distillation process, a clear alcohol spirit is produced and this distilate is then blended with traditional single malt whisky for colour and depth of flavour.
Each bottle utilised different grades of processed diabetic urine and the patient's last name was included on the label. The product is not for commercial sale but instead was free to sample as part of an art installation in evidence of the "biological resources that our elderly already process in abundance".
The Gilpin Family Urine Whisky even managed to appear in the comics….as referenced below.
For reference from Inside the Cask: