In the hunt for sales growth, one innovation path increasingly taken within the alcohol industry is the move by soft drinks to release 'hard' versions with alcohol, either by producing their own products, working in partnership with existing alcohol manufacturers or licensing their brands.
This was the route taken by Buffalo-based brewer FIFCO USA, who secured the license of Lipton Iced Tea from Pepsi to develop, manufacture and market Lipton Hard Iced Tea, being released in the first half of 2023 and to be sold in the US by the Blue Cloud Corporation (a subsidiary of Pepsi). The product is being made available in four flavours: Lemon, Peach, Strawberry, and Half and Half.
"Connecting America's favorite tea brand with Fifco's expertise in this hot and growing segment allows us to leverage 130 years of brand history that consumers already know and love." Piotr Jurjewicz, FIFCO USA CEO
Blue Cloud Corporation is also working with Boston Beer Company to distribute another Pepsi-owned brand turned hard, Hard Mountain Dew.
More recently, Monster Energy, one of the largest energy drinks brands worldwide, launched their hard version in 2023: The Beast Unleashed. It comes in four flavours, including Peach Perfect and Scary Berries, each modelled on the flavours consumers know from Monster's original energy drinks, however the hard version of its products at 6% abv has zero caffeine.
"Our alcohol innovation pipeline is robust with a number of additional innovative product lines currently under development" Rodney Sacks, Monster Energy Company Chairman and CEO (as reported by The Drinks Business)
Another familiar soft drinks brand turning hard is Sunny Delight, known these days as SunnyD, this nostalgic brand is releasing their SunnyD Vodka Hard Seltzer at 4.5% abv in 2023. The brand was acquired by Harvest Hill Beverage Company in 2017 in the US.
"Consumers are passionate about this iconic brand, rooted in nostalgia but with a taste that resonates today." Ilene Bergenfeld, CMO Harvest Hill Beverage Company
It is worth noting that not every launch into alcohol by soft drinks has worked out, as testified by Rockstar energy drinks. The company was acquired by Pepsi in 2020, but back in the early 2000's it launched an alcoholic version of their energy drink with alcohol: Rockstar Twenty-One 21. It included both high levels of caffeine and 6% abv alcohol and perhaps unsurprisingly, this potent mix brought criticism in the US media, leading to the discontinuation of the product in 2007.
The Coca-Cola Company also launched a 'hard' drink in 2018 with the Lemon-Dou Ready-to-Drink (RTD) in Japan. This was the company's first entry in the alcohol beverage market since the late 1970s, when Coca-Cola owned a winemaker in California.
In 2022, it announced a partnership with Constellation Brands to launch an alcoholic version of its beverage brand Fresca Mixed. Fresca is the second non-alcoholic drink owned by the company to be turned into a 'hard' version. In 2020, it successfully launched Topo Chico hard seltzer with Molson Coors Beverage. In the case of the United States, the company authorises third parties to produce and sell alcohol beverages using company trademarks (Topo Chico Hard Seltzer, Simply Spiked Lemonade and Fresca Mixed).
"We are consumer-focused and offering more choices, including in rapidly expanding flavoured alcohol beverages." James Quincey, Chairman and CEO Coca-Cola Company
"The lines are blurring, and consumers are the ones blurring the lines, so it's allowing a lot more nontraditional companies to come into the space." Ann Mukherjee, CEO Pernod Ricard North America
US coffee and doughnuts chain Dunkin' has stepped up its presence in alcohol with the launch of a range of RTDs in the US from August 2023. The new line of drinks will be manufactured by Mass. Bay Brewing Company.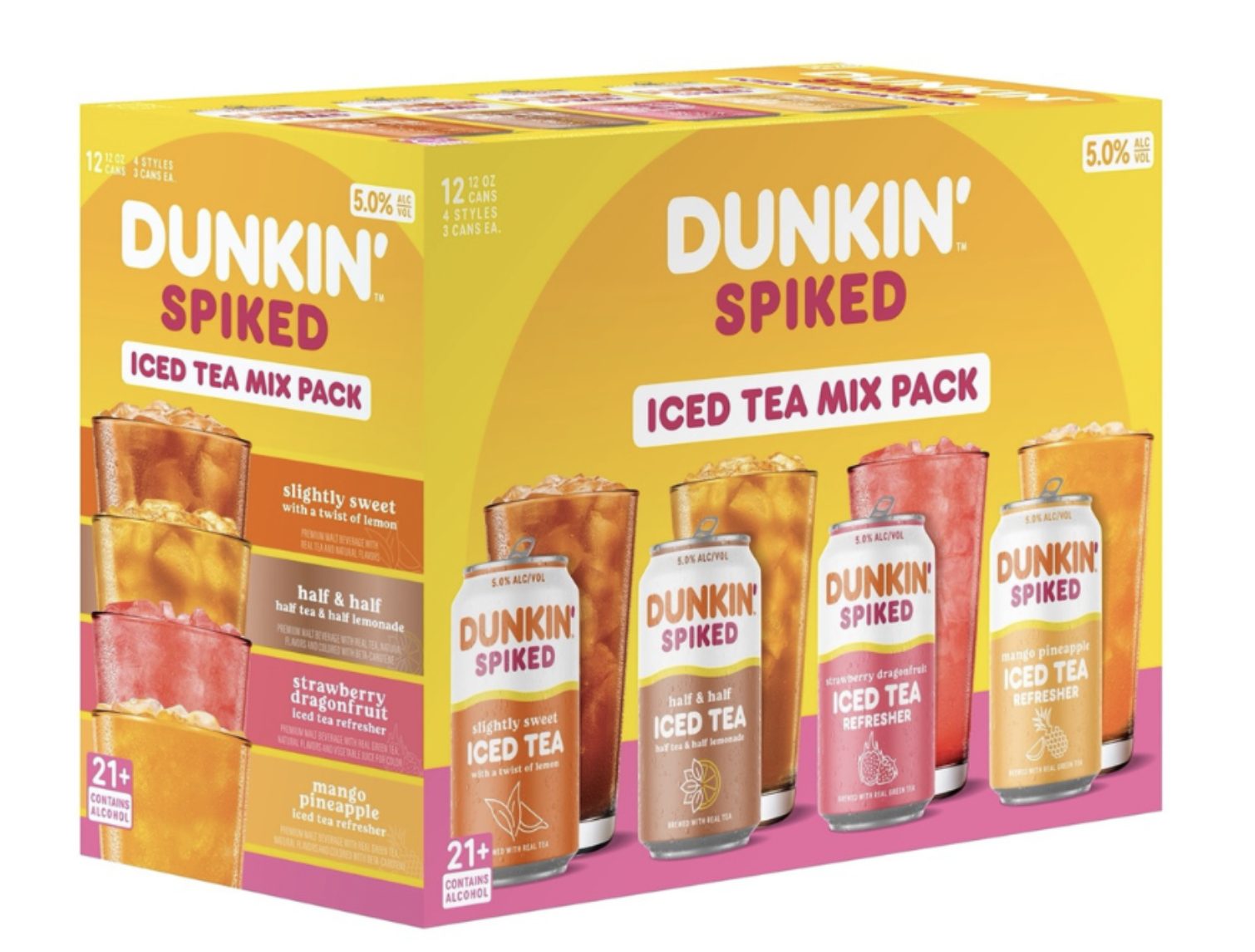 One important concern is the potential for underage drinking due to the familiarity of young consumers with these soft drink brands. Retailers and operators need to ensure that these brands are not merchandised together with their alcoholic versions whilst producers need to be careful in their marketing.