The annual TFWA World Exhibition & Conference recently took place in Cannes, bringing together the duty free operators and brand owners working in the Global Travel Retail (GTR) channel. As borders have opened up since the pandemic and travel has started to resume, passenger volumes have grown once again and with that, the demand by travellers for duty-free drinks.
Despite the limited return to date of Chinese travellers, the largest buyers of alcohol in the channel, there has been positive signs of growth as reported by Joe Bates on Travelux magazine, with sales in 2021 already at over US$10 billion according to industry consultant Generation. This accounts for 60% of sales before the pandemic and the expectation is that this will be much higher in 2022.
Traditional whisky producing countries such as Scotland, Ireland, the USA, Canada and Japan dominate the whisk(e)y category in Global Travel Retail, with Scotch whisky as the largest brown spirit category. As expected, the large drinks industry companies such as the behemoth Diageo as well as William Grant & Sons, Edrington, Brown-Forman, and Pernod Ricard amongst others have continued to tighten their stranglehold on duty-free drinks and the whisk(e)y category.
However, the recent supply chain issues across the drinks industry as a whole, and the rising costs of commodities and energy is having an impact on how these companies maximise their profit return, which may in turn open up the potential opportunity for new world whiskies in travel retail.
As an example, as established Scotch whisky brands limit their allocations into the GTR channel in favour of domestic channels, duty free operators should use this time to trial New World Whisky as a dedicated sub-category within their whisky range, with a focus on single malt releases.
What are New World Whiskies? Simply put these are whiskies not produced in Scotland, Ireland, the USA, Canada or Japan. They can be found all over the world from Mexico to New Zealand, from Denmark to Taiwan and from Israel to India.
According to IWSR's 2018 Drink Market Analysis, whisky has continued to grow faster than most other spirits, with a 7% rise in the previous year.  At the same time, volume for the category is predicted to grow to 581 million nine-litre cases per year by 2023 with increasing demands for the category as a whole.
New World Whisky producers have learnt their craft from the original whisky pioneers and are respectful of local traditions, culture and heritage and they have developed so quickly that the existing retail landscape has struggled to keep up, including the Global Travel Retail (GTR) channel.
However, if you were to visit one of the many whisky shows around the World, there you will be able to find the sheer diversity on offer across the Whisky category beyond the traditional countries associated with the category, including these New World Whiskies.
For reference: List of Whisky Events & Festivals around the World
This proposed introduction of a New World Whisky category must be supported with Education and Sampling. After all, the discerning whisky drinker is looking for discovery and new experiences to try, but with 30% of consumers not prepared to purchase a bottle of whisky they've never tried before, liquid to lips is critical to drive trial and surprise the consumer in order to convert them into a shopper.
Distill Ventures has commissioned Dynata to survey over 3,000 US and UK consumers. They asked them about their whisky preferences, buying habits and values, to build a picture of who the new whisky consumer is, as seen on the image below.
Innovation has always been important within the Global Travel Retail (GTR) channel, and as shopper demand and consumer behaviour changes, this will be more important than ever. As Chris Madden reports on DFNI recently, "genuine innovation and newness have never been more important in travel retail as connected young shoppers stand alongside their older counterparts who continue to dominate spend. According to m1nd-set, product differentiation is one of the top five drivers (16%) for middle aged shoppers, who make up about half of the market. Furthermore for GenZ shoppers…they cite products not available in the domestic markets as one of their key reasons for buying in travel retail (17%)."
This is the time to disrupt the whisk(e)y category within GTR by introducing a New World Whisky sub-category and there are a number of brands vying for the opportunity to enter the market.
Milk & Honey (M&H) single malt whisky from Tel Aviv
Israel's first whisky distillery, this state-of-the-art distillery was brought to life by a group of friends in 2014 with the support of the late distillery and whisky consultant Dr Jim Swan. The whisky production lead by head distiller Tomer Goren is made in the traditional way but with hot climate maturation given Israel's 300 sunny days on average and the use of casks such as ex- bourbon casks, ex-red wine casks and STR (shaved, toasted, re-charred) red wine casks, as well as new and interesting casks like pomegranate wine, kosher sherry, rum, etc.
Rampur Trigun single malt whisky from India
Radico Khaitan, earlier known as Rampur Distillery, commenced its operation in 1943 and is amongst the oldest & largest manufacturers of IMFL (India-made foreign liquor) in India. Created by master blender Anup Barik, Rampur Trigun takes its name from the Indian meaning of Trigun, "harmony of three", as the whisky is matured in three different types of casks.
Stauning single malt whisky from Denmark
Nine friends with a passion for whisky came together in 2006 to open a small distillery in a disused abattoir. In 2015 Diageo invested in a minority stake in the business, allowing the team to build a much larger 900,000 lpa capacity distillery. Stauning is still focused on producing whisky using traditional equipment such as floor maltings and fire-heated stills.
Scapegrace single malt whisky from New Zealand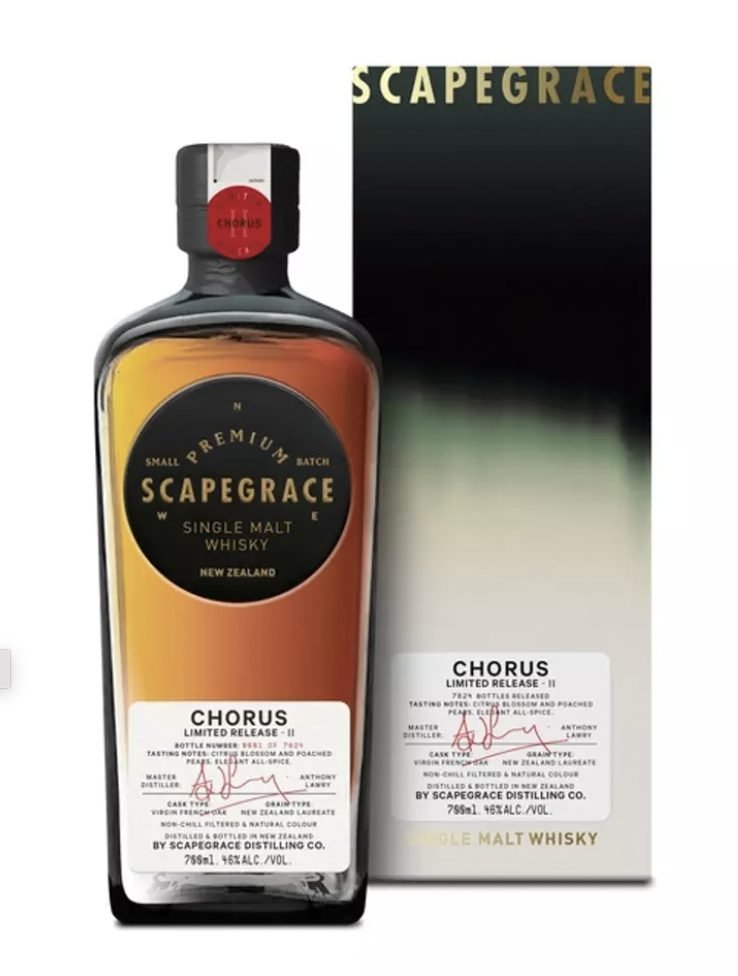 Scapegrace was founded almost 10 years ago by brothers in law Daniel Mclaughlin and Mark Neal along with Richard Bourke. The trio had an enduring vision to produce superior spirits from New Zealand which could be sold in all parts of the world.
Kavalan single malt whisky from Taiwan
Kavalan Distillery has been producing single malt whisky in Yilan County, Taiwan since 2005. Kavalan takes Yilan County's old name. It was here that entrepreneur Mr. Tien-Tsai Lee dreamed to create Taiwan's first whisky, which takes on the legacy of renowned whisky specialist, the late Dr. Jim Swan. It is backed by King Car Group and its more than 40 years of beverage experience and knowledge.
Penderyn single malt whisky from Wales
Penderyn Distillery is the home of Welsh Whisky and produces award-winning single malt whiskies and spirits in the foothills of the Brecon Beacons in South Wales. A second distillery in Llandudno opened in 2021, and a third one in Swansea is planned to open in Winter 2022.