No.1 Wine & Spirits AB is an independent spirits private company, originally launched in 2007 and it comes from the beautiful town of Vänersborg, Sweden. The town also provided the company's founder, Glenn Ström, with the inspiration to start distilling spirits in a typical Swedish way, with a down-to-earth approach to produce a range of great quality and accessible premium products. The beautiful surroundings of Vänersborg, the pure water of lake Vänern and the finest Swedish grains for distillation sourced from local farms, form the heart of the No.1 spirits range.
The No.1 Wine & Spirits (W&S) company has recently invested to support its future growth by significantly increasing its Vänersborg production site, currently undertaking an expansion to raise its capacity from 200,000 9LE to 1,000,000 9LE, with the new plant expected to be fully operational by the end of 2022. The ambitious plan will support the expected business growth at the home for the blending, bottling, labelling and packaging of the No.1 products made in Sweden.
Sustainability is also a strong part of Swedish culture and as such, No.1 Wine & Spirits is passionate about being carbon negative with ground source energy provision for the production plant and recyclable 'Bag in Box' options for its key spirits categories. The company also produces an organic vodka from local Swedish wheat and are aiming to achieve B-Corp status.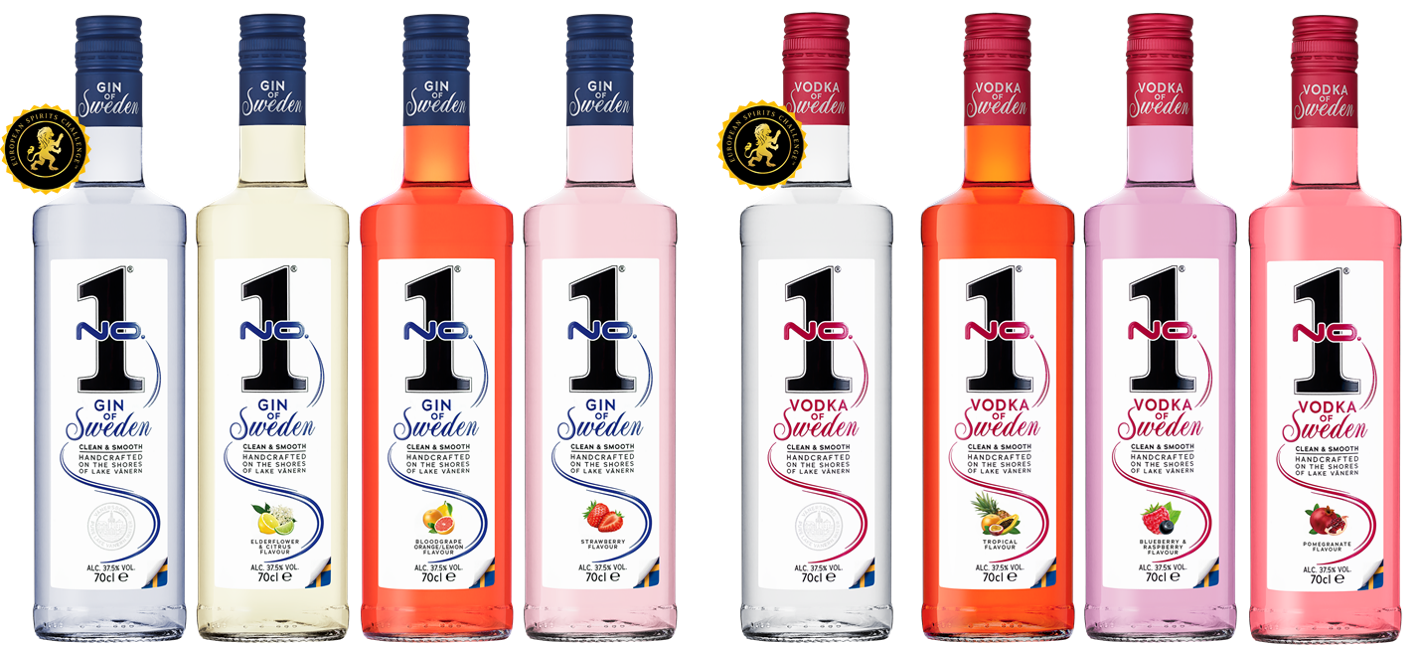 From 2022, No.1 Wine & Spirits is looking to expand internationally, beyond the Nordic borders and its Swedish Monopoly (Systembolaget) heartland and into markets such as North America, UK, Europe, Middle East and Global Travel Retail. The company has already started to expand and to support its growth ambitions, and a wholly owned subsidiary of the Swedish company has been created, No.1 Wine & Spirits Ltd (UK).
Based in the UK, the new division will be responsible for the No.1 Wine & Spirits international business outside of the Nordics. They have also appointed experienced drinks industry executive Robert Cooper as its Chief Executive Officer (CEO) to lead the business. Robert has a wealth of international drinks experience having held senior roles at Diageo, SABMiller and Marie Brizard Wine & Spirits Group amongst others.
In the role of CEO, Robert will be responsible for introducing the No.1 spirits range into new markets, leading the team to support the growth plans and working with both new and existing distributors and customers whilst developing new partnerships.
Robert Cooper, Chief Executive Officer, at No.1 Wine & Spirits Ltd (UK), said: "I am excited to lead the international development of the No.1 W&S spirits range at this stage of their journey. Glenn has built a strong Swedish independent business underpinned by his passion for producing great quality spirits. There are some exciting developments to come in the next few years and I am looking forward to bring these to fruition."
Glenn Ström, Founder of No.1 Wine & Spirits AB, said: "I am so delighted that Robert, with his wealth of experience, has chosen to lead the No.1 Wine & Spirits international division as its CEO. He understands our ambition to become the largest independent spirits company in Sweden.
"I look forward to working with Robert and welcoming new partners and consumers to share our Swedish drinks with us. Skål!" Glenn Ström
No.1 Wine & Spirits will continue to craft every bottle using the finest Swedish grains for distillation sourced from local farms, with the pure water of lake Vänern to create unique tasting vodkas and gins full of flavours and aromas. Always with a commitment to better their sustainability credentials.