Day 1 Highlights
Jonny Stevens returned to the stage to chair the session on 'Leading Buyers of the On-Trade Market: How Brands Can Gain Interest From Retailers'. Representing the On Trade, James Hopkins from the London Cocktail Club shared how Alcohol Free sales are growing since its initial inclusion in their cocktail menus back in 2016, with very few sales in those early days. Today at the London Cocktail Club, they frame it differently, focusing on flavour whilst allowing for consumer to 'spike' the Alcohol Free cocktail option (which would still be a lower abv than their standard cocktails).
Caleño Drinks founder Ellie Webb argued that there is a growing thirst for Alcohol Free options in the On Trade by consumers but this needs to be supported by the trade through increased menu visibility, which is critical to success. This will need to be supported by brands with engagement of bar staff and training, including how to store the product, how to mix it in cocktails, whilst offering a competitive price to the trade.
"On Trade operators need to remember that Alcohol Free brands offer an opportunity to trade up consumers from a glass of water." Ellie Webb, Caleño Drinks
Bill Gamelli from Mocktail Beverages covered the session on 'The Future of Lo & No'.  He saw a bright future for Alcohol Free brands as moderation is becoming part of the new normal with more people moving towards better, cleaner products (health and nutrition); safety, trust and sustainability with delivery on taste. However he also recognised that one of the main challenges for the Alcohol Free category being the lack of definition and this leads to confusion for most consumers – therefore the industry needs to help define it and educate the trade and consumers.
Bill's belief was that the category is likely not to be called 'No & Lo' and that low alcohol alternatives above 0.5% will remain in the alcohol sphere. Supplements and nootropics are being explored and may end up in the supplements category with different regulatory requirements (depending on each country) likewise for CBD, also known as Cannabidiol drinks.
He revealed that the Adult Non Alcoholic Beverage Association (ANBA) trade association is being created in the UK/ EU and will help to define the category terms  and have a shared voice, and that the US association is already up and running. These trade bodies will help define, shape and communicate the category whilst creating standards that the public, the trade and the government can understand. Whatever name is finally decided and used by consumers for the Alcohol Free category, mindful drinking is expected to continue to grow.
Brendan stated that most large Beer conglomerates expect the No & Lo alcohol segment to represent 10% of the global drinks category by 2030, with alcohol free beers growing consistently around the world. For retailers, Alcohol Free beer is margin additive as it takes away from packaged water and soft drinks.
Brendan was joined on stage by Luke Boase, founder of Lucky Saint and Ian Thomson from Noughty alcohol free sparkling wine. Ian shared how Amanda Thomson, founder and CEO of Thomson & Scott, producers of Noughty, relies heavily on PR and making themselves part of the news agenda, driven by their primary audience linked to fitness and health. They are truthful and transparent about what is inside the bottle and have built a story that can be shared and told consistently by others. Amanda is the human voice of the Noughty brand and they have developed a very targeted approach in building their distribution whilst pairing up with the right brands, e.g. Stella McCartney partnership.
Luke Boase on the other hand has taken the approach of driving distribution/ point of purchase in the Off Trade as one of Luck Saint's most powerful awareness drivers, with a more targeted approach in the On Trade. The key for Alcohol Free beer is social acceptance and for consumers not to feel left out of the crowd when drinking with friends who may be drinking alcohol. A key leveller will be alcohol free beer being available in draught format and this is a key focus for them. Luke also has remained focus on alcohol free Lager whilst innovating in the format rather than portfolio, e.g. cans, bottles, draught, etc.
"Do the right thing well" Lucky Saint mantra
The final session of  Day 1 before the Lo & No & Functional Innovation Showcase, was 'From Innovation to Growth: The Need for Investment and Scaling', chaired by Mark Livings, founder of Lyre's Spirit Co. This was a perfect match given the announcement only a day before about Lyre's having secured a £20 million funding round, at a valuation of £270 million.
The session was a lively discussion with a group of people more than qualified to cover the topics being raised, such as investor Ivan Farneti, founding partner at Five Seasons Ventures; Justin Hicklin, chairman at CleanCo; and Bill Gamelli from Mocktail Beverages.
This was followed by the Lo & No & Functional Innovation Showcase, whereby five start ups had a short pitch to demonstrate their vision of the lo & no alcohol industry of the future, and what role their product serves in that.
Zoey Henderson – Fungtn adaptogenic alcohol free beer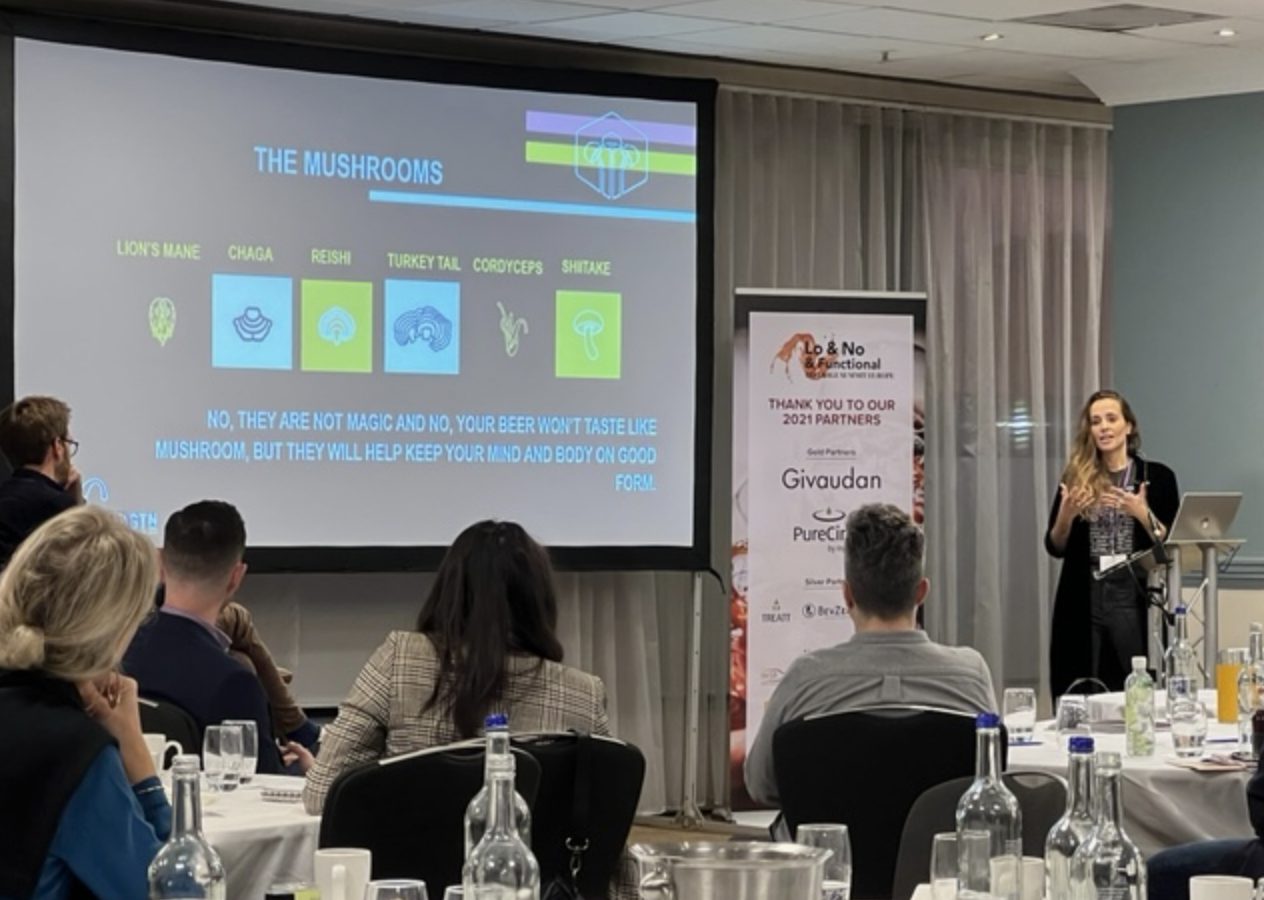 Zala Gomboc – VERA Non-Alcoholic Spirits
Anne Brooks – Eceaux non-alcoholic drinks
Dave Gibson – Gibson's Goodology
High Point Drinks from Cornwall also presented via a pre-recorded video presentation.
Day 2 Highlights
The next morning started with the session 'Taste Profiling and Flavour Innovation' chaired by Charlotte Catignani from Treatt. She was joined on stage by Danielle Bekker from Good Living Brew Co; Felix von Hurter from Freestar Drinks and Dan Gooderham from Adnams Brewery.  One of the initial insights, and worth highlighting, is that the difference in flavour between a drink at 0.5% and 0.0% is massive and it is much easier to produce the 0.5% abv version. Innovation was also more open to products not trying to replicate the flavour of beer, spirits or wine as they would not be beholden by process, history or flavour matching. Functional beverages for example have the opportunity to offer functional benefits that alcohol would never be able to lay claim to, although claims should be linked to the final beverage produced and not to the raw materials used.
The discussion also covered technical aspects of the production of alcohol free beer and how this differed from previous methods used in the past, which explains the significant improvement in flavour delivery in more recent times. However all alcohol free brands need to educate consumers and be careful when handling their products, as preservation and storage are critical for the category and have to comply also with food standards.
The session on 'Expanding into New Markets' was chaired by Morten Sorensen, founder of ISH Spirits.  He was joined by Rob Fink, founder of Big Drop Brewing Co. who explained that Craft beer defines itself by provenance, which is one of the reasons for his company brewing their alcohol free product locally in the US, Canada and Australia and targeting markets where the craft beer concept is well understood, in order to make it easier to communicate to consumers. However, brewing locally is not always an option and this does not work in every country, for example in Russia consumers prefer imported beers. Also, Rob highlighted how regulations change country by country e.g. in the USA, a 0.5% alcohol free beer (malted beverage) cannot use the terminology of ale, stout, etc but it can use the IPA term, even though the letter 'a' in IPA stands for ale.
Next up was Erika Doyle, representing Drink Dry and the Middle East region, a distributor for 10 alcohol free brands in the region, covering at present Dubai and Abu Dhabi, with an eCommerce DTC platform and the scope to undertake brand activations. As far the Middle East consumers of alcohol free products:
Firstly, consumers are looking for quality inside the bottle, i.e. great taste/ flavour
Secondly, they look at the branding
70% of consumers for Drink Dry store are expats currently and local consumers have to be educated as they are not used to drinking alcohol (and the solutions that alcohol free product provides, i.e. if driving, if pregnant, etc).
Finally Mathilde Boulachin, CEO and owner of Domaines Pierre Chavin covered the area of alcohol free wines. The company has been operating in the alcohol free wine sector for 10 years with 50% of their turnover now in this segment of the market and currently exporting to 58 countries. She made it clear that there is no fast solutions and that every country has to be treated differently as there are different problems to be solved e.g. back label regulations, ingredients allowed, etc and a lot of education on alcohol free products is usually required by distributors, the trade and consumers. Each market have unique challenges to be resolved, for example the LCBO government monopoly in Ontario, Canada requires products listed to be a minimum 0.5% abv; in Japan 'Dry January' is not a concept that exists currently; from 1st January 2022, Halal certification is changing and products that were alcoholic before being dealcoholised will not be able to carry the certification; etc.

Next, it was the turn of Laura Willoughby from Club Soda to question Matt Lambert, the CEO of the Portman Group on the topic of 'A 360 View of Regulation and Labelling Requirements in the Lo & No Space'.
Matt was able to share that the Portman Group was currently working on guidance to be issued in 2022 for No & Lo beverages, this will not be a binding or legal requirement but it will be issued as a lot of alcohol free products are marketed as adult drinks and alternatives to alcoholic drinks. He noted that the UK government is likely to be undertaking a consultation in early 2022 on Alcohol Free and that their advice will be that products in the range of 0.0% to 0.5% abv should be included in this category whilst 0.5% to 1.2% abv should come under the Low Alcohol category classification.
Laura and Matt also discussed how Age ID should be requested for No & Lo alcohol beverages at supermarkets (despite some Kombuchas having a higher abv) as otherwise it could be seen as a gateway to alcoholic products for children, so it needs to be an age gated area. Interestingly, the UK Chief Medical Officer Professor Chris Witty is said to be a supporter of the No & Lo category, especially as these could help to consumers to moderate their consumption of alcohol through the introduction into their overall consumption.
Following this session, Chris Draper from PureCircle by Ingredion – the world's leading producer and innovator of stevia ingredients – covered the topic of  'Developing the Future of Functional Beverages'.
It was interesting to learn that Stevia can be a sweetener but also a flavour modulator, it can mask bitterness, etc. Below are some selected slides from his presentation.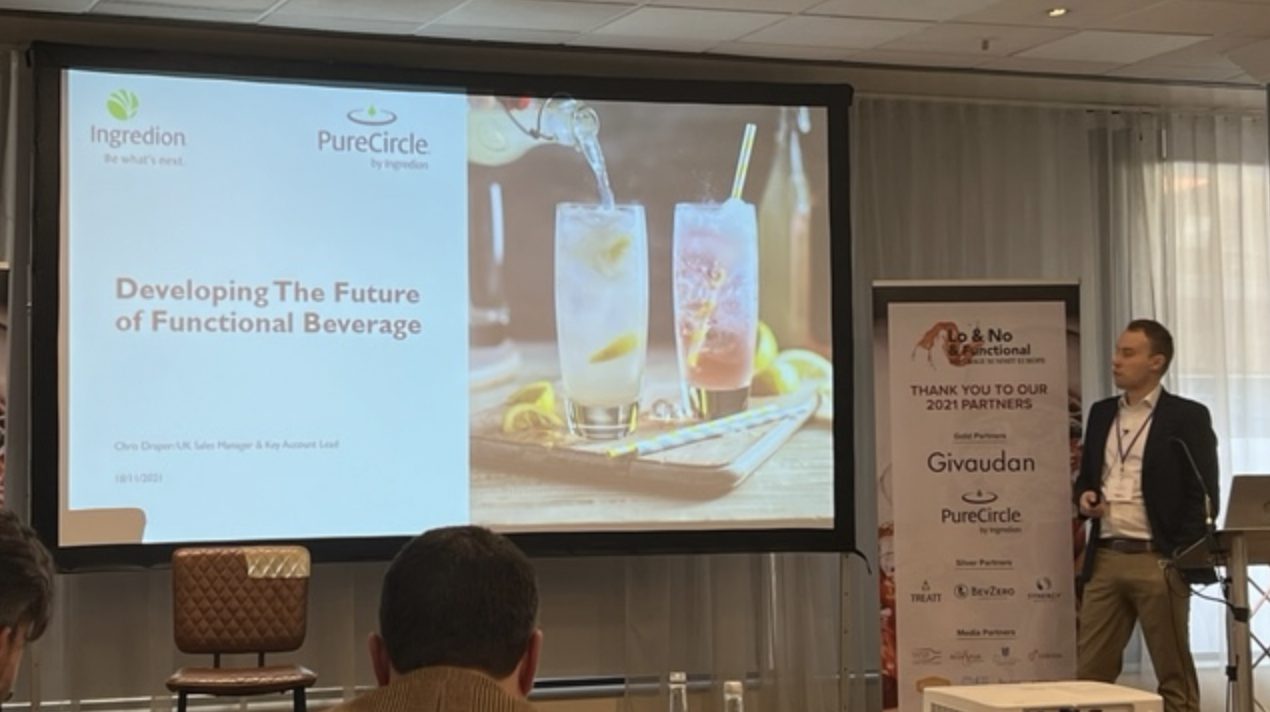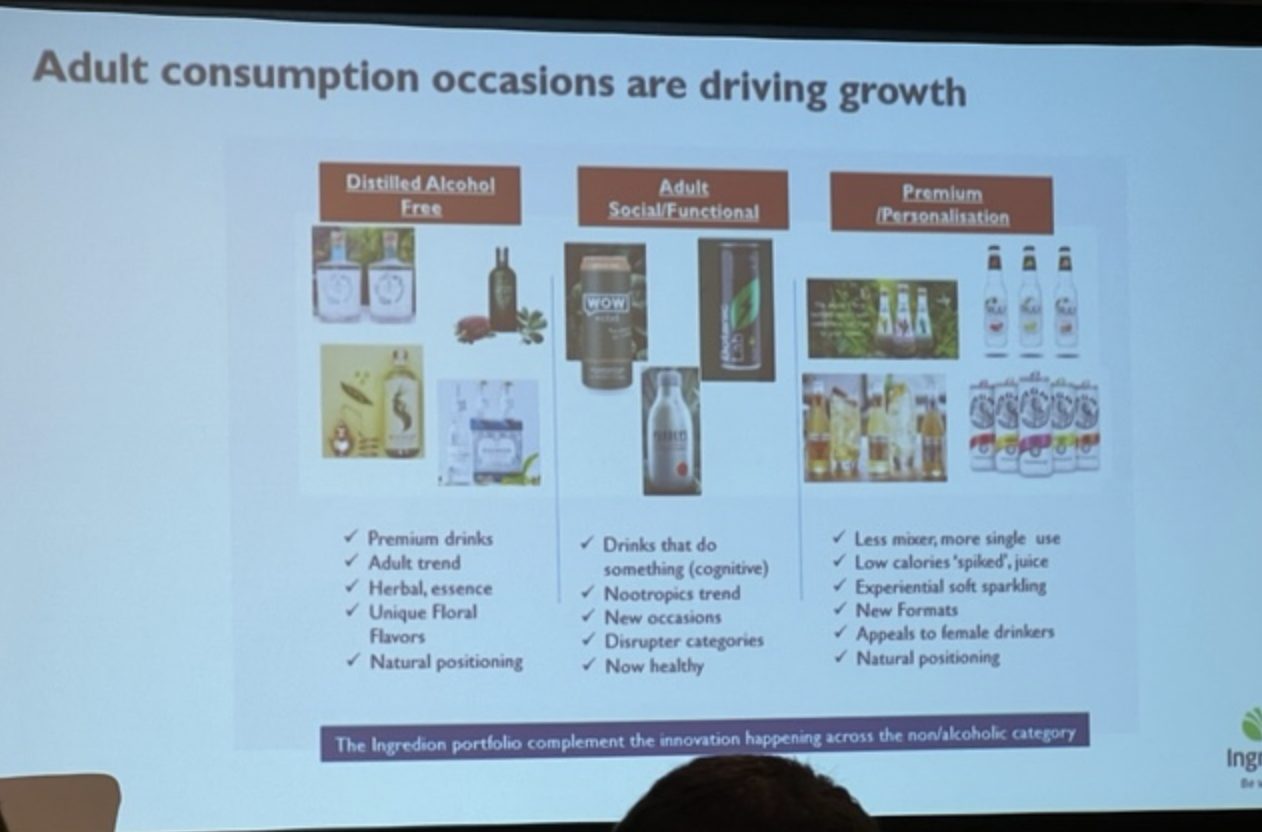 Laura Willoughby from Club Soda returned to the stage to moderate the session on 'Transforming From Traditional Strategies to DTC' with Tatiana Mercer, co-founder of Three Spirit Drinks and James Kindred, co-founder of Big Drop Brewing Co.
Tatiana highlighted that the Three Spirit Drinks business started as a Direct to Consumer (DTC) business and lockdown had benefited their business especially as more people looked for alternative solutions to help them with relaxation and sleep. She mentioned that DTC is also a great market research tool and that you should always be testing and thinking about conversion ahead of traffic to your eCommerce site.
James shared how the Big Drop Brew business had to pivot during lockdown away from being On Trade focused on draught beer to DTC and they managed to launch an eCommerce site within 48 hours (!!), and despite not being part of the plan, it now represents 30% of their total revenue. He reminded us about the consumer and thinking about the unboxing experience, which has to be at the right level for a premium brand, i.e. think about how to create that Instagram moment of delight. They have been experimenting and testing constantly and six months ago have also introduced a subscription model which helps them to forecast revenue and push up the lifetime value and loyalty of a customer. On Amazon, James made the comment that it was value and convenience driven whilst your own DTC is more brand and engagement driven.

Zoey Henderson returned to the stage to moderate the session on 'Functional Drinks: Discover The New Market of Drinks That Serve A Purpose'. She was joined by Dash Lilley, co-founder of Three Spirit Drinks; David Begg, founder and CEO of Real Kombucha; Tristan Bruemmer, founder of JoyBräu Functional Beer, a non alcoholic protein beer and Professor David Nutt, creator of GABALabs and the Sentia brand.
Dash highlighted the importance of flavour quality and sensation/ mouthfeel and how fermentation can help in the creation of textures and flavours, creating a functional drink that offers a pleasurable and generates desirable feelings. Three Spirit Drinks tries to tell a story through their ingredients, with published papers by scientists supporting these being shared through their communication. The functional trend is more developed in California, USA and consumers understand it better over there but it will continue to develop in the UK and Europe.
David placed his Real Kombucha product as an alternative to wine, looking to provide a genuine choice in order to create behavioural change. For them, format was key and their change from a beer type of bottle (275ml single serve) to a champagne style bottle (75cl) allowed the product to be seen by the trade as an alternative to sparkling wines.
Tristan has started with functionality first, looking at what consumers look for after a work out and he specifically targeted replacing the protein drink experience, which can be messy and individualistic, with a more enjoyable and sociable experience. Main challenge remains educating the trade to allow for his products to be sited in the right area of the supermarket close to the protein shakes rather than alcoholic beers.
Professor David Nutt and his Sentia botanical drink with herbal elements is targeting the GABA system on the brain in order to mimick the positive aspects of alcohol without any of the negative effects of alcohol. GABA is a vital neuro transmitter and a key element for plants and animals. For information on what is GABA and how Sentia makes you feel – click here.
He has also previously argued that a drug that mimics some effects of alcohol but lacks its harmful properties would have real benefit for public health, for more information click here.

The final session of the day, before some more networking and sampling of No & Lo & functional beverages, was entitled 'Multinational Brands Entering the Space: How can you Future Proof Your Company?' and presented by Craig Hutchison, founder of  CEDER'S Drinks and CEO of Mindful Brands. He left us with the following insights and questions to ponder:
Focus your investment on PR, social media and trade, especially if you are short of cash
80% of No & Lo sales are in the Off trade
Corporate large companies struggle to be entrepreneurial
Don't Use agencies
Look at non traditional sales channels inc. quick commerce
Look at mindful celebs and potential associations
Ask yourself: How can we be more?
Ask yourself: How can we be leaner and lower our costs?
On a final note, I'd like to thank Kisaco Research for allowing me to attend this 2-day event focused on No & Lo & Fucntional beverages.