The association of alcoholic beverages with celebrities extends beyond actors and musicians, with a growing number of sports people also involved in the drinks industry.
For reference from Inside the Cask: The Celebrity Liquor Index – click here.
"Actors and musicians have been investing in distilled spirits brands for some time, and professional athletes are a natural progression of this celebrity trend."
"Celebrities want to align themselves with high-end products that symbolize quality, style and sophistication — and that fits nicely with super-premium spirits. It also makes good business sense from a consumer standpoint. With the increasing popularity of spirits, more and more adult sports fans enjoy watching their favorite teams with a cocktail," Lisa Hawkins, senior vice president of public affairs at the Distilled Spirits Council, told ESPN.
Abraham Ancer (Golf) – Flecha Azul Tequila
Co-founders and long time friends Aron Marquez and Abraham Ancer shared a strong passion for their Mexican heritage and tequila. Marquez met Ancer while attending a PGA Tour Pro-Am Tournament and the two quickly became friends before looking for opportunities to become business partners. A few years later, the idea of Flecha Azul Tequila was born.
Andy Roddick (Tennis) – Sweetens Cove Bourbon
Sweetens Cove is a 9-hole track at the end of a gravel road in the Sequatchie Valley in Tennessee. Before tee time at the famous public golf course, players have always imbibed in a ceremonial shot of bourbon. Sweetens Cove bourbon is distilled and aged in Tennesee, and blended in Central Texas by master distiller Marianne Eaves. The former world tennis number 1 Andy Roddick is not the only sports star to have invested in this liquor brand, as former American football player Peyton Manning is also involved.
Brian Laudrup (Soccer/ Football) – Laudrup Dry Gin and Laudrup Rosé Wine
The Laudrup Dry Gin came into existence using eleven carefully selected botanicals, with a dash of Denmark to this Scottish spirit. Rhubarb, a beloved staple of so many Danish desserts, just had to be included in the special mix of flavours.
"For our small family laudrup ltd is a dream project really. We spent four great years in Scotland and enjoyed our life there but to be able to create a Gin and a Rose with the Laudrup name is a dream come true." Brian Laudrup
Carey Hart (Motocross) – House Beer
Premium craft lager brand House Beer has been acquired by motocross athlete Carey Hart who will "restart production and bring the brand back to its former glory".
Carmelo Anthony (Basketball) – VII(N) – The Seventh Estate wine
The NBA All-Star athlete was launching his debut vintage wine, a 2017 Oath of Fidelity Chateauneuf-du-Pape, in 2023.
Charles Woodson (American Football) – Woodson Bourbon Whiskey
Charles Woodson brings his passion for winemaking and sustainability to his craft spirit line by finishing all of his spirits in the same french oak wine barrels used in the wine making process to make his Charles Woodson Wines Napa Valley Cabernet Sauvignon.
Chipper Jones (Baseball) – Sugarlands Shine Chipper Jones' Sweet Tea Moonshine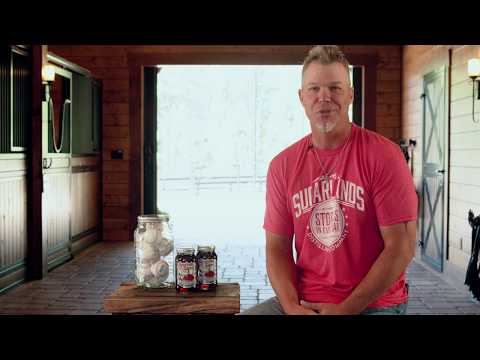 One of baseball's all-time great players, Chipper Jones, has joined the Sugarlands family to celebrate another American pastime, sweet tea moonshine.
Christian Fuchs (Soccer/ Football) – No Fuchs Given spirits
Founded by English Premier League Champion Christian Fuchs and distilled in England. NoFuchsGiven is according to them "more than a brand, it is a lifestyle choice. It's the mentality of being brave and bold. Breaking away from society's norms and ripping up the rulebook. A way to express yourself, where there is NoFuchsGiven."
Conor McGregor (Mixed Martial Arts) – Proper Twelve Notorious Irish Whiskey/ Forged Irish Stout
Ken Austin approached MMA star Conor McGregor about collaborating on a spirits brand, seeing the marketing value McGregor could bring to the table. He has also worked with rapper Jeezy on Tequila Avíon and with Dwayne Johnson on Teremana Tequila. As Business Insider reported, Austin and McGregor worked with master distiller David Elder to perfect the taste before choosing the blend that was to become Proper Number Twelve.
Cristie Kerr (Golf) – Cristie Kerr Wines and Kerr Cellars winery
Professional golfer Cristie Kerr founded the business in 2013 in partnership with consultant winemaker Helen Keplinger. In 2020, Constellation Brands took a minority stake in Kerr Cellars and its range of Napa Valley and Sonoma County-sourced wines, although it will continue to be independently-owned and managed.
Danica Patrick (Race Car Driver) – Danica Rose wine
The former race car driver Danica Patrick launched a Provencal style Rose, after cultivating her own wine in Napa Valley.
David Beckham (Soccer/ Football) – Haig Club grain scotch whisky
Haig Club was launched back in 2014 as a single grain whisky with no age statement, in association with David Beckham and Simon Fuller. The scotch whisky is sourced from the Cameronbridge distillery.
David Frost (Golf) – David Frost Wine Estate
David Frost and his family have been in the wine business in South Africa for over 60 years. His father's vineyard was the first place he hit balls and the pocket money he made from picking grapes, funded his first set of clubs and an on going supply of balls. In 1994 the tradition of vineyards in the family continued when David bought a 300-acre Vineyard in the Paarl wine region where he produced his first 3,000 cases of Cabernet Sauvignon in 1997.
Dennis Rodman (Basketball) – Bad Boy Vodka
Back in 2013, Dennis Rodman partnered with Premiere Brands Inc. to launch Bad Boy Vodka although it seems like the project did not last for too long.
Derek Jeter (Baseball) – Bespoken Spirits
Derek Jeter is a National Baseball Hall of Famer as well as Marlins CEO and co-owner. He invested in spirits company Bespoken Spirits back in 2020.
Dwayne 'The Rock' Johnson (Wrestling) – Teremana Tequila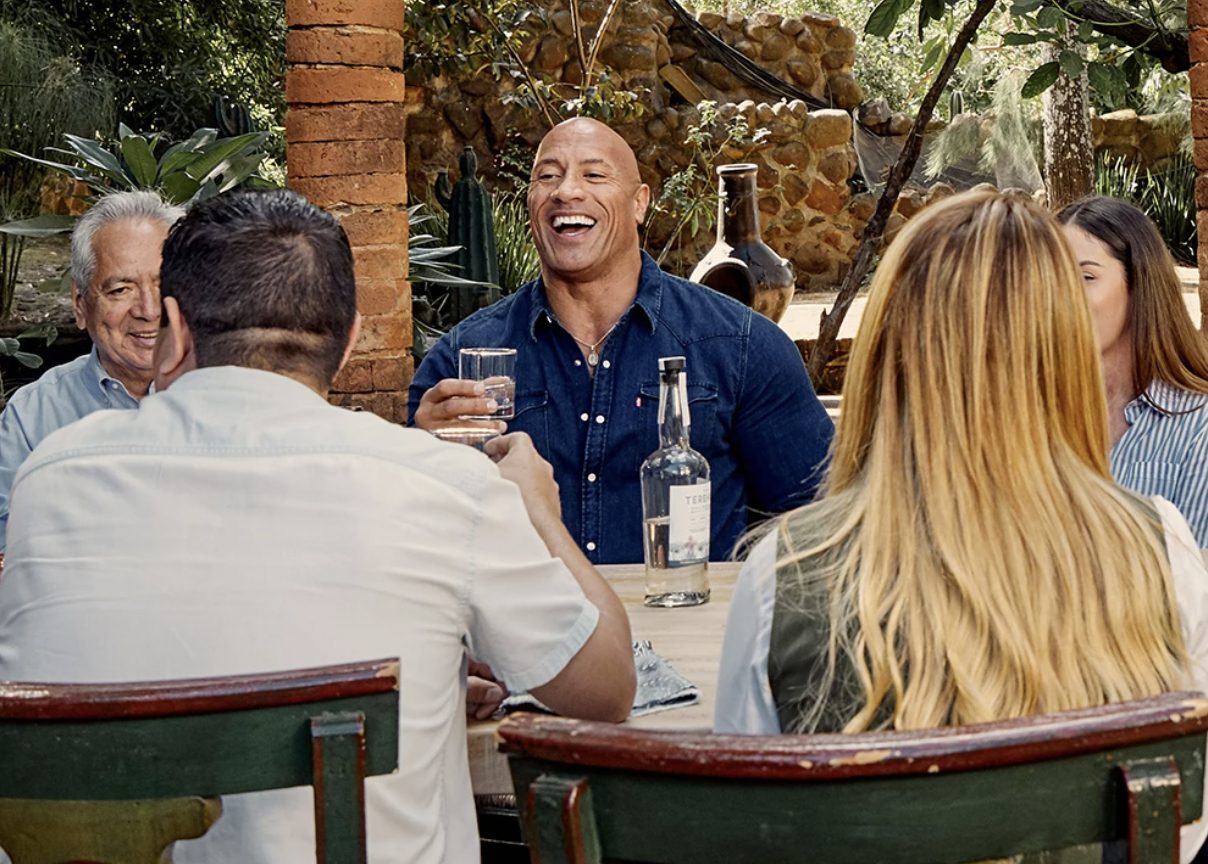 A third generation professional wrestler, Dwayne Johnson was intrigued as a child by lucha libre – a high-flying and theatrical take on the sport, popularized in the arenas of Mexico. He launched Teremana Tequila in 2020, partnering with a Mexican family who are tequila makers themselves, and agave growers.
Dwayne Wade (Basketball) – Wade Cellars wine
Dwayne started Wade Cellars in 2012 and the basketball star has expanded beyond its flagship Cabernet Sauvignon to introduce also red blends and a rosé.
Ernie Els (Golf) – Ernie Els Wines
Through his many travels around the globe, Ernie has been exposed to and appreciated some of the world's greatest wines and in 1999 decided to pursue his developing passion for fine wine with the creation of Ernie Els Wines. Ernie fittingly chose Stellenbosch, the noble heart of South African wine to base his operation.
Fred Couples (Golf) – Couples & Co wines
Fred Couples and winemaker Mitch Cosentino teamed up to form Couples & Co, a wine brand from pureCru Napa Valley. The company celebrates the duo's shared Italian heritage and desire to make fine, limited-production wines.
Gary Player (Golf) – Black Knight Wines
Gary Player's Black Knight Wines are produced by the Quoin Rock winery in the Stellenbosch winelands of South Africa. The label launched with the Muirfield 1959 vintage, part of the "Gary Player Major Championship Series."
Greg Norman (Golf) – Greg Norman Wine Estates
Founded in 1996, Greg Norman Estates is an internationally recognized collection of 10 varietals from Australia, California and New Zealand. The Great White Shark's wines are produced out of vineyards owned by his company and his wines are a staple on the "Top 100 Wines in the World" list, the 1999 Reserve Shiraz received the distinction of "No. 8 Wine in the World."
Ian Botham (Cricket) – Sir Ian Botham Wines
The cricket legend launched his own rage of wines in 2018 at Lord's Cricket Ground, and he was working with Paul Schaafsma of Benchmark Drinks, also their distributor.
"During my career as a cricketer and then commentator, I was lucky enough to travel to some of the best wine making countries in the world, visit their winery's and listen to some of the best wine producers talk about their wine." Ian Botham
Jack Nicklaus (Golf) – Jack Nicklaus Wine by Terlato Wines
Jack Nicklaus Wines, a line of handcrafted, limited-production wines from California's famed Napa Valley is a partnership between Terlato Wines and golf legend Jack Nicklaus and his family. Terlato Wines is the same company who assists Luke Donald's wine range also.
James Harden (Basketball) – Wine
NBA superstar  James Harden has launched a Prosecco in collaboration with Accolade Wines and globally recognized wine brand J-Shed, as the hottest new offering in his signature wine collection J-HARDEN.
Jan Stephenson (Golf) – Wine and Rum
A three-time LPGA Tour winner, Jan Stephenson got into wine and her Stephenson label produces bottles of Chardonnay, Cabernet Sauvignon and Merlot. She also produces a number of different Rum products.
"I know I have a good product and a ridiculously reasonable price, so I'm not going to give up. You can't just put your name on a wine and sell it; you have to get out there and sell it yourself." Jan Stephenson
Jenson Button (Formula One Racing) – Coachbuilt Blended Scotch whisky
Whisky expert George Koutsakis and Formula One racing star Jenson Button have united to create Coachbuilt, a new premium Blended Scotch whisky. All five of the iconic whisky-producing regions of Scotland appear in the new blend: Islay, Speyside, Campbeltown, Highlands and Lowlands.
Jorge Masvidal (Mixed Martial Arts) – Recuerdo Mezcal
The MMA and UFC fighter partnered with El Recuerdo de Oaxaca, which is apparently the top-selling mezcal available in duty-free airport stores and one of the leading mezcals in Mexico, according to the brand.
LeBron James (Basketball) – Lobos 1707 Tequila and Mezcal
Founder and Chief Creative Officer Diego Osorio and Chief Executive Officer Dia Simms received some early backing by basketball star, LeBron James.
Lewis Hamilton (Formula One Racing) – Almave non-alcoholic blue agave spirit
Lewis Hamilton has partnered with Casa Lumbre's Iván Saldaña to launch a non-alcoholic blue agave spirit: Almave. There are two expressions being launched: Almave Ámbar Distilled Non-Alcoholic Blue Agave Spirit, created for sipping, and Almave Blanco Distilled Non-Alcoholic Blue Agave Spirit, created for mixing.
Luke Donald (Golf) – The Luke Donald Collection by Terlato Wines
The Luke Donald Collection was launched in 2008 and Luke has been involved in blending the wines to his tastes and preferences, working together with Terlato Wines.
Michael Jordan (Basketball) – Cincoro Tequila
Cincoro Tequila, a super-premium tequila brand, was created by five basketball NBA owners: Jeanie Buss (Los Angeles Lakers), Wes Edens (Milwaukee Bucks), Emilia Fazzalari and her husband Wyc Grousbeck (Boston Celtics), and Michael Jordan (Charlotte Hornets).
Mike Piazza (Baseball) – TRUE Vodka
Mike Piazza launched his Italian-made vodka brand in conjunction with Grapestars, the one-stop shop for celebrity wine and spirits. Piazza is a former baseball player with the NY Mets, and a Major League Baseball Hall of Famer.
Mike Weir (Golf) – Mike Weir Estate Winery
The Masters champion launched the Mike Weir Estate Winery in 2005 to bring more exposure to Canada's Niagara Region wines. In 2020, three new owners, Frank Mondelli and Michael Sannella, both real estate developers, and Douglas Wheler, founder of an events and catering company based in Toronto, bought the 40-acre Weir property, retail/tasting facility and winery out of receivership for CAD$4.625 million.
Nick Faldo (Golf) – wine
The six-time major champion launched his wine label in 2000, produced by Katnook Estate vineyards in Australia.
Retief Goosen (Golf) – The Goose Wines
Retief Goosen and his partner, Werner Roux, are committed to continue their journey as friends in the wine business and to grow this brand of wines. The Goose Wine range is handcrafted in high altitude vineyards on the northern slopes of the Outeniqua Mountains, in the heart of the Garden Route, South Africa.
Rickie Fowler (Golf) – The Finnish Long Drink Company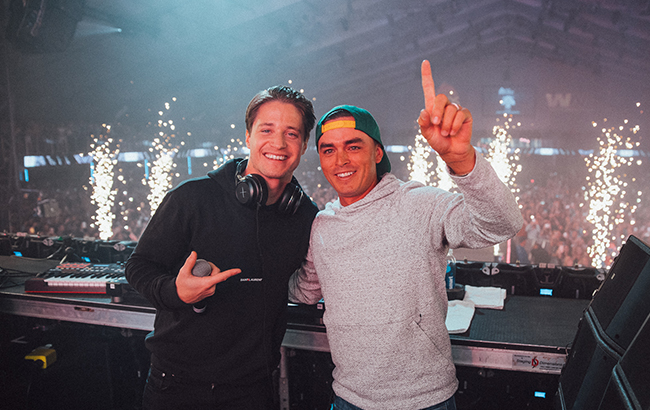 Top-selling DJ and music producer, Kygo, and PGA golf player Rickie Fowler both joined The Long Drink Company in 2020. They joined co-owner and Hollywood actor Miles Teller.
Ryan Whitney/Paul Bissonnette/Barstool Sports (Hockey) – New Amsterdam Pink Whitney Vodka
The drink finds its inspiration in Spittin' Chiclets – a popular hockey podcast – host Ryan Whitney's favourite drink. Back in 2018, Whitney (a former NHL player) revealed to listeners that his favourite cocktail was pink lemonade spiked with some New Amsterdam vodka. Following the episode, the drink went viral on the internet.
Saúl 'Canelo' Álvarez (Boxing) – VMC tequila-based Ready-to-Drink (RTD) cocktails
VMC (short for 'Viva Mexico Cabrones') is a range of RTD cocktails developed by the boxer in partnership with craft spirits company Casa Lumbre. Made using blue agave grown in Jalisco, the product is available in three flavours; Paloma (grapefruit), Jamaica Hibiscus and Margarita.
Scottie Pippen (Basketball) – DIGITS Bourbon
NBA basketball legend and entrepreneur Scottie Pippen teamed up with wine and spirits maker Dave Phinney to launch DIGITS, a five-year-old bourbon.
Stephen Curry (Basketball) – Gentleman's Cut Kentucky Straight Bourbon Whiskey
NBA's Steph Curry is launching Gentleman's Cut Kentucky Straight Bourbon Whiskey in partnership with John Schwartz, the owner of Amuse Bouche Winery in Napa Valley, with the production taking place at Game Changer Distillery in Boone County, Kentucky.
"This rich, complex, and bold bourbon is the perfect offering to commemorate life's great occasions and will be part of a raised-glass toasting moment in the lives of my fans, friends, and family." Steph Curry
Terry Bradshaw (American Football) – Bradshaw Kentucky Straight Bourbon Whiskey
NFL American football legend Terry Bradshaw launched his own Kentucky Straight Bourbon Whiskey and is working with Grapestars. GrapeStars is an online specialty wine and premium & craft spirits marketplace which allows celebrities and celebrity endorsed brands to promote their wines and spirits directly to their followers on social media.
Tony Parker (Basketball) – Château La Mascaronne and Champagne Jeeper
The NBA basketball star and former San Antonio Spurs player joined Château La Mascaronne in Provence and Champagne Jeeper as a partner with French entrepreneur Michel Reybier.
Wayne Gretzky (Hockey) – Wayne Gretzky Estates Winery
In the spring of 2017, the all-new Wayne Gretzky Estates Winery and Distillery in the heart of Niagara-on-the-Lake wine country was opened. The 23,000-square foot facility nestled amongst the grapevines is the first combined winery and distillery in Ontario, Canada and another shining example of the great things that happen when The Great One is leading the team.