Moa Nilsson is a Swedish whisky enthusiast and the person responsible for Swedish Whisky Girl, the Icons of Whisky Communicator of the Year 2021. Moa is also sharing creative content, hosting educational spirit tastings and trying to influence the drinks industry in a positive way. She was kind enough to agree to my invite and spare some time to talk to Inside the Cask.
Inside the Cask: Hi Moa, you are a spirits judge, freelance writer, content creator and founder of Swedish Whisky Girl. However how did it all start for you? Where did the interest in drinks, and more specifically on whisky come from?
I had a previous interest for wine after doing two university courses on the subject and have always been fascinated by flavour through cooking and baking. During my final year of studying professional dance in Edinburgh, I met my boyfriend who was just starting a job in the whisky industry. We tried some mini samples of various whiskies together to try and identify aromas and find out where the flavour came from as well as how different they could be and eventually I found the first whisky that I really enjoyed: an Ardbeg 10yo and from there I was hooked!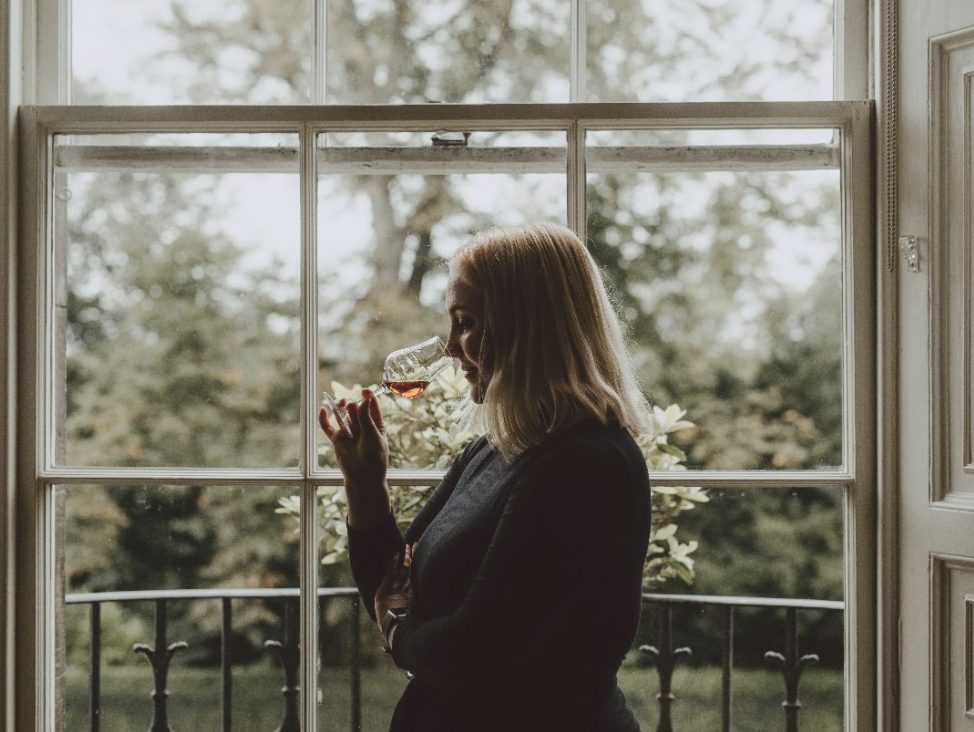 Inside the Cask: Most people will have no idea of the work and preparation involved behind the scenes in writing and talking about whiskies, so what does the current job entail on a day to day basis? 
Besides working with my full time job with sales & marketing for a ski travel company, my time is spent trying to get my schedule together so that I am able to work with Swedish Whisky Girl as well.
Most weeks I record two
YouTube videos
which also need to be edited and published, I post on Instagram almost every day (sometimes every other day) which also demands taking photos and editing. If I'm working on collaborations, there's a process of creating the content, sending it for approval, adjusting accordingly and sending it over again before it goes live on a scheduled date.
Currently I also write for various whisky publications, so with writing it's a lot of focus on research before putting the piece together.
Basically it's a lot of creating and editing but with occasional trips, distillery visits, collaborations, writing or judging.
Inside the Cask: Can you tell us more about Swedish Whisky Girl and what you are looking to focus on in future? Are there any brands that you'd love to work with?
I would love to be able to continue doing what I am currently doing : a mix of a little bit of everything and I'm always open to trying new things. I really enjoy taking photos of whisky bottles outdoors so I'd love to be able to expand that and perhaps work collaboratively with a brand to create such images.
I'm open to working with pretty much any whisky brands all over the world, but it would be amazing to travel to places like Japan or the Nordic countries and work with brands that are located there.
I'm always fascinated by the combination of culture, people and  whisky making and I of course have a soft spot for the north, since I was born and raised there.
I have a dream about being able to create a tasting experience where you would go by snow mobile to a fairly remote place in the Swedish woods in the winter, where you could sit by a bonfire and enjoy a whisky tasting where each whisky is paired with local delicacies. Doesn't that sound quite nice?
 Inside the cask: As someone who has judged at the World Whiskies Awards, can you shed some light on the experience? What would be your advice for anyone interested to become a spirits judge?
If you are wanting to become a spirits judge it can be a good idea to practice both finding tasting notes and researching what tasting notes that might come from various ages, casks, spirits types etc but also to judge spirits based on complexity and not personal preference.
In the experience of judging that I have so far, it is the complexity of the whisky that gives the higher scores but it's not always the whiskies that I personally find the most interesting even though they taste good.
You have to be open to different types of whisky as you may be judging single malts, blends, grain whisky, older or younger, international or scotch – the more experience you have trying various styles and flavours, the easier it will be to know what to focus on.  Sometimes you never find out what whiskies you've been trying either so it's a lot of blind tasting and scoring without a set end result.
I would also highly recommend a spitoon of some sort if you are trying more than a few whiskies and drinking lots of water! Your mind and palate can get very tired from the intense tasting sessions that spirit judging usually entails.
Inside the Cask: Scotch whisky remains a large and popular drinks category globally. Any up and coming trends or brands to watch out for in the category? What can you tell us about the Swedish whisky market?
I think it's interesting to see sustainability taking a bigger part with distilleries and it will also be exciting to see what all the new distilleries will do as they start distilling and also come of age. For new distilleries, STR (short for: shaved or scraped, toasted and re-charred) casks seem to be particularly favoured but there's also rye whisky and soon, there will also be oat whisky. Both of these will be classified as grain whisky in Scotland but I think it will be fascinating to see how that will affect the grain whisky category. Rye whisky generally seems to be held in higher regards for many people, than for example a single grain made from barley and corn or wheat.
The Swedish whisky market is bigger than people might expect. Since 1999, Mackmyra have been distilling and making whisky and there's plenty of other both smaller and larger distilleries in the country now. If you're looking to try something different – like lingonberry wine cask, birch wine cask or green tea seasoned casks – than check out Swedish whisky.
Many Swedes seem to like quite powerful flavours so they tend to go for heavily peated Islay or big sherry bombs so you'll often hear them talk about whiskies like that, but I think more and more people are getting more open minded when it comes to our national whisky. Some Swedes can negatively compare them to Scotch, because Swedish whisky does not yet have the long history of Scottish whiskies, but not many places do, so I think it's a bit of an unfair comparison. I also love exploring international whisky where a bit of the local culture is adapted into the process.
Inside the Cask: Can you tell us more about your personal background? What else are you passionate about?
At the start of 2021, I started knitting and sewing my own clothes so that's something I really enjoy at the moment and have no plans to stop doing so anytime soon.  Besides that, I really enjoy being outdoors, as well as working out, especially through classical ballet, yoga or aerial hoop which I hope to be able to do more of now that the world is opening up again.
I love being creative so anything that allows me to use my imagination in some way makes me feel the most alive.  And I can't not mention skiing, since I fell in love with downhill skiing after working a winter in Verbier, Switzerland – the mountains now feel like my second home.
Inside the Cask: What would be your advice for anyone else wanting to work in the drinks industry?
There are so many opportunities within the drinks industry so if you already know what direction you're keen to go in that's great, if not – then be curious and seek out different aspects of the industry and see what sparks your fire.
Perhaps try and find people in a similar role to what you're interested in and ask them what knowledge and experience they would recommend for it. It's hard to give any general advice because there's so many different roles, but if you have a passion for it, keep seeking out opportunities and learn from everyone that you come across!
Inside the Cask: What surprised you most about working in the drinks industry?
Oh this is a tricky one, I'm not quite sure…
My initial thought is that it surprised me how big of an issue the "old-fashioned" image of a "typical whisky drinker" still was since I thought that in the time we live in now, people can respect each other.
No one should have to try and push people down or have opinions on how, where or why people choose to drink anything – be it spirits, non-alcoholic beverages or anything else. And that's not just from a part of a spirits-interested audience but from various whisky brands that seemingly don't even consider a huge part of their audience enough to include them – judging by their marketing and advertising. Is this not 2021?
Inside the Cask: What is the favourite part of your job? Anything that you would like to share that not many people would know about you? 
My favourite part is getting to travel and experience new places whilst meeting fascinating people.  The people and their stories really make the whole whisky community for me. They make the whisky come alive.
And something I don't think a lot of people might know about me is that I've worked as a tiger at a zoo…I was part of the team of actors where you dressed up as an animal all day and entertained the guests throughout the zoo, in fact it wasn't just as a tiger but also as a monkey, lion and and a zebra!
I'm also super emotional and cry almost every day – not necessarily sad tears though! – and I really – r e a l l y – dislike ketchup. Even writing that last thing gives me bad vibes…