Handcrafted in the Surrey Hills, Sipello is a Bittersweet British Aperitif marrying a gooseberry-led blend of British ingredients such as rhubarb and the little known chuckleberry with sustainably sourced botanicals from around the world.
Sipello's founder is Tim Simmons who started the journey to bring this beautiful craft product to market two years ago, made in the area where he grew up, to finally making it available from 1st October 2021.
Tim spent almost 18 months of experimenting and blending batches at the distillery, as well as approaching dozens of top bartenders in lockdown, many of which are household names with a batch him and the Sipello team felt was close to the finished article. Most were happy to receive something different and new so Tim would jump on his bike if they were in London and hand deliver them himself – much to their surprise.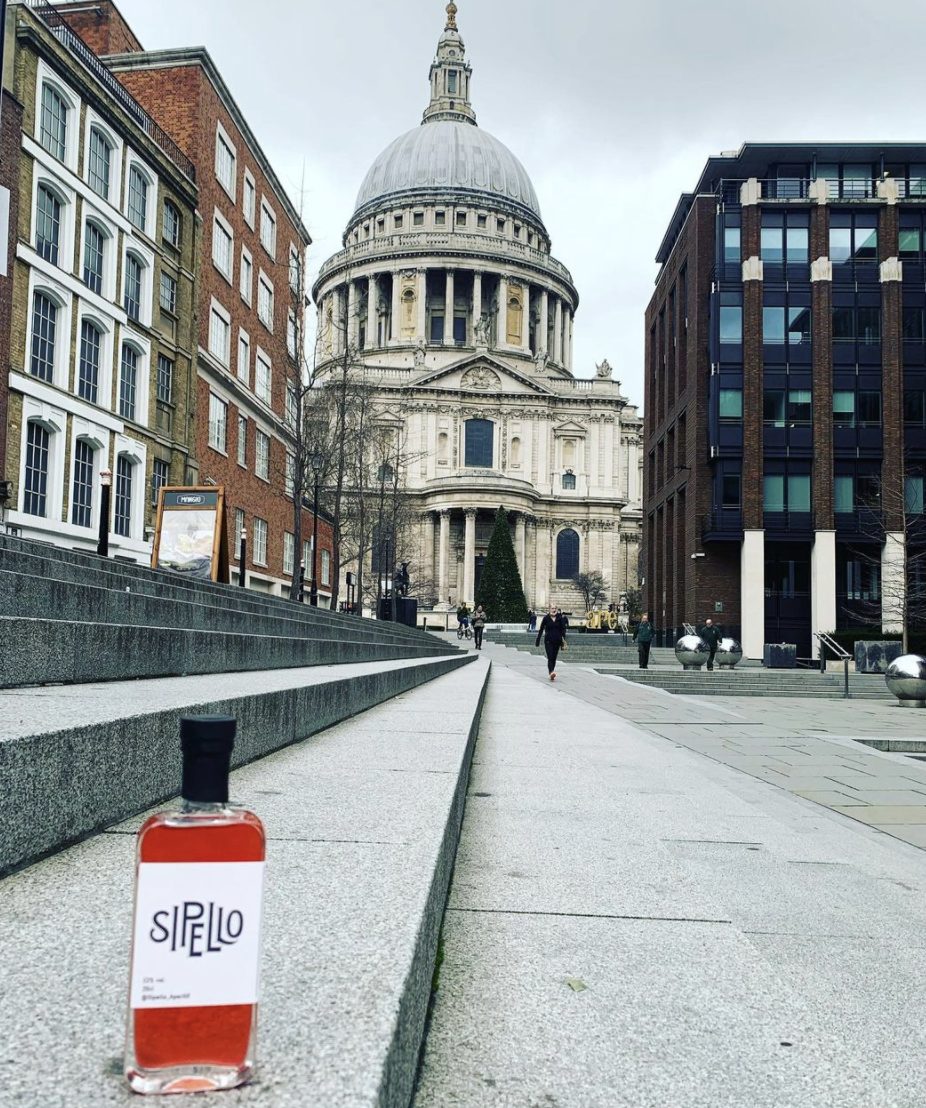 Tim delivered samples in time for Christmas and New Year's Eve in December last year, and then again in January and February this year, cycling about 700km on his bike, often in temperatures that reached -3c!
Top end bartenders have mixed Sipello with everything from gin, prosecco, sea salt, single malt whisky, coconut water and Champagne to mezcals, pale ales, fruit liqueurs and Elderflower Pressé's. The invaluable feedback, insight and suggestions from these bartenders helped shape Sipello into the liquid it is now.
Sipello takes 4 weeks to make as they macerate many of the ingredients separately before blending the fruity-bitter liquid to give it depth, complexity, and a long finish.
Some of the fruit is macerated fresh, some is picked and frozen before being pressed to keep the sugars locked in. According to the Sipello team, this seems to be a similar concept to how ice wine is made. The 22% abv was the best alcohol strength they found to bring out the most from the ingredients giving it the right mouthfeel. For a list of the botanicals used in Sipello – click here.
Sipello Aperitif Batch number 1, as stamped on the bottle, has an inviting gooseberry freshness on the nose, a sweet jammy chuckleberry taste up front, a subtle yet familiar floral note in the middle and a gentle wormwood finish that lasts for days.
The flavours & aromas of the natural fruit, handpicked and wild-harvested botanicals by their very nature are nuanced by terroir and that makes every batch different by nature.
As a home serve, Sipello batch 1 pairs beautifully with elderflower tonic packed with ice and garnished with a lemon wheel. Served 50ml Sipello, 150ml tonic. Sipello Spritzes, Negroni's, Americano's and Garibaldi's are also great cocktails (recipes on the Sipello website).
I have already ordered a bottle of Sipello batch 1 and looking forward to trying some of those cocktails!