Ron Swanson is the Parks & Recreation fictional character and director of the Pawnee parks department, who loves woodworking and Lagavulin 16 Single Malt scotch whisky. So it should be no surprise that in 2019 this relationship was taken to another level through the release of the Lagavulin 11yo Offerman Edition, with the direct involvement of the actor and single malt enthusiast behind Ron Swanson, Nick Offerman.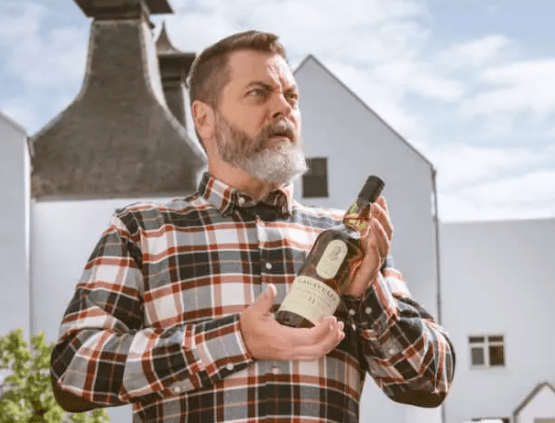 "I have travelled the world and sampled many attempts at pleasing nectars, but it is solely this distillation of Islay; a tiny charismatic Scottish isle, that has claimed my palate…this 11 year Lagavulin is like a top-shelf brass band…blowing smoky jazz and marching straight down your gullet." Nick Offerman
A very limited release Lagavulin, bottled exclusively for the USA market and made in collaboration with the actor, writer, comedian and producer Nick Offerman, who played the Lagavulin loving character Ron Swanson. This 11 year old Single malt has been matured in a mixture of refill and rejuvenated Bourbon casks, before being bottled at 46% ABV.
The whisky is said to carry the signature Lagavulin peatiness but with extra spices and notes of dried fruit to carry the smoke. It offers a full-on tingle from the split second it hits your lips, with pronounced fresh berry character combined with spiciness. Elevated top-notes provide a more direct flavor journey than other Lagavulin expressions. It was originally released for around £65 per bottle but now can only be found for £200 or more.
Official Tasting Notes:
Appearance: Pale gold; very pale straw. Good beading. Body Medium.
Nose: Mild overall, with light prickle. The top notes are unusually ashy for Lagavulin, but familiar hints of linseed oil soon reassure. Gradually fruity notes of hard candy (boiled sweets) emerge, as does a clean, fresh suggestion of the sea, like sniffing the sea air in a fishing harbour. With water, the aromas reduce and the more pungent, smoky notes come slightly forward.
Palate: At natural strength, soft and smooth in texture with a big taste that is sweeter than expected. Smoky too, with a little salt. A clean, fresh Lagavulin that is very lightly drying mid-palate. The sweetness is more prominent with water when the tastes are reduced yet broadly unchanged.
Finish: Long and very smoky, as the smokiness comes through much more strongly. Lightly drying, with an appetising salty aftertaste. With water, sweeter, though the smokiness still reasserts itself in the aftertaste.
"A tiny island off the coast of Scotland, where god's chosen elixirs are distilled, barrelled, and prepared for consumption." Nick Offerman
A True Father-Son Creation, the second bottling from this unique partnership was released in 2021 and aged in Guinness casks.
For all the wisdom Nick Offerman carries, he has one man to thank: his dad, Ric.  They invite you to pour a dram of the newest release from Nick Offerman and Lagavulin Islay Single Malt Scotch Whisky – Lagavulin Offerman Edition: Guinness Cask Finish. This limited-edition 11 Year Old Lagavulin aged for four months in former Guinness Beer casks from the Open Gate Brewery in Maryland is a true father-son creation.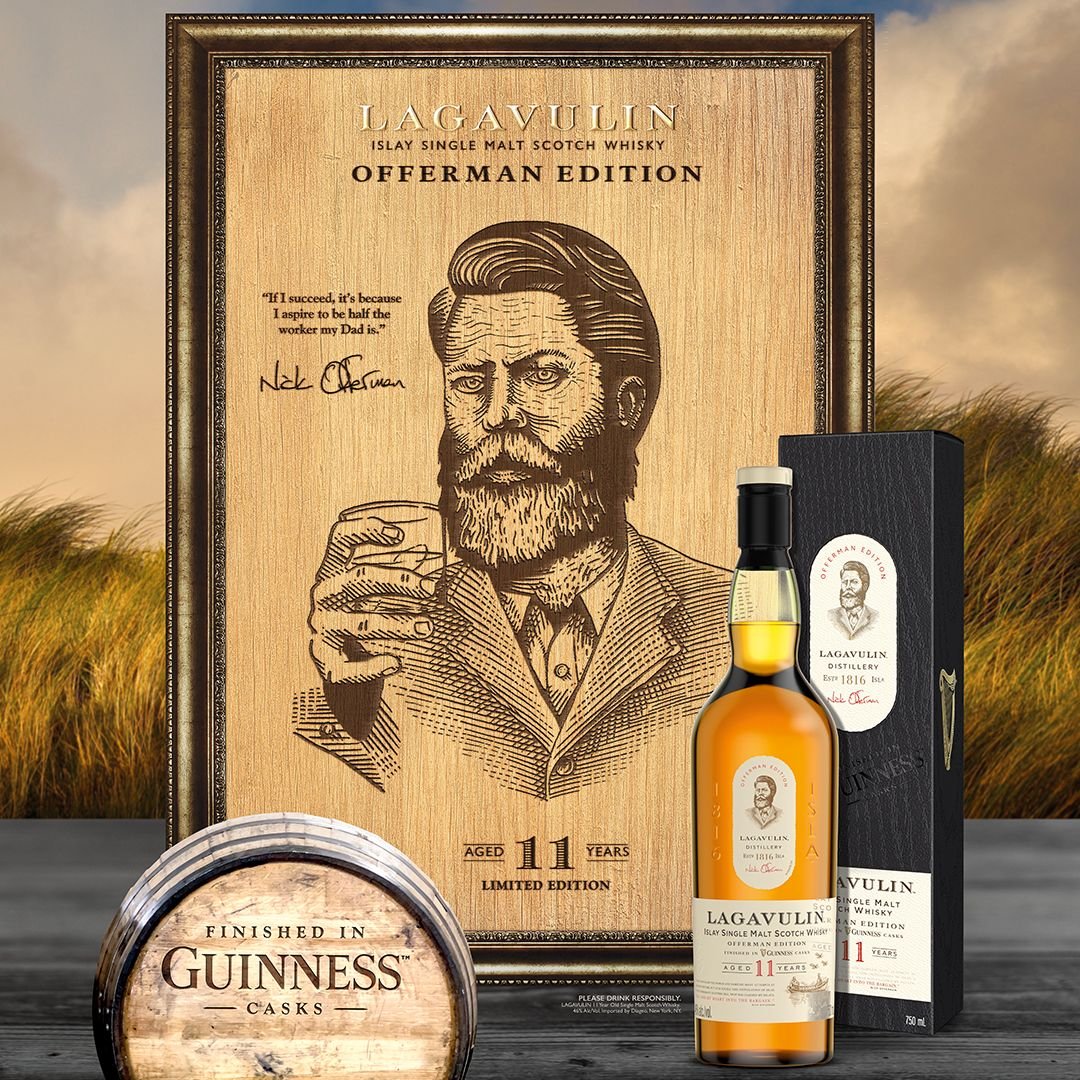 Good things come in threes and for Nick Offerman, the rule of thirds is resoundingly true as he introduced his third Lagavulin Single Malt Scotch Whisky, Charred Oak Cask Aged 11 Years, released in October 2022. An aficionado of all things wood, steak and scotch, Nick Offerman merged these three passions within his smokiest creation yet, a whisky aged in American and European oak casks that are shaved down then heavily re-charred, posing the perfect pairing for well-barked, medium-rare steak.
Marking the longtime collaborators' 48th video spot together, Offerman and Lagavulin debuted this one-of-a-kind whisky in a thrilling, action-packed film that reveals Offerman embarking on his most dangerous Tale of Whisky to date: Nick Offerman's Smokiest Adventure Yet: Lagavulin Offerman Edition: Charred Oak Cask.
For those that dare to taste this coveted Single Malt, the bottle has an SRP of US$79.99 and was expected to be available to purchase for a limited time only at select U.S. liquor retailers and at select retailers globally in Canada, Australia, Great Britain, China and The Netherlands.
For Reference: