Celebrities of all kinds have been used to promote whisky brands, from Scotland and Japan in particular. This was brought to life and made famous by actor Bill Murray in the 2003 Lost in Translation film, when he portrayed a fading American movie star who is having a midlife crisis and travels to Tokyo to promote Suntory whisky.
"For Relaxing Times…Make it Suntory Time"
The film was written and directed by Sofia Coppola, daughter of famous Hollywood director Francis Ford Coppola, and some of the inspiration for the movie is supposedly based on his experiences of filming adverts for Suntory whisky in Japan (with fellow director Akira Kurosawa) back in the 70's, as shown on the video below.
Local and foreign celebrities are unusually common in Japanese advertising, with one study finding that 47 percent of TV ads in 1998 featured celebrity endorsers, compared with 20 percent in the USA. In Japan, this was meant to add some authenticity to the local whisky brands and "approval from the West".
As described on the book 'Whisky Rising' on Japandering:
"The urban dictionary defines a 'japander' as a western star who uses his or her fame to make large sums of money in a short time by advertising products in Japan that they would probably never use."
Suntory whisky has been particularly focused on promoting its brand and products with the help of celebrities, such as actors Sean Connery, Keanu Reeves, Matt Dillon, Peter Falk, Lee van Cleef and Mickey Rourke, band Duran Duran, Rat Pack member and actor Peter Lawford and musicians Sammy Davis Jnr, Ray Charles, Herbie Hancock, Ron Carter and 14 Karat Soul amongst others.
Nikka has previously worked with director Orson Welles. However these type of adverts have diminished in numbers since the introduction of the internet, as these days it is very difficult for the ads to be contained to one single country (or market) by the celebrities.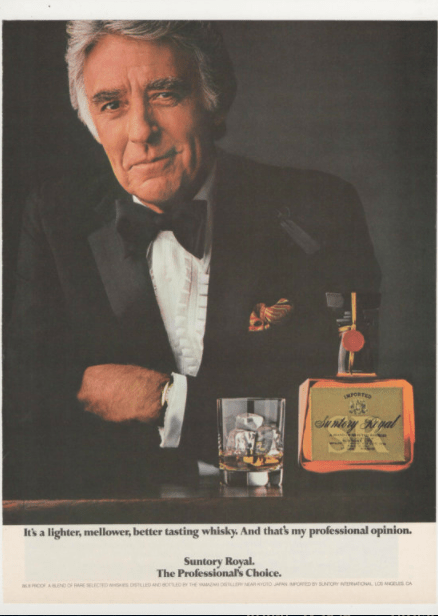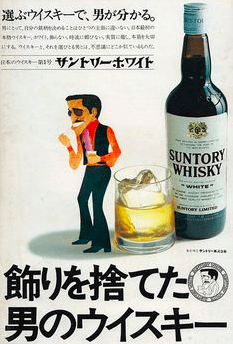 Scotch whisky brands have not been perhaps as prolific as Japan in the use of celebrity TV adverts, however they have used them for endorsement, either subtly through voiceovers (such as Bell's blended scotch with Harry Hill and also Tommy Cooper) or actual adverts using their image to promote the brand.
One perfect example comes from actor Sean Connery, who once again had his image associated with whisky, this time back in 2004 when he helped in promoting Scotch whisky for the 1st time: Dewar's Special Reserve 12yo blended scotch whisky. Director Quentin Tarantino was also involved in promoting the brand, as per the advert example below from Russia.
Other examples of celebrity endorsements include actress Sharon Stone who was involved in a William Lawson's blended scotch whisky advert with a 'true' Scotsman, England footballer Michael Owen with SPEY scotch whisky and fellow footballer David Beckham with Haig Club, pianist and singer Jools Holland promoting Bell's blended scotch whisky, businessman and CNN founder Ted Turner with Cutty Sark, actor Nick Offerman and his alter ego Ron Swanson from Parks and Recreation and the single malt Lagavulin, actor George Clooney promoting Lancelot blended scotch whisky for the Korea market, actress Christina Hendricks with Johnnie Walker and even famous artist Salvador Dali endorsing Old Angus blended scotch whisky (some of which are pictured below).
Note that I have not included any whiskey brands on this blog post (such as Irish and American whiskey/ bourbon brands).
For reference – from Inside the Cask:
VIDEO – Sean Connery and Suntory Crest whisky advert
VIDEO – Director Orson Welles and Nikka G&G whisky advert
VIDEO – Keanu Reeves and Suntory Reserve whisky advert
VIDEO – Mickey Rourke and Suntory Reserve whisky advert
VIDEO – Singer Sammy Davis Jnr and Suntory whisky advert
VIDEO – band Duran Duran and Suntory whisky advert
VIDEO – Sharon Stone and William Lawson scotch whisky advert
VIDEO – England football player Michael Owen and SPEY scotch whisky advert
VIDEO – Jools Holland and Bell's blended scotch whisky advert