Robots (and artificial life) have fascinated us throughout history, but the modern era of commercial robots started at a cocktail party of all places, believe it or not! Since then, we have now come full circle with Makr Shakr's Robotic Bartender (pictured below).
But it all started with the first commercial, digital and programmable robot named Unimate, which was built by George Devol back in 1954.
At a cocktail party in 1956, Joseph Engelberger met inventor George Devol and the two got talking about George's latest invention, his Programmed Article Transfer device. "Sounds like a robot to me," exclaimed Engelberger, who had a deep fascination with robots as a result of his love for writer Isaac Asimov's science fiction stories.
By 1961, the Unimate 1900 series became the first mass produced robotic arm for factory automation, later it was licensed to Nokia in Europe and Kawasaki in Japan. By 1967, it made an appearance in the UK as reported by the Associated Press (AP) and even managed to handle a bottle of Scotch whisky!
Since then, the bottle handling skills of the robotic bartenders have improved somewhat and the Makr Shakr from Italy, launched in 2014, is a great example of how far they have come. They describe it as a "social experiment into how people might embrace new possibilities and interactions offered by digital manufacturing, allowing everyone to become a bartender and make drinks for themselves and their friends, choosing among a variety of spirits, juices, syrups, soft-drinks and coffee options."
For those people wanting to enjoy Cocktails at Home, the robotic solution is already available in the US through a few different brands. For example, there is Bartesian, the premium cocktails on demand pictured below and available from US$350. This was a Kickstarter project from back in 2015. You provide your own alcohol, whether whisky, gin, rum, vodka, or tequila, and fill the five premium glass bottles provided with the Bartesian. You then just add the capsule for your cocktail of choice, choose the strength (from mocktail to a strong double) and the machine will even recommend the glass to use!
Another option comes courtesy of Drinkworks, the Home Bar by Keurig, pictured below and priced at US$399. This product was a joint development between Keurig and the beer giants Anheuser-Busch. The machine takes a single pod serving and turns them into cocktails, alcohol and all. So a simpler solution but you will need to fill the machine with water and also purchase a CO2 tank in order to make it work.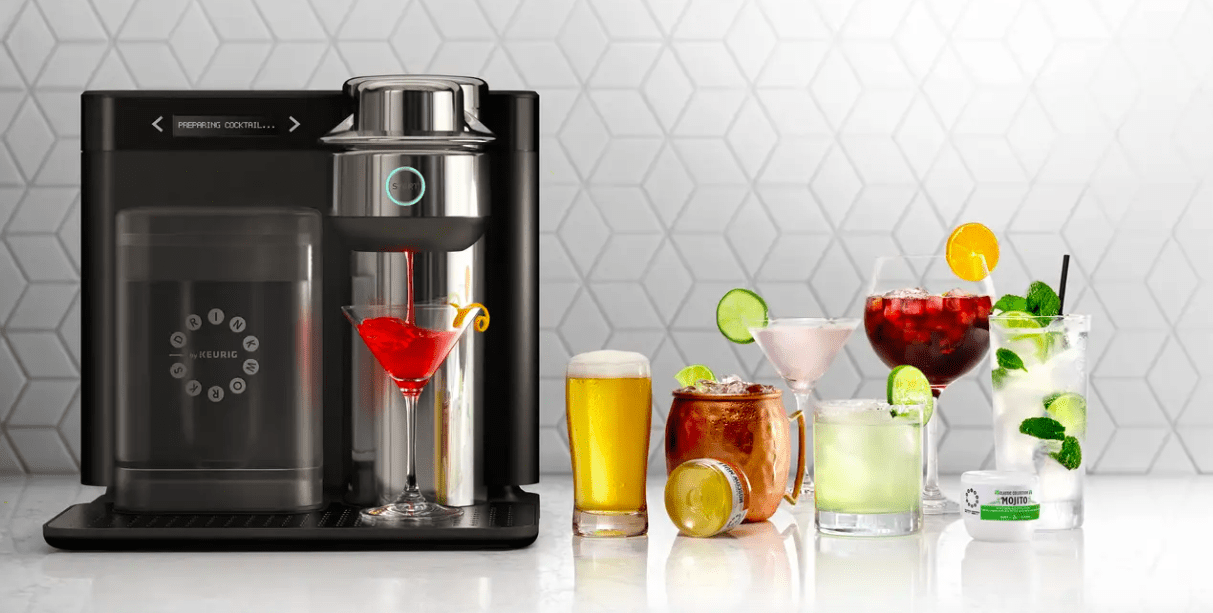 There are other options including the Mixologiq (pictured below) although I could not find the price to consumers on their website. From the commentary on their CES 2019 feature online, the cost was way higher than the options on sale from Bartesian and Drinkworks.
OK I admit, this is not quite the same as having a robot maid at home as we would have imagined watching The Jetsons with Rosie….but it is a start….
For Reference:
For Reference – Makr Shakr Robotic Bartender – BBC