The latest quarantine update starts with the Virtual Malts Festival presented by Glen Scotia, taking place during the week which would usually have held the Campbeltown Malts Festival.
This involved a series of activities from 18th to 24th May, including the virtual pub organised by the Scotch Malt Whisky Society (SMWS) with guests, a Glen Scotia Distillery Tour, a walking tour through Campbeltown's Hidden Whisky History with Hector McMurchy, a Glen Scotia Dunnage Tasting with Distillery Manager Iain McAllister and a Festival Edition Tasting with Whisky Historian Charlie Maclean. A lot of the content online will continue to be available after the 24th May.
Another major drinks event was World Whisky Day on Saturday 16th May, and as expected there was a huge variety of different online activity – I watched the founder of World Whisky Day, Blair Bowman, on at least three different Instagram Live sessions starting in the morning.
As pictured below, this was followed by activities organised by That Boutique-y Whisky Company and their 'World Whisk(e)y Summit 2020'; the Scotch Malt Whisky Society with live music, cocktails and guest presenters; and a world whisky day celebration hosted by Lakes Distillery, with their whisky maker Dhavall Gandhi, joined by Tomer Goren from Milk & Honey Distillery (Israel) and Michael D'Souza from Paul John Distilleries (India).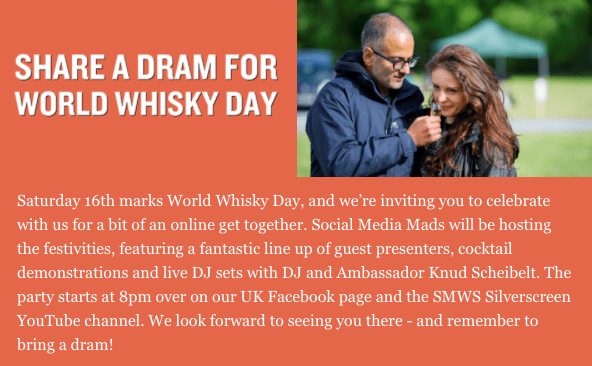 Roy Duff at Aqvavitae has continued to focus on the people behind the whisky during his vPub Live sessions, as he hosted the legendary Billy Walker, currently responsible for GlenAllachie Distillery and one of the whisky industry's serial entrepreneurs (pictured below), and also Julieann Fernandez, Distell's Master Blender and responsible for single malt brands such as Deanston and Bunnahabhain.
David Gluckman is the man behind Baileys, Cîroc and many other brands and he has helped to define the current drinks business with innovations created over the course of 45 years in the industry. He was recent sharing some stories and you can view by clicking here.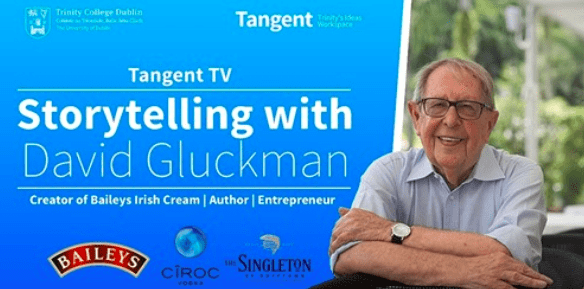 Another excellent session – and very, very funny – was the Whisky 101 hosted by Andy Gemmell (below) with a few well known faces working in the industry on HospoLive, such as Craig Harper, Mike Aikman, Frank Murphy and Becky Paskin. To be honest, it was so good I would happily have watched for another hour…pure entertainment! I have also watched other Whisky Wonderland sessions and it is great to see a few familiar faces such as Mark Thomson and Daryl Haldane, plus a chat session on agave spirits.
There were a few drinks industry sessions focused on the business side, such as those hosted by 291 Colorado whiskey, the first one on Liquor Store Consumer Behaviour with Brandy Rand, COO at the IWSR.
It was also great to see again Philip Duff talking about how the global drinks industry works on HospoLive.
The latest additions to the reading list are below – including some recommended by Philip Duff on his Facebook Live session:
Barrel-Aged Stout and Selling Out by Josh Noel – the story of Goose Island beer

Mission in a Bottle: The Honest Guide to Doing Business Differently–And Succeeding by Seth Goldman and Barry Nalebuff

Beer Blast: The inside Story of the Brewing Industry's Bizarre Battles for Your Money by Philip van Munching
Other sessions included more familiar faces such as David Miles from Edrington Beam-Suntory and Kristiane Sherry from Master of Malt talking about Highland Park, as was the brand's Senior Brand Ambassador Martin Markvardsen on his first session at home. Plus a Facebook Live virtual tasting with Glengoyne.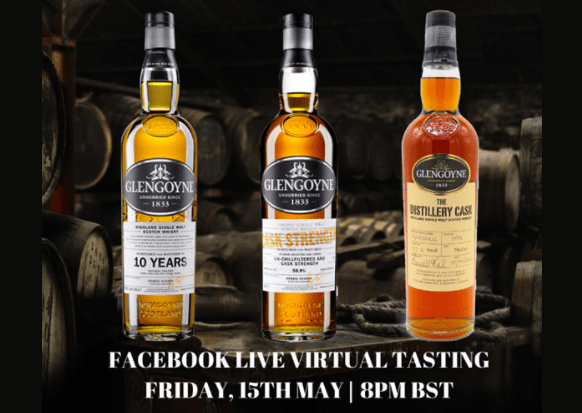 I have also continued to look at towards the southern hemisphere in Brazil and the Live activity – some of which is highlighted below:
There are a few events coming up that I am planning to participate in such as:
The Virtual Fèis Ìle 2020 (Islay Festival) starting from 22nd May and quite a few events linked to it
Virtual Tastings during May and June from Raasay, Bladnoch, Scotch Malt Whisky Society and more….
Stay safe and healthy everyone!
For Reference from Inside the Cask: