The Sunday Times newspaper has once again revealed their annual Rich List. As a result, I have updated below some of the Drinks Industry Rich List where possible, based both in the UK and other locations worldwide where updated sources were available such as Forbes…
Although the financial returns from the drinks industry may not be quick, over a prolonged period of time they can certainly build up as shown in the table below for a number of well known family dynasties.
Bernard Arnault (LVMH) – worth £30bn
Bernard Arnault is the CEO of French luxury brands conglomerate LVMH, and still the richest man in the world to have vested interests in the drinks trade with a personal fortune of £30bn.
The LVMH portfolio includes high-end Champagne brands Dom Perignon, Moët & Chandon, Krug, Veuve Clicquot, as well as Hennessy and Château d'Yquem, in addition to fashion brands including Louis Vuitton, Dior and Fendi.
Jorge Paulo Lemann (AB Inbev) – worth £17.7bn
In 1989, the Brazilian-born Lemann took over the Brazilian brewer Brahma and grew this through numerous acquisitions to the world's largest beer company AB InBev. To this day, he is one of the main shareholders and the management is dominated by his people.
Saji and Torii families (Beam Suntory) – worth £17.1bn
Chairman Nobutada Saji's grandfather made Suntory Holdings a household name in Japan. Founded by Shinjiro Torii in 1899, the company's family ownership helped Saji's ability to acquire US distiller Beam back in 2014, and the result is global drinks giant Beam Suntory.
Saji's nephew Nobuhiro Torii (pictured above), a great grandson of Suntory's founder, was promoted to COO and executive vice president of Suntory Holdings in 2016.
Bacardi family (Bacardi) – worth £14.3bn
Charoen Sirivadhanabhakdi (Thai Beverage) – worth £13.3bn
Thailand's largest brewer, known for its Chang beer. International Beverage Holdings Limited was established in 2006 as the international arm of ThaiBev, and its products sell in more than 80 countries around the world. Among the brands in its extensive portfolio are Chang beer, Caorunn gin, Old Pulteney scotch whisky and a range of Chinese wines and Chinese and Thai spirits.
Charlene de Carvalho-Heineken and Michel de Carvalho (Heineken) – worth £10.3bn (down £1.7bn)
Charlene de Carvalho-Heineken, 63, took over from father Freddy Heineken after his death in 2002 as controlling shareholder of the Dutch brewer — a role she describes as being "a guardian" of the company founded by her great-grandfather in 1864. Alexander, 33, the oldest of her five children, is on the board of the holding company. Heineken is one of the world's top three brewer with Amstel, Bulmers Cider, Tiger, Red Stripe, Strongbow and Newcastle Brown Ale and the company has a stock market value of £39.5bn — down £8.2bn in a year.
"Yes, I didn't like the fact that my name was on every cafe when I was at school, but that's OK now." Charlene de Carvalho-Heineken
Pierre Castel (Castel Frères) – worth £10.2bn
The 90-year old Castel founded the company in 1949 and wine is central to the French group's portfolio, owning 21 estates in Bordeaux and Provence, including controlling shares in Château Beychevelle, as well as numerous brands from lands it owns across France and also Morocco, Tunisia and Ethiopia and big négociant houses such as Barton & Guestier and Patriarche.
The real money-spinner though is beer. Before it was acquired by AB InBev last year, SAB Miller had formed a partnership with Castel whereby SAB owned 20% of Castel and Castel owned 38% of SAB's African business. AB InBev has said it wants to "continue to develop and evolve" the partnership now that it has taken over. The deal makes Castel the second-largest beer and soft drinks maker in Africa but there are rumours that the original deal with SAB states that if the Castel Group ever seeks new owners outside of the Castel family then the right to buy must first go to SAB (and now AB InBev).
Marcel Herrmann Telles (AB Inbev) – worth £7.6bn
Marcel Hermann Telles (pictured below, far right) is one of the controlling shareholders of Anheuser-Busch InBev, the world's largest brewer, of which he owns a minority stake.
Carlos Alberto Sicupira (AB Inbev) – worth £6.8bn
Most of Carlos "Beto" Sicupira's wealth comes from his shares of Anheuser-Busch InBev, the world's largest brewer, in which he owns about a 3% stake (pictured above, far left).
Alexander Ricard & family (Pernod Ricard) – worth £5.8bn
The family behind the global drinks giant Pernod Ricard, with brands such as Absolut vodka, Jameson Irish whiskey, the Glenlivet, Beefeater, Chivas Regal, Ballantine's, Martell Cognac and Havana Club to name a few. It also has a strong wine portfolio, headed up by the Champagnes Perrier-Jouët and Mumm and then the 'strategic' wine brands Campo Viejo, Brancott Estate, Jacob's Creek and Kenwood.
The company as it exists today was created in 1973 when two of France's leading "anise-based spirits producers, Pernod and Ricard, merged in 1973. By 1976 it began to diversify its portfolio and acquired Irish Distillers (the maker of Jameson) in 1988 and Jacob's Creek in 1989. In 2001 its acquisition of 40% of the Seagram's business brought Chivas, Martell and The Glenlivet into its portfolio and the Champagne brands came in 2005 with the acquisition of Allied Domecq; a move which also made it the world's second largest wine and spirits company.
Brown family (Brown-Forman) – worth £5.0bn
Maria Asuncion Aramburuzabala & family (Grupo Modelo/ AB Inbev) – worth £4.6bn
María Asunción Aramburuzabala is by far México's best known businesswoman. She serves on the board of beer giant Anheuser-Busch InBev. She inherited a stake in beer giant Grupo Modelo with her mother and sister from her father. Grupo Modelo was sold to AB InBev in 2013 for $20 billion.
Garavoglia family (Campari) – worth £4.5bn
Juan Francisco Beckmann Vidal & family (Jose Cuervo) – worth £3.6bn
Beckmann Vidal is chairman of Mexican tequila maker Jose Cuervo, which went public in February 2017 and raised more than $900 million. The company owns Latin America's oldest active distillery, in the Mexican town of Tequila.
Jose Cuervo has been in the same family for 11 generations. Beckmann Vidal's son, Juan Domingo Beckmann Legorreta (pictured above), serves as CEO.
Jean-Pierre Cayard (La Martiniquaise) – worth £3.3bn
Jean-Pierre Cayard's father founded spirits group La Martiniquaise in 1934.
Jean-Pierre, now President, joined in 1970 and has turned it into one of France's largest spirits groups, with a portfolio of international brands. Its brands include Porto Cruz, a leading Port; Label 5 scotch whiskey brand; and Poliakov, France's top-selling vodka. More recently they have also acquired the Cutty Sark blended scotch whisky brand.
The private company, which he owns, has 24 production sites and 27 subsidiaries throughout the world. His wife, Edith, is the CEO of La Martiniquaise.
Glenn Gordon & family (William Grant & Sons) – worth £3.19bn (up £304m)
The family behind William Grant & Sons remains in buoyant health, with their combined wealth up by £304m vs. 2019.
William Grant & Sons was founded by the Grant Gordon family in 1887 and has grown to become one of the leading players in the international spirits trade. The company produces some of the world's leading brands of Scotch whisky, including Glenfiddich, The Balvenie and Grant's. In addition, it also produces Irish whiskey Tullamore D.E.W  and the Drambuie liqueur brand. The business is chaired by Jersey-based Glenn Gordon, 60, the founder's great-great-grandson. The family ranks in Scotland as one of country's wealthiest. Founder William Grant pictured below (extreme left).
Heriard Dubreuil family (Remy Cointreau) – worth £2.9bn
Anthony von Mandl (Mark Anthony Brands) – worth £2.7bn 
Anthony von Mandl (pictured below) created the ready-to-drink alcoholic beverages White Claw Hard Seltzer and Mike's Hard Lemonade through his Mark Anthony Brands.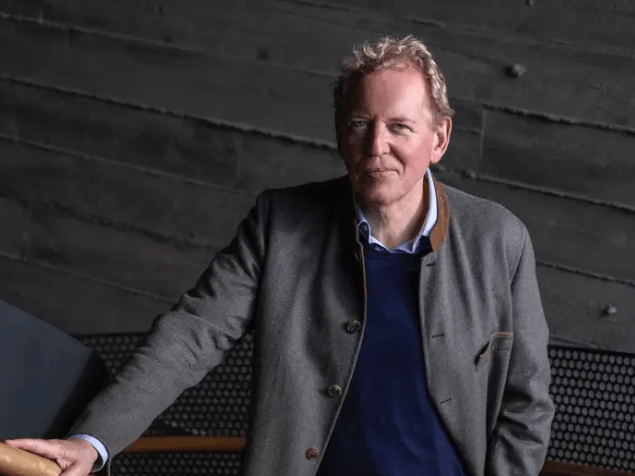 Bert Beveridge (Tito's vodka) – worth £2.6bn
Bert "Tito" Beveridge is the founder and sole owner of Tito's Vodka. Tito's vodka is one of the fastest growing spirits brands in America, sold an estimated 88 million bottles of vodka in 2018, up from 63 million in 2017.
Beveridge started the company in 1997 with $90,000 borrowed using 19 credit cards. He slept on floors and couches while he built the business.
Richard Sands (Constellation Brands) – worth £2.3bn
Robert Sands (Constellation Brands) – worth £2.1bn
Richard and Robert Sands' father, Marvin, founded a humble wine business in 1945 at age 21. That small operation has grown into a publicly traded behemoth now called Constellation Brands, which generates over $7 billion in annual revenue. Subsidiaries include Robert Mondavi wine and Svedka Vodka. Constellation also holds the rights to Grupo Modelo's U.S. beer business, including its Modelo and Corona labels.
Alejandro Santo Domingo (AB Inbev) – worth £2.03bn (down £804m)
Andres Santo Domingo (AB Inbev) – worth £2bn
Charles Bronfman (Seagram's) – worth £1.9bn
Charles Bronfman is long removed from the 2000 deal in which he and nephew Edgar Jr. sold their family's Seagram spirits to Vivendi for $34 billion.
Wu Shaoxun (Jing Brand) – worth £1.8bn
Wu chairs Jing Brand, a supplier of Chinese liquor. He took a job at a distillery factory in Daye in China's Hubei Province that was the predecessor business of Jing. Wu bought that business in 1998; Jing sales in 2017 exceeded $1.6 billion.
Tatiana Casiraghi (AB Inbev) – worth £1.6bn
Walter Faria (Grupo Petropolis) – worth £1.3bn
Beer industry veteran Walter Faria bought Grupo Petropolis in 1998 and transformed it into one of Brazil's largest beer-and-beverage companies. His Grupo Petropolis makes Itaipava beer, one of Brazil's most popular brews.
Founded in a mountainous region in the state of Rio de Janeiro, Grupo Petrópolis is the country's only large brewery that is 100% Brazilian owned.
Yuri Shefler (S.P.I. Group/ Stolichnaya vodka) – worth £1.3bn
Yuri Shefler is owner of S.P.I. Group, which produces and sells alcohol under 380 brands in 160 countries. Its best known brand is Stolichnaya vodka, which Shefler bought from state-owned VVO Soyuzplodoimport for $285,000 in 1997. Russia's Supreme Court ruled the sale illegal in 2001, banning Shefler from selling the vodka inside its borders. In 2014, the Netherlands, Luxembourg and Belgium joined Russia in banning sales of Stolichnaya.
S.P.I. owns rum company Louisiana Spirits Company, tequila company Fabrica de Tequilas Finos in Mexico and wine producer Achaval Ferrer in Argentina.
Jim Koch (The Boston Beer Company) – worth £1.07bn
Jim (James) Koch created Samuel Adams beer in 1984 and has since been known as a founding father of the American craft brewery movement.
Richard Yuengling, Jr. (D.G. Yuengling & Son Brewery) – worth £1bn
Zhang Yubai (Yanghe Group) – worth £1bn
Molson family (Molson Coors Brewing) – worth £1bn
The Molsons have been able to maintain a powerful position in the beer industry over seven generations. The company is a result of the 2005 merger between Molson and Coors and it is spending US$12 billion to purchase full control of the MillerCoors joint venture, which includes global rights to the Miller brand name. Both Geoff Molson (pictured above) and Andrew Molson are involved in the brewery.
Yang Tingdong (Jiangsu Yanghe Brewery) – £960m
The Earl of Iveagh and the Guinness family (Guinness) – £906m (down £67m)
Julio Mario Santo Domingo, III (AB Inbev) – worth £830m
Liao Chang (Site) – worth £810m
Vivian Imerman (ex Whyte & Mackay) – worth £390m (no change)
Charles Rolls (Fever Tree) – worth £298m (down £125m)
In 2004 Rolls launched his Fever-Tree Drinks brand with Tim Warrillow, having lamented the lack of high-quality mixers while running his Plymouth Gin business. He has recently announced his retirement as non-executive deputy chairman of the company, having sold a holding of almost £254m since the 2014 float and whilst retaining a £86.1m stake.
James Watt (BrewDog) – worth £262m (no change)
John Apthorp OBE & family (Majestic Wines) – worth £248m (up £7m)
Martin Dickie (BrewDog) – worth £228m (no change)
Leonard Russell & family (Ian MacLeod Distillers) – worth £202m (up £50m)
The West Lothian-based Ian Macleod Distillers totted up £11.5m profit in 2016 and with £51.1m assets is a £125m family-owned operation. Their combined wealth has increased by £25m in the last 12 months.
David McMullen & family (McMullen & Sons Brewery) – worth £181m (up £8m)
Tony and Barbara Laithwaite (Laithwaites Wine) – worth £164m (up £1m)
Aaron and Tania Hillman & family (Angus Dundee Distillers) – worth £158m (down £19m)
Led by brother and sister Aaron and Tania Hillman, the Hillman family owns Angus Dundee Distillers, which produces whisky from its Speyside-based Tomintoul and Eastern Highlands-based Glencadam distilleries.
As early as 1948, Sidney Hillman formed a company with the name Burn Stewart and sold whisky from different producers. In time his son, Terence "Terry" Hillman joined and Burn Stewart remained in the family until it was sold in 1988. The same year Terry founded Angus Dundee Distillers with the same business concept – purchasing of whisky to be blended and sold on, today Terry is 86 years old and still sits on the company board which is controlled by his children, Aaron and Tania.
Joe Sloan & family (SHS inc. Merrydown Cider and WKD) – worth £152m (up £2m)
The Urquhart Family (Gordon & MacPhail and Benromach Distillery) – worth £140m (up £15m)
Mark and Anthony Woodhouse and family (Hall & Woodhouse Brewery) – worth £137m (up £3m)
Sukhinder and Rajbir Singh (Whisky Exchange/ Elixir Distillers) – worth £127m (New Entry)
Tim Warrillow (Fever Tree) – worth £123m (down £82m)
John Rudd & family (Berry Bros & Rudd) – worth £110m
Established in 1698, the company largely handles wine, but sells spirits including  No.3 London Dry Gin, and also bottles its own line of spirits.
Note that for simplicity, I have excluded from the Rich List above people who have significant business interests in different areas and included only those who sole or main assets are within the Drinks Industry (unless the assets derived from drinks were provided).
Sources used: