Since November 2009, the Scotch Whisky Regulations (SWR) 2009 have stipulated that "Blended Malt Scotch Whisky" was a blend of two or more single malt scotch whiskies that have been distilled at more than one distillery, and in the process also left the previous term used of "Vatted Malt Scotch Whisky" (and also "Pure Malt") in the past. This change occurred in part due to Diageo's move to quietly transform Cardhu single malt into "Cardhu Pure Malt" (both pictured below), in effect a vatted malt with contributions from other distilleries using the same bottle design and label as its single malt. This plan was dropped altogether in 2004 after protests from the industry.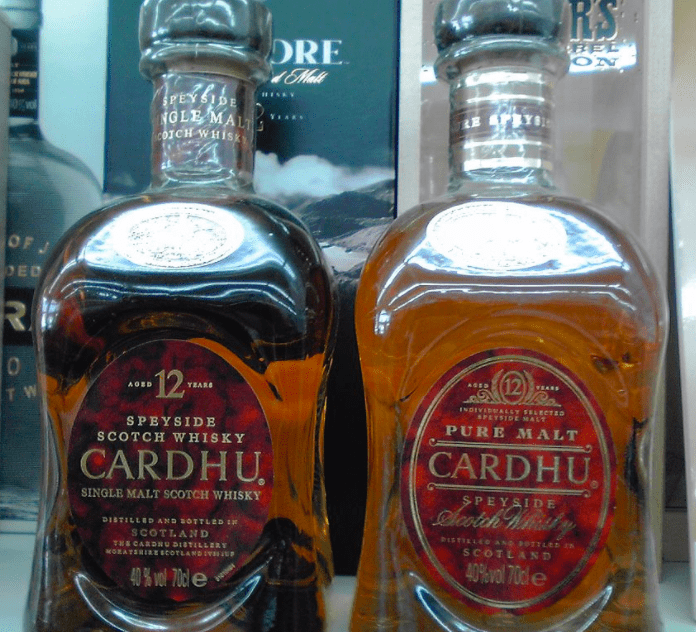 For reference – 'Diageo admits Cardhu malt defeat' – BBC News
Most people now know that Blended Malt is different to Blended scotch whisky in that it does not include any grain whisky, it is simply a blend of single malts.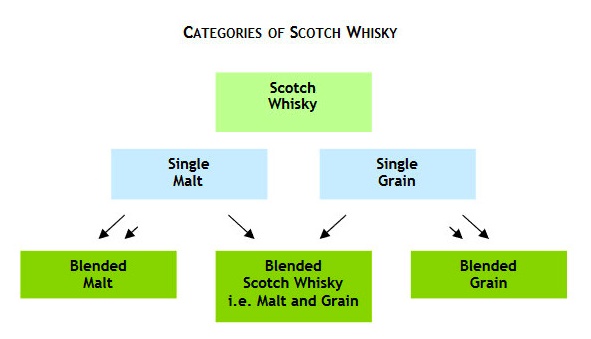 As reported on the Malt Whisky Yearbook 2012, "this genre of Scotch whisky has its origins in the mid 19th century and was effectively the front runner of blended scotch whisky."
One of the founding fathers of blending was Andrew Usher of Edinburgh, who 'vatted' samples of The Glenlivet on his day probably following the idea from France of mixing old and new brandies. As reported on the article:
"The blending of whiskies began about 1853 when the firms of Ushers in Edinburgh, who were agents for Smith's Glenlivet whiskies, mixed several, some no doubt better than others, to make Ushers Old Vatted Glenlivet whisky" RJS McDowall – The Whiskies of Scotland (1967)
Usher's Old Vatted Glenlivet (also known as OVG) was initially a vatted malt, produced with Smith's Glenlivet, Royal Brackla (the Ushers owned a share in that business) and malt whisky from their Edinburgh distillery. However by the 1880s, this was most likely a Blended Scotch with the single malts and inexpensive grain from the Caledonian Distillery in Edinburgh.
More recently, Johnnie Walker Green Label which was first released in 1997, held the number one spot for this sub-category of Scotch whisky in 2009 with 220,000 cases sold at global level, driven by growth in Asia, and Taiwan in particular. The thinking behind it by Dr. Nick Morgan of Diageo was that having blended malts gave consumers two entry points into the malt market, with blended malts costing less.
Another rationale, such as the one proposed for The Famous Grouse, was to allow consumers to move up to malts from blended scotch whilst staying loyal to the brand. Monkey Shoulder on the other hand, was coming from a brand new approach at the time for scotch of targeting the cocktail/ mixologist market and featuring single malts whiskies from Glenfiddich, Balvenie and Kinninvie distilleries.
Thus some of the blended malt brands available around 10 years ago included Monkey Shoulder, Wemyss Spice King 8yo and The Hive, Matisse Blended Malt 12yo by a Taiwanese company using malts from Speyside, Eleuthera by Compass Box (vatted from Caol Ila and Clynelish) and Morrison Bowmore's Prime Blue Blended Malt 12yo whilst the top four brands in sales according to the IWSR in 2010, were made up by Johnnie Walker Green Label, The Famous Grouse Blended Malt 15yo, Glen Turner and Ballantine's, who combined had a reduction of 31% in sales from 2008 to 2009. However, times have changed and this sub-category of Scotch whisky is actually in growth at the moment, led by brands such as Monkey Shoulder (pictured below) and its message of mixability, which was certainly not in line with the traditional approach for Scotch whisky when launched back in 2005.
As reported previously on Inside the Cask, Monkey Shoulder's trendy message of being "made for mixing" seems to be resonating in the On Trade as it was also named as the top Scotch whisky brand amongst the world's top bars (click here for reference). The brand is in fact one of the Top 10 global brands when looking at Single Malts and Blended Malts sub-categories combined in volume terms, with over 370,000 cases sold in 2018, making the Top 7 brand. The only other Blended Malt brand even close to it being Johnnie Walker Green Label (reinstated by Diageo in 2016) in the Top 20.
Other brands looking to benefit from this surge in interest in Blended Malts include Copper Dog, The Naked Grouse (which more recently turned into a blended malt), Chivas Regal Ultis, Shackleton from Whyte & Mackay, Big Peat and Scallywag both from Douglas Laing (amongst other brands), Scottish Leader Blended Malt, Ardgowan's Coppersmith Blended Malt, Compass Box and its range of blended malts, Gleann Mór Spirits' Whisky Row, MacNair's Lum Reek range from The GlenAllachie Distillers Company and also Black Tartan. Some blended malts have been launched more recently: the Royal Salute 21yo Blended Malt from Chivas Bros in 2019, as well as MacDuff's Waterproof Blended Malt and Colonsay Beverage's The Scalasaig Island Hopper, both pictured below and launched in 2020.