Kirstie McCallum has been working in the drinks industry in Scotland for the last 20 years, with a variety of products, but mainly focusing on Scotch Whisky. She has worked in all areas of production, from distillation, to maturation, blending and bottling. Kirstie was kind enough to spare some time to talk to us and share some of her experience.
Inside the Cask: Hi Kirstie, you are the Head of Whisky Creation and Stock at the Glen Turner Company, which means you are the person responsible for Glen Moray single malts and other scotch whiskies in the portfolio, such as Cutty Sark and Label 5. However, how did it all start for you? Where did the interest in drinks initially come from?
To start with, it was pure chance I ended up in the whisky industry,  after leaving university I wanted to work in the pharmaceutical industry but at the time there were no jobs available, so I got a temporary job working at Port Dundas distillery.  I fell in love with the industry and with Scotch whisky and that was me hooked, now I can't imagine working anywhere else.
Inside the Cask: Most people will have no idea of the work involved in producing whiskies, so what does the current job of whisky creation entail on a day to day basis? What experience do you have in your career to date?
On a day to day basis  I'm looking after the Glen Turner Company Limited whisky stocks, which includes Glen Moray Stock, checking the quality of the inventory, looking at what different or unusual casks we have maturing in the warehouse. We have quite a few stunning casks that I've come across in my investigations, which are now ear marked for the future.  Basically, I look after the whisky from the point of distillation to bottling, what type of cask it goes into, when it's at the optimum for bottling, helping to ensure the consistency and quality of all our expressions.
I've been in the industry for 20 years, during that time I've had various different roles but all have included sensory work, gaining experience and training my nose and palate. 
I was blender and master blender at Distell international for 12 years covering Bunnahabhain, Deanston, Tobermory and the blends, Scottish Leader and Black Bottle.
Inside the cask: What attributes would you suggest someone would need to have to become a whisky blender and/or distiller?
The main attribute is patience, the magic doesn't happen overnight, when working with whisky it can take many years to get to the finished article ready for bottling. Also, when it's a new experiment that you are excited to try, the waiting can be torture, but it's well worth it.  It helps to have a good nose and palate, although this can be further developed through training. The other big one is passion, you've got to be passionate about it.
Inside the Cask: Can you tell us more about Glen Moray single malts and what you are looking to focus on in future, since becoming responsible for them at the end of 2019?
Glen Moray is a fabulous spirit to work with, to me it's a quintessential speyside, complex and elegant, and lends itself to any occasion.  What I love about the brand is that it encompasses all, we have the Classic range which is easy and accessible, right up to some beautiful aged products, especially with the 30yo launching later this year.  Glen Moray spirit moulds itself so well to cask experimentation, different finishes and different cask maturations.  In the future I'll be focusing on making sure Glen Moray remains the accessible single malt it is, but also looking at showing a different side to the spirit, really expanding and stretching Glen Moray as we know it through new and  exciting cask experiments and bringing new and different flavours into the mix to both compliment and contrast with the spirit.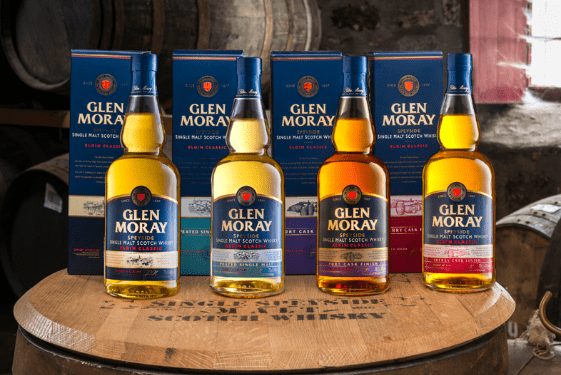 Inside the Cask: Scotch whisky remains a large and popular drinks category globally. Any up and coming trends or brands to watch out for in the category?
With the recent change to the regulations relating to Scotch Whisky, I'm sure there will be lots of new and exciting developments in cask use. Also, it's great to see the increase in the use of Scotch Whisky, including Malts, in cocktails. That takes us away from being seen as a traditional drink to something that is versatile and for everyone, there shouldn't be any rules with whisky, drink it how you like.
I've also noticed in the last few years a growing trend of younger people and more females getting into whisky, which is great, whiskies for everyone!
Inside the Cask: In your view, what are the opportunities and challenges for the Scotch whisky category at the moment?
The challenges in my opinion are more in the blended category, where volumes have been decreasing, whilst single malts have been increasing. This is a real shame as blends are fantastic drinks, it should never be a malt is better than a blend as it's totally different, each has their own place and their own flavour profile.
I sometimes feel that blends are over looked, but to me there is a real art to putting a blend together, marrying all the flavours of the different whiskies to obtain a single, integrated whisky profile.
Inside the Cask: Can you tell us more about your personal background? What else are you passionate about?
I'm a passionate motorsport fan, especially Rally, and I try to attend as many rounds of the World Rally Championship as possible, I've also had a wee shot at driving as well, but wasn't very good.
Inside the Cask: What would be your advice for anyone else wanting to work in the drinks industry?
Go for it, it's a great industry to be in, and once you've joined the drinks industry very few people ever leave.

Inside the Cask: What surprised you most about working in the drinks industry?
The lack of competitiveness between companies, all talk to each other, help each other out, socialise together, no matter what drinks company you work for, it's a very friendly sociable place to work.
Inside the Cask: What is the favourite part of your job? Anything that you would like to share that not many people would know about you?
Definitely working the warehouse selecting casks, finding out what gems are hidden away.