Drink brands continue to follow the sustainability trend with recycled ingredients from food waste used as a resource; eco-packaging being introduced into more products and even a 'climate positive' carbon neutral gin made from peas.
Wheyward Spirit in the US uses the byproduct of dairy manufacturers in the process of making cheese and other dairy products, to create their unique spirit. Whey contains protein, water, sugar (lactose) and minerals.
Founded by Emily Darchuk, Wheyward Spirit currently sources the excess "sweet whey" created in the production of cheese and below is an Inc. video with Emily, as she finds herself on the cusp of going to market with her product.
Over in the UK, Black Cow Vodka also utilises the left over whey from the cheese-making process to become the first vodka in the world made 100% from milk.
Jason Barber, a farmer from West Dorset, whose family has been involved in the dairy business since 1833, created the craft vodka after 3 years of experimentation with different ingredients and yeast strains.
In Canada, Dairy Distillery in Ontario is crafting a vodka with unused milk sugar (or lactose) from local dairy farms. The founders of the distillery worked with the University of Ottawa to find an yeast that could consume the lactose.
Vodkow vodka is made from unwanted milk permeate, basically what is left behind from milk after the fats and proteins are taken out to make products such as ice cream, cheese and butter.
As per the examples above, there are a growing number of alcoholic beverages being created by turning waste into new products. Brewers continue to take the lead and Toast has produced the Warburtons Limited Edition Crumpet Beer, the first ever crumpet beer made with surplus fresh crumpets from Warburtons.
Meanwhile, Scottish drinks company BrewDog has launched a sustainability initiative entitled 'BrewDog Tomorrow' which includes turning wastage from its breweries into vodka. This 'imperfect' beer that misses its standards will have a 2nd chance to reach the consumer by being distilled into vodka.
Another brand with green credentials is Hyke Gin, created using grape spirit from surplus requirements of the supermarket supply chain. Every year, supermarkets in the UK import table grapes and during the packing process, the grapes are cut and trimmed to fit the punnets, leaving loose grapes and tiny bunches that cannot be sold as fresh. This raw material waste is used to make gin, which is then flavoured with botanicals.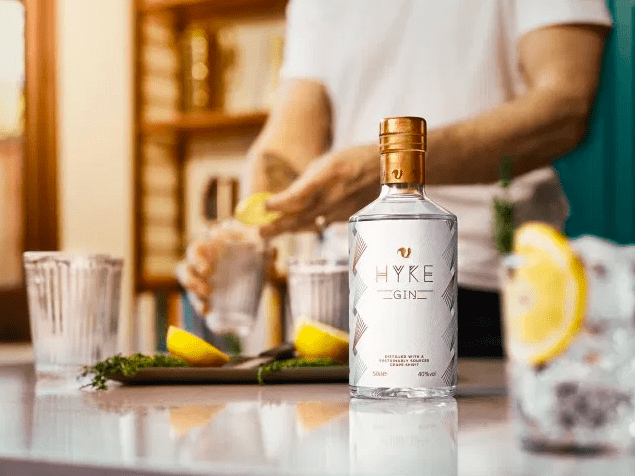 After more than two years of research, Champagne Ruinart has developed an eco-design packaging to replace the existing champagne boxes, with zero plastic, nine times lighter and 100% recyclable, apparently reducing their carbon footprint by 60%.
"With this second skin case, Maison Ruinart confirms its pioneering role in champagne and its ambition in terms of social and environmental responsibility. " Frédéric Dufour, President of Maison Ruinart
"This disruptive project embodies the Maison's firm commitment to more sustainable development for its packaging across all stages of the development and marketing of our products, from the tending of the vine to the consumer experience." 
Slane Irish Whiskey is approaching sustainability in a variety of ways, such as the aim to generate 100% of the energy needed for whiskey production by the distillery itself. It also harvests rainwater, produces virtually no waste and employs a heat recovery system.
As reported on Thirsty, Slane also uses the river water to cool their stills avoiding any refrigeration plant and equipment; the distiller's draff is used by a local dairy farmer to feed his cows; the waste heat from their Stillhouse and Brewhouse batches is recovered to heat up the next batches of brewing water and distillation washes coming through; Slane is treating their own effluent on-site and in the coming years they plan to operate an Anaerobic Digester on-site generating natural gas to fuel one of their steam boilers.
Likewise, Iain A Stirling from Arbikie Distillery, has stated that their ambition is to become one of the world's most sustainable distilleries, using regenerative farming practices to grow the crops that they distill.
Arbikie, the field to bottle Highland Estate distillery based on the East Coast of Scotland, has recently announced the arrival of their carbon neutral gin, Nàdar (nature in Gaelic). This is the world's first climate positive gin made from peas. A revolutionary spirit for the drinks industry, with a carbon footprint of -1.54 kg CO2e per 700ml bottle.
"Our ethos at Arbikie from our inception has been to try and create world-class premium spirits where all ingredients are grown on our Single Estate farm. Minimising our carbon footprint and working with the wonderful home grown ingredients to create one of the world's most sustainable distilleries. " John Stirling, Arbikie Distillery Director
"Our Nàdar Gin goes one step further and looks to make a positive, instead of neutral impact, in terms of long-term sustainability.  It also tastes fantastic which is a credit to our distilling team – I hope you enjoy."
For reference – Inside the Cask blog posts on sustainability: