Rum is making a comeback as a drinks category being rediscovered and helped by its versatility and rich history. In particular, Spiced rums are enjoying a renaissance as a flavour-filled characterful base for mixed drinks and cocktails.
TheWine and Spirit Trade Association (WSTA) is predicting that by the end of 2019, flavoured and spiced rums will knock white rum off top-spot in the UK as the most popular type of rum for shoppers picking up their tipple in shops, supermarkets and off-licenses.
"Until now, spiced rums have been associated with lower quality mixing spirits. However, if crafted as a premium sipping rum with an innovative flavour profile, spiced rum can become an accessible alternative for spirit drinkers with more refined tastes as well as a new, exciting luxury drink for those exploring the rum world." Dan Buckland, Co-founder, Drum & Black Rum Co
There are a number of spiced rum brands that have become household names: Sailor Jerry, Captain Morgan and Kraken Black amongst them.
Sailor Jerry spiced rum (40% abv) from William Grant & Sons
Captain Morgan Spiced Gold rum (35% abv) from Diageo
Kraken Black Spiced Rum (40% abv) from Proximo Spirits
Other well known rum brands have also released spiced rum variants to take advantage of this growing sector of the category, such as Bacardi and Pernod Ricard's Malibu.
Bacardi Spiced rum (35% abv) is made with golden rum that is blended with natural flavours and spices. The new product has replaced Bacardi Oakheart in the Puerto Rican company's portfolio.
Malibu Island Spiced Rum (35% abv) from Pernod Ricard
The growing demand for spiced rums has also led to a number of up and coming Spiced Rums being released in the last few years from start ups to larger companies, and from traditional rum producing nations to other locations in the World which you would not readily associate with rum.
Scotland's BrewDog has released Five Hundred Cuts (40% abv), a spiced rum inspired by the 18th-century botanical illustrator Elizabeth Blackwell.
Banditti Club spiced rum (44% abv) comes from The Glasgow Distillery Company also in Scotland.
The 45 Scottish Spiced Rum (45% abv) by Jacobite Spirits is a new product by a start up company full of spirit with Scottish botanicals and international spice.
Dark Matter Spiced Rum (40% abv) comes from Scotland's first Rum Distillery.
Down south in England, the family behind the Hayman's Gin brand opened London's first new rum blending house for a century, Charles Merser & Co. Although no spiced rum has been released yet, it is great to hear about the craft of rum blending being brought back to London.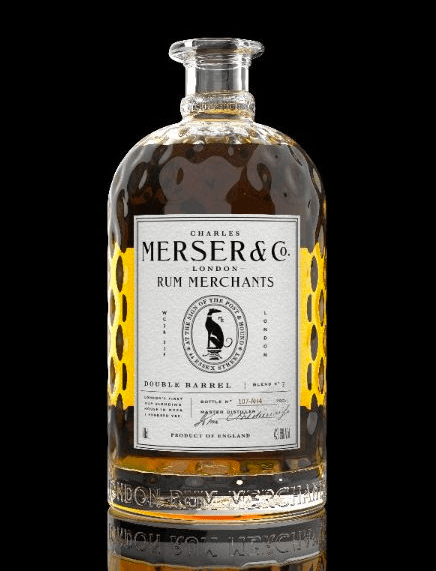 The Duppy Share Spiced Caribbean Rum (37.5% abv)
"Spiced rum has had a bad reputation in the past for being super sweet and packed so full of flavourings that you can't even tell that it's a rum. We wanted to forge a different path to advance the category and show consumers how good a spiced rum can be." George Frost, The Duppy Share founder
The company behind Didsbury Gin has launched the Arlu Rum brand (40% abv), blended with natural flavours and spices in Manchester, England.
Dead Man's Fingers spiced rum range from Halewood Wines & Spirits has added the Pineapple Spiced Rum (37.5% abv) to its portfolio
"There is a rum for everyone, whatever your taste, whether it's flavoured or a dark rum that has spent 10 years ageing in an oak barrel in Barbados." James Stocker, Halewood Marketing Director
From England, Manchester's Rockstar Spirits has created a range of premium spiced rums. Their Pineapple Grenade Overproof Spiced Rum (65% abv) sold out after This Morning's Holly Willoughby enjoyed it with some enthusiasm whilst trying out different drinks on the programme.
"Just as we have seen with the gin and tonic, there is an appetite for a more upmarket version of rum and Coke. For us that means distilling classic tiki flavours into the spirit so it feels like you are drinking a cocktail without the need to be a mixologist." Thomas G Hurst, Rockstar Spirits founder
UK online retailer Firebox has joined in the trend by adding to its spirits range with the launch of Phoenix Tears Spiced Rum (40% abv)
Spice Hunter spiced rum (38% abv) from London wine & spirits merchant Berry Bros & Rudd is another recent addition.
Bayou Spiced Rum (40% abv) from Lacassine in Louisiana USA
Don Q Oak Barrel Spiced Rum (45% abv) produced in Puerto Rico
Bumbu Spiced Rum (35% abv) crafted in Barbados
Wild Tiger spiced rum (38% abv) from India
For reference, below is a link to different websites reviewing or simply listing spiced rums available in the market: