Stewart Hainsworth is the Group CEO of Halewood Wines and Spirits and the person responsible for leading the turn around of this independent business, achieved through a revitalisation strategy over the last few years. His leadership and business delivery has culminated in a Top 10 UK Alcohol Industry Power List place, according to the trade publication The Grocer.
Halewood's Global Brands include Liverpool Organic, Marylebone, City of London and Whitley Neill Gins, and dark spirits such as Crabbie's Single Malt Whisky and Ginger Beer, The Pogues Irish Whiskey, Dead Man's Fingers spiced rum and Rum 66.
Stewart was kind enough to spare some time to talk to us and share his vast amount of experience in business.
Inside the Cask: Hi Stewart, you are currently the CEO of Halewood Wines and Spirits, a UK based family owned drinks company with turnover in excess of £350m. How did the opportunity to work there came about and where did the interest in drinks come from in the first place?
I was headhunted as a turnaround specialist from a PE owned distribution project in another sector. I have worked in the drinks industry since 2008, prior to that I worked in Tobacco from 1995 which has many similarities.
Inside the Cask: Halewood currently has 12 artisanal distilleries, 2 craft breweries and 12 bars, with an extensive portfolio featuring gin, rum, whiskey, vodka and artisan beers. The company seems to have gone through a huge amount of growth and change over the last few years but how has this been achieved under your leadership?
The first essential task is building a good likeminded set of managers with different skillsets around you as a CEO.
Many of the Halewood managers have either worked with me or my senior team in the past. We understand each other with a clear strategy and direction. We all recognise we must identify opportunities early, providing a USP for products and then implement at a speed to market that larger competitors can not match.
For reference: Halewood Leadership Team (click on this link) including Simon Roffe, the Global Travel Retail Managing Director, pictured below
Inside the Cask: Can you tell us more about the history of the company and the family behind it?
The business was set up in 1978 by the late John Halewood (pictured below). Mr Halewood was an entrepreneur and identified opportunities in the 90's in the UK to grow the business rapidly. He also set up businesses in South Africa, China and Romania.
The business remains under family control and our Chairwoman is Judy Halewood, Mr Halewood's wife.
The family have been very supportive of the Halewood team particularly in our acquisitions strategy.
Inside the Cask: What have been the major achievements for Halewood in the last 12 months?
Too many to list, without disappointing my managers…but achieving the UK's number one premium gin with Whitley Neill Gin was incredible.
The brand four years ago sold 4k cases and now it sells 550k 9 litre cases in the last twelve months.
Inside the Cask: Looking into 2020 and beyond, what does the future hold for Halewood?
Further expansion in dark spirits and growth in South Africa, USA, Australia, Russia and China.
We recently purchased a vodka distillery in Russia, a gin distillery in Australia and we are building two distilleries in Blackpool and Edinburgh.
Inside the Cask: There is a growing interest in Scotch whisky globally. Can you tell us more about your plans for Crabbie's scotch whisky and the planned Single Malt Distillery in Edinburgh?
The distillery will be finished by this Xmas and the visitor centre by Easter.
We are launching Crabbie's Yardhead, a non aged single malt in International markets. Its already in Sainsbury's in the UK. The idea of getting consumers to up-trade from old premium blends to a more approachable modern single malt. Also attracting new consumers into the category by removing the stigma that a single malt must be consumed neat.
Inside the Cask: Can you tell us more about your personal background? What else are you passionate about?
I am a chartered accountant, I adore animals with seven dogs, six cats, chickens and a horse. Love food and wine. I am a complete idiot when it comes to cars, no financial discipline whatsoever but a petrolhead.
Inside the Cask: What would be your advice for anyone else wanting to work in the drinks industry?
Brilliant industry, apply for the big companies that have strong training programmes.
Inside the Cask: What surprised you most about working in the drinks industry?
The speed of change and scope to be creative is much larger than Tobacco.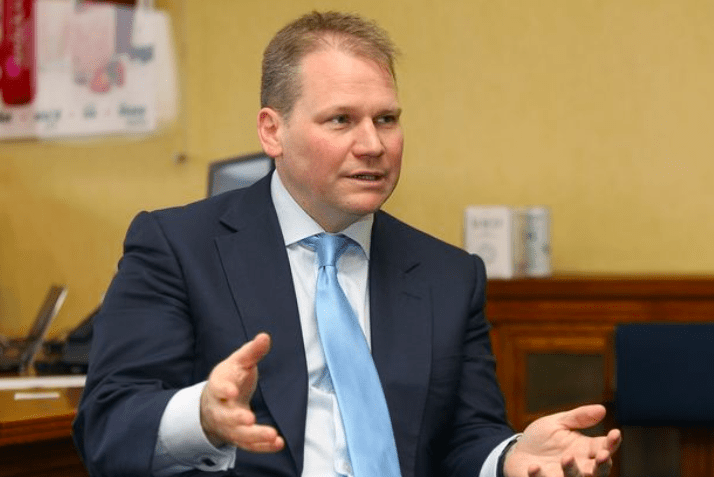 Inside the Cask: What is the favourite part of your job? Anything that you would like to share that not many people would know about you?
Really like working with our in-house design team, been involved in many of the new brands. Also, I have 22k followers and I write all my own LinkedIn posts. I refuse to use an Agency, hence the bad spelling on occasions. Thank god for the edit function.