The next generation of Ready to Drink (RTD) is already here with the growing trend currently in the US of lighter drinks evolving away from the alcopops full of sugar or sweeteners, colours and flavourings.
These hard seltzer (also known as spiked seltzer or aqua spritz) brands are tapping into the growing trends for healthier drinks (as they are usually lower in calories), hydration, portability or convenience, and moderation as usually they are around 4-7% ABV. Unlike beers, they are also free of gluten. The actual definition of hard seltzer is a carbonated alcoholic beverage. They are typically fermented with sugar instead of malted barley, yielding a beverage low in sugar and carbohydrates.
The main multinational drinks companies already have brands in place in this segment, such as Bon & Viv (formally known as Spiked Seltzer) from global brewing giants AB Inbev and Smirnoff Spiked Sparkling Seltzer from the world's largest distiller, Diageo.
The Spiked Seltzer market is already a billion dollar industry in the US according to business analysts Guggenheim, with sales surpassing the US$1 billion mark for the last year ending in August 2019 (+200% yoy), representing 2.5% of the total alcohol market (up from 0.9%). The expectation is that it will become a US$2.5 billion industry by 2021.
The clear brand leader is White Claw hard seltzer with a 58% share – the brand is owned by the company behind Mike's Hard Lemonade, Mark Anthony Brands. The brand uses a proprietary brewing process that uses fermented sugar, and a yeast strain with no malt being used, although there is some fruit juice and cane sugar added to the final product.
"We're calling this 21st century alcohol because it's solving all of the needs that currently exist in the marketplace, opening this new landscape up for consumers…they're looking for things that are premium and they're looking for things that are health and wellness driven. This [Bon & Viv Spiked Seltzer] checks the box on both of those things." Chelsea Phillips, AB Inbev
AB Inbev also has other hard seltzer brands in their portfolio, such as Natural Light Seltzer (pictured below) – which has a higher ABV (6%), larger pack sizes (12 and 24 cans) and costs 20% less than competitors such as White Claw. AB Inbev is also rumoured to be preparing to launch another product into this growing segment under their Bud Light brand.
The Boston Beer Company have released Truly Hard Seltzer and also Truly Spiked & Sparkling Water, which is spiked sparkling water with a hint of fruit.
"We were looking for a light, refreshing drink to reward ourselves with that wasn't heavy on the alcohol and wouldn't negate all the hard work we had just put in the gym but couldn't find anything that fit the bill. …. I realized that there were likely to be many more people who were looking for a beverage that simply didn't exist." Casey O'Neill, Boston Beer Company
Here are just some of the other brands in this growing segment of the alcoholic drinks industry:
Balans Aqua Spritz by Kopparberg
Bodega Bay Hard Seltzer
Briggs Hard Seltzer
Crook & Marker Spiked & Sparkling
Drty Hard Seltzer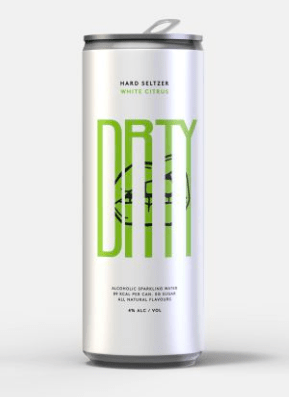 Ficks Hard Seltzer
Henry's Hard Sparkling Water
High Noon Sun Sips
Highball Hard Seltzer
Mighty Swell Spritzer Co.
Nauti Seltzer
Polar Seltzer Arctic Summer
PRESS Premium Alcohol Seltzer
Pura Still Spiked Still Water
Sauza Agua Fuerte
Sercy Spiked & Sparkling
SHORTS Hard Cider Seltzer
SPARK alcoholic sparkling water
SVEDKA Spiked Premium Seltzer
Vista Bay Hard Seltzer by Aldi
VIVE Hard Seltzer
Western Son Vodka Seltzer
Wild Basin Boozy Sparkling Water
For Reference – previous Inside the Cask blog posts:
For Reference – The Economist 1843 Magazine article 'The case against hard seltzer'