Start-ups and/or craft liquor companies are increasingly turning to the Californian tech model and working with incubators (designed to create growth through mentoring and networking connections) and accelerators (focused on rapid growth and typically offer capital through investment) in order to access support and capital for growth.
There are already quite a few examples of these operating in the Drinks Industry across beer, wines and spirits, allowing entrepreneurs to maintain their companies independent and under control whilst avoiding the many challenges and pitfalls they face. On this blog post we highlight some of these companies.
ZX Ventures (Anheuser-Busch InBev)
Set up in 2015 by the global brewing giant AB InBev, ZX Ventures is a disruptive growth organisation and their portfolio of companies have access to resources from AB InBev (below).
ZX Ventures has already invested in Craft Beer, Technology, Other Consumer Products and Retail Locations with companies such as: US homebrew supply company Northern Brewer, online eCommerce site BeerHawk, drinks business Atom Group and more recently the ready-to-drink sparkling wine spritz Sincerely Sabella.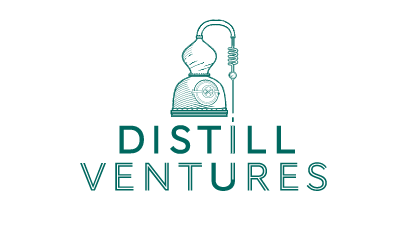 Distill Ventures (independent company partnered with Diageo)
Claiming to be the first drinks industry accelerator dedicated to small and start-up brands since its inception in 2013, by three friends in London. The company has partnered with Diageo as its sole and exclusive investor, providing start-ups with investment, support to build a bespoke plan for growth, expert advice and access to the North American market.
"Diageo is built on the shoulders of entrepreneurs like Arthur Guinness, Pierre Smirnoff, the Walkers, James Buchanan, Charles Tanqueray and many more. Innovation is core to our business and through Distill Ventures, we are able to complement our work and support today's best entrepreneurs to create the great global brands of the future." Ivan Menezes, Chief Executive of Diageo
Distill Ventures has invested over £60 million and growing through Diageo, both in recognised categories such as world whiskies as well as in emerging categories, such as ultra-low and non-alcoholic drinks. This has ranged from £250k for a pre-launch start-up to over £10 million to fundamentally transform a whiskey business.
For reference – Distill Ventures White Paper (May 2019): Non Alcoholic Drinks – A Growth History
Companies already acquired by Diageo include Seedlip, the world's first distilled non-alcoholic spirit, and Belsazar Berlin Aperitif. Distill Ventures have only disclosed a small portion of their investment portfolio in the public domain to date, such as Starward Australian whisky, Westward American Single Malt whiskey and Stauning Danish whisky.
For reference – Inside the Cask blog post: 'How to build a Drinks brand?'
For start-ups, despite the potential risks, this association with incubators and accelerators can bring many benefits such as deep experience in a range of disciplines, advice on the best distribution approach, a great network of contacts, investment to support growth, access to data insight and consumer research and ultimately a path to a profitable exit for the entrepreneur.
ZX Ventures and Distill Ventures seem to gather a disproportionate share of media attention, possibly due to their association with the two distilling and brewing giants of the Drinks Industry. However, there are also other companies seeking to provide support and investment to start-ups and in some cases, for their own business.
New Brand Ventures (Pernod Ricard)
NBV is the 'incubation and acceleration' division of Pernod's US business and originally created in 2016 as part of a renewed focus on its business in the US to enable value share growth in a sustainable way. Pernod Ricard claims to partner with and invest in brands and startups that deliver innovative products, services and experiences to help them redefine the future of conviviality.
"We've essentially created a network of entrepreneurs inside our company. Each brand has a business leader responsible for strategy, resource allocation, program development and execution, and that person has total autonomy. It's up to them to test and explore ways to build the brands they are working on." Jeff Agdern, Senior Vice President of New Brand Ventures, Pernod Ricard USA
"When we have a brand that we believe is a very strong proposition, we deploy a route-to-market SWAT team with sales and key account managers throughout the country. They are out there putting energy and focus behind these brands in cooperation with our wholesalers."
Investments through the NBV division include Mexico's Del Maguey Single Village Mezcal and brands previously acquired by Pernod, such as Monkey 47 gin and French aperitif Lillet.
"What we've found is that the most successful new brands in the marketplace are those that have been cultivated by start-up founders." Jeff Agdern, Senior Vice President of New Brand Ventures, Pernod Ricard USA
Convivialité Ventures is another venture arm of Pernod Ricard, created in 2017 and based in San Francisco, US, although they have not yet disclosed any of their investments.
La Maison des Startups (Moet Hennessy)
La Maison des Startups was an accelerator program launched in 2018 and designed to boost Moet Hennessy's track record of innovation, more specifically in the luxury market. The company welcomes 50 international start-ups each year to Station F, in two six-month terms, as well some of their internal DARE LVMH Program 'intrapreneurs' to launch their projects.
Accelerators typically offer their startups free office space, business and management consulting, feedback on the product, and access to investors in the form of a demo day.
At LVMH, examples of drinks industry related companies involved in the program first cohort include the smart wine aerator Aveine and connected drink mixologist Kuantom.
Full list available by clicking here on this link (breakdown below).
Large drinks companies will continue to look at innovative brands to fuel future growth, and the graphic below highlights this investment and M&A activity over the last few years for the Top 5 spirit companies (courtesy of CBInsights).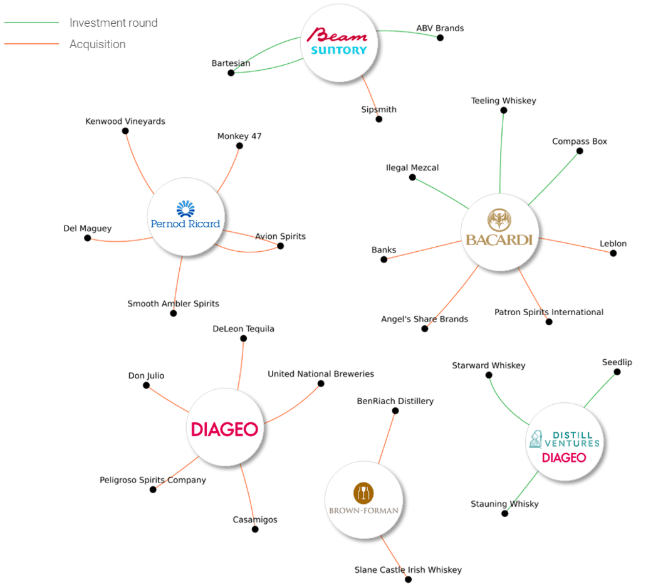 On a final note, it is worth clarifying the Silicon Valley terminology used on this blog post, courtesy of TechRepublic. For example, the terms "accelerator" and "incubator" are often assumed to represent the same concept, however there are a few differences between them. Accelerators "accelerate" growth of an existing company, while incubators "incubate" disruptive ideas with the hope of building out a business model and company. So, accelerators focus on scaling a business while incubators are often more focused on innovation.
ACCELERATOR
One of the big differences between accelerators and incubators is in how the individual programs are structured. Accelerator programs usually have a set timeframe in which individual companies spend anywhere from a few weeks to a few months working with a group of mentors to build out their business and avoid problems along the way.
Early stage companies are typically given a small seed investment, and access to a large mentorship network, in exchange for a small amount of equity. The mentor network—typically composed of startup executives, venture capitalists, industry experts, and other outside investors—is often the biggest value for prospective companies.
At the end of an accelerator program, you're likely to see all the startups from a particular cohort pitch at some sort of demonstration day (often shortened and referred to as a demo day) attended by investors and media. At this point, the business has hopefully been further developed and vetted.
INCUBATOR
Startup incubators begin with companies (or even single entrepreneurs) that may be earlier in the process and they do not operate on a set schedule. Some incubators have an application process, but others only work with companies and ideas that they come in contact with through trusted partners.
Within the incubator, a company will refine its idea, build out its business plan, work on product-market fit, identify intellectual property issues, and network in the startup ecosystem.