As the Master Brand Ambassador for The Scotch Malt Whisky Society (SMWS), John McCheyne is always travelling around the world conducting masterclasses and tastings for members and their guests at whisky festivals and events.
I had the pleasure to spend some time with John and sample some of the SMWS whiskies back in September 2018 (pictured above) at The Scotch Malt Whisky Society's 35th anniversary celebrations at the Vaults in Edinburgh. Lots of people from the whisky industry were present, such as Brian Kinsman (William Grant & Sons' Master Blender), Gavin Hewitt (ex CEO of the Scotch Whisky Association), etc and entertainment was provided by Robin Laing (The Whisky Bard). John was kind enough to share some time recently to answer our questions for the Inside the Cask blog.
Inside the Cask: Hi John. How did it all start for you at the SMWS ? Why did you choose to work with Scotch whisky ?
Before the advent of distillery tours and festivals and such, even before single malt became the modern phenomenon it has become, I and two friends visited Laphroaig on a trip to Islay in 1983. We were told there were no tours but it transpired after a chat that the security chief knew my father from Glasgow. So he kindly showed us round and treated us to some single cask Laphroaig samples in the warehouse. We were smitten but he told us we couldn't buy it. All the casks would be mixed together into the single malt expressions we already knew. We were disappointed and thought 'what a shame'.
Unknown to me at the time, a few months later, a club was about to be formed in Edinburgh celebrating the unique flavours of the single cask. The Scotch Malt Whisky Society was about to be born.
I didn't find out about the Society right away, but when I did, I joined. I had grown up with my family, mostly the men, my father and uncles, getting together and sharing their whiskies, especially at Hogmanay. I associated whisky with Scotland, its land, its people and its history.
Although in those days my father and uncles were mostly drinking blends, I soon also discovered malt as it came more to the fore, finally discovering single cask with the help of John Calder, that security man at Laphroaig, and the SMWS.
So in 2007, when the Society was looking for members to become ambassadors to help extend members' tastings further into different parts of the country, I threw my toorie in the ring and then became a local ambassador for London and the South East of England, where I was living at the time. I was so proud to be chosen to represent Scotch and Scotland, especially in an area where new converts and members were to be found!
I worked in financial services at that time, and subsequently with Lloyds of London, but when the opportunity came to swap spreadsheets for more SMWS about five years later, I did. I became more and more involved with the Society here and abroad in the last seven years.
In a recent podcast on Whisky Cast , Mark Gillespie said the SMWS and my whisky ambassador life was like a second career. I guess that's just about right.
Inside the Cask: Can you tell us more about the SMWS? How long has it been around and how does it work in practice?
There were a group of friends in Edinburgh in the late 70s/early 80s, led by Phillip 'Pip' Hills (pictured below), who gathered occasionally to share and enjoy Scotch whisky.
Pip then met a friend of a friend, who introduced him to Glenfarclas. A cask deal was struck and Pip brought it back to Edinburgh for his friends to try. They loved it so much that they clubbed together and asked him to get another one. So he did. The group of friends grew as the story of the single cask experience grew, coming to Pip's house for a dram and bringing empty bottles of all shapes and sizes to be filled.
After a while they decided perhaps they should formalise this so that more people could come to know what it was all about. So in 1983 The Scotch Malt Whisky Society was formed, born in The Vaults in Leith – still our home today.
The very first bottling was, unsurprisingly, a Glenfarclas, 1.1 (pictured below), and the iconic numbering system was a feature from the start.
Single malt was much rarer than now, and single cask very rare, so distilleries, who put such skill and effort into blending casks for the consistency of each expression, were concerned that their customers might be confused if the distillery name appeared on the SMWS single cask bottling. And that suited us.
The Society was keen that members could approach the whisky without preconceived ideas about what flavours to expect from a named distillery. So the numbering, firstly the permanent distillery number and then the number of the cask from that distillery, became one of the distinctive hallmarks of the SMWS – a birthmark, you might say. And as unique in the world of whisky as the single cask flavours, in fact.
Only a few months ago we had a very special evening at The Vaults. Pip came in to regale the room with stories of the SMWS from the early days and, guess what, we cracked open an archive bottle of that 1.1. Members came from all over, even Russia, just to attend and sample that bottling.
Membership is at the core of the Society and what we're all about. We now have around 27,000 members in about 23 countries across the globe. Membership is open to everyone. Many of our new members are introduced by existing members who want to share the experience, because the Society is about more than enjoying whisky itself. It is about members and their guests and friends sharing the unique whisky and our passion for it with kindred spirits in a convivial atmosphere.
From all walks of life, we gather in our SMWS Members' Rooms, in our partner bars across the world, and in our homes. Many members have met and grown relationships into best friendships over the years with other members.
Wearing the membership lapel badge has shown to be a great ice breaker for two members who don't know each other happening to meet somewhere for the first time.
Anyone can join. Online, by phone, through a friend or member. You can choose one of the exceptional range of add-on offers if you wish. You'll get a tasting pack and the quarterly Society members magazine, Unfiltered, free. There is no further payment, except for the whisky you want to buy, until annual renewal. Membership gives you access to the bottlings, a new range every month, access to our Members' Rooms, a discount on SMWS whisky in our partner bars across the world, and not least, a place among people who share your passion.
Membership means membership everywhere. It does not matter in which country you join. And our ambassadors, in bars and in tastings, will be keen to help guide you through the flavours to find what's right for you at that moment in time, as well as information about the distillery and the whisky.
The Society releases a new selection of single cask whiskies, which we call an Outturn, every single month, all approved by our famous Tasting Panel. The Panel is chaired by some famous whisky people, which not only assesses the whiskies as good enough to bottle, but assigns a quirky name, a flavour profile and writes Tasting Notes to guide and tingle the taste buds.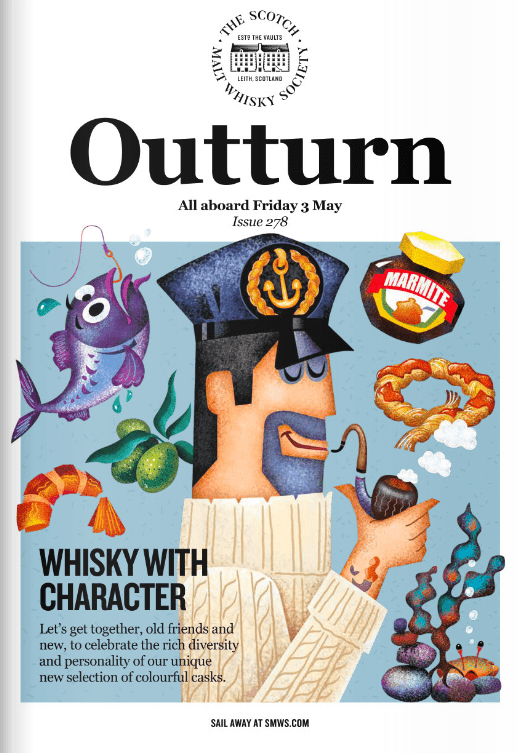 To date the Society has bottled whiskies from 139 distilleries. Although mostly Scotch, our whisky has also come from Japan, Ireland, the US, India, Wales, England and Taiwan so far. It's also bottled single cask rum, cognac and armagnac.
There are innovations all the time. In the last couple of years, our blended malt and cognac expressions have been well received. Our goal is to give members the opportunity to try new flavours from different countries and different spirits. They read and hear about all this, so the Society provides the opportunity for us to discover what it's all about.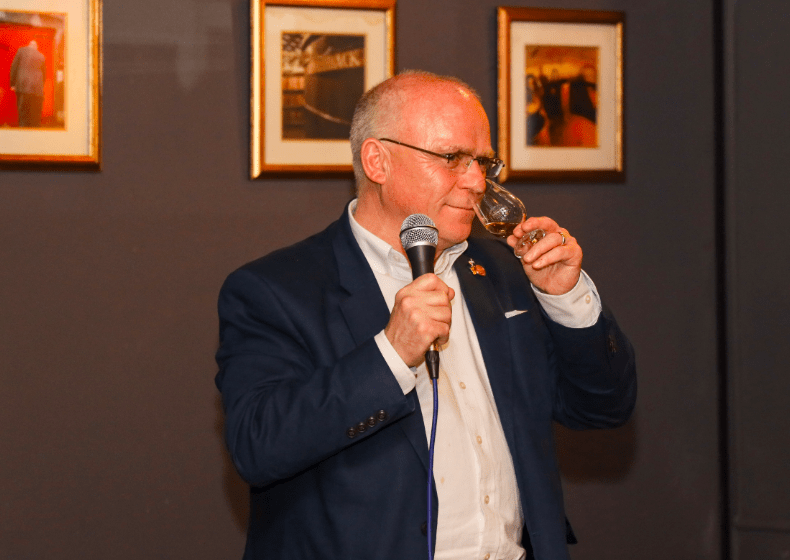 Inside the Cask: What would be the main reasons you'd give to someone thinking about joining the SMWS?
Someone once said to me that single cask single malt is something that you should approach after learning about and tasting the blended and single malt expressions. I thought about it and suggested trying to look at it a different way.
Single cask single malt is where it all actually starts. Single malt becomes a deliberately consistent expression of many casks of different types. The flavours are a mix of these different types of casks.
So if you are on a whisky flavour journey, and want to understand where all these flavours in single malt come from, why not start with single cask to educate your palate about the types of flavours different casks can provide.
Learn about the wonder of wood, in fact. Then you can enjoy a single malt with all these flavours from different casks and smile knowingly at the fact that you can probably discern what's from bourbon wood and what's from sherry wood and how about that PX finish!      
If you're already a passionate whisky lover, the Society should be a 'must include' part of your overall portfolio experience – the biggest independent bottler of single cask single malt in the world, offering the opportunity to try whisky from distilleries not always readily available.
To taste how the same spirit develops differently in different wood. To read articles in our entertaining and informative members magazine. To swap stories and opinions with other passionate whisky people. To come to tastings and events which will be both fun and enlightening. So what's holding you back??
Inside the Cask: Can you tell us more about your background? What else are you passionate about?
I was born and raised in Glasgow, and worked in financial services for many years with a Swiss Insurer and Lloyds of London. I've been away from Scotland for around 30 years, having moved with the Swiss insurer job. Scotch whisky has always been a passion, because of the flavours and its resonance with my country as I mentioned above.
I'm passionate about sport, and football particularly. Growing up in Glasgow most people are drawn to the 'big two Old Firm' teams of Celtic and Rangers, but I am a Partick Thistle supporter, something I am delighted to have 'inherited' from my father and my Uncle Jim.
In Glasgow sometimes people think that's an opt out. Once in a Glasgow pub when I was young an older bloke asked me if I was a Celtic or Rangers supporter. I said I was a Partick Thistle supporter. He paused for a second and then said: ''Aye, son, but are you a Celtic Partick Thistle supporter or a Rangers Partick Thistle supporter?'' People in Scotland and many further afield will know exactly what he was getting at, unfortunately!
I also love Scottish history and the land. We have a place in Argyll where my wife and I go often. The change in landscape and community and pace of life and traffic are like another planet compared to the South East of England. And I would say that I have a passionate interest in politics and current affairs, especially when it comes to the main political issue facing Scotland at the present time.
Inside the Cask: Any interesting stories or memorable moments to share from your time working with SMWS?
A few years ago, I received a call from Edinburgh asking if I could do a tasting in London in a few weeks. I said sorry, because I was planning to go home to visit my mother. A few days later I got a call from someone else asking the same question. I said: "I've already said I can't. What is this tasting anyway?'' It's the G20 summit in Whitehall, was the reply! I said: ''OK, my mother can wait a week!''
I had to get to Whitehall and they would tell me the actual destination at the last minute, for security reasons apparently. It was likely to be Downing Street or the Scottish Office. It was the latter. After a speech from the Secretary of State (SoS) for Scotland about how we all hoped the leaders would resolve some world problems, he stood down to mild and polite applause. I then stood on the dais to announce the whisky tasting and said that I had done many tastings before, but never before did I have the Secretary of State for Scotland as my warmup act!
I got a rousing round of applause and laughter and even the SoS for Scotland was chuckling away. And I'm pleased to say we got some famous new members that evening, although I'm not allowed to say exactly whom!
Later I was travelling to Denmark for the festival for the opening of the branch there. I asked Terje and Steen who were the SMWS people there, if they wanted me to wear the kilt. They looked at me almost in shock and horror and said: ''But of course!'' When I got there all of the Danes involved with the branch had the kilt on. Can you imagine if I had turned up kiltless?
And talking of Denmark, I can't let this go by without saying thank you to Rene Laursen for that wonderful gift of the SMWS watch that so many have seen on my FB posts. I think it's the only one here and it often makes other members very envious!
I have many other stories from home and around the world that I share with members at tastings from time to time. Whisky and the SMWS have always been great fun!
Inside the Cask: What are your thoughts on the future of Scotch whisky?
The history of Scotch sales around the world has never been an ever-upward climbing graph, as we know. Only in the last 30 years or so has single malt Scotch become a sales phenomenon. In recent years there has been some stalling, as whiskies from other countries became more popular, and started winning recognition through competition placing etc.
But last year Scotch boomed again. Export values were up significantly for all Scotch, with single malt not far off of 25% of the total in export values. Not so long ago we were saying single malt was about 5%, then 10% of the total. The industry has risen to the demand challenge by increasing capacity hugely.
For reference – click here for link to Inside the Cask blog post: 'Exports of Scotch whisky grow to a record £4.7bn'
We used to say the we can't satisfy the world's thirst for whisky through single malt alone but we are making one helluva effort! But blended Scotch will still be the mainstay. We all owe it to Scotland and whisky not to denigrate blended whisky when we are in the business of single malt and single cask single malt. Scotch being healthy supports us all. And anyway, blended whisky is great too!
And I don't think we have anything to be concerned about in terms of competition. The provenance and quality guarded by the distilleries themselves and by the Scotch Whisky Association around the world tells people that Scotch will always be reliable quality.
I'm in Campbeltown for its Malts Festival in May, and the early 20th century history of whisky there has a lesson for all of us. But thankfully Springbank and Glen Scotia remain and help lead the way.
But there is a gradual reduction in the amount people drink, especially young people, and more and more are following the principle of 'drink less, drink better'. A 'culture of connoisseurship', developing in the younger demographic particularly, will ensure single malt will continue to thrive while not diminishing the role of blended whisky in the experiences of Scotch consumers.
As the beer and whisky writer Michael Jackson once said, Scotch is the only drink that you can ask for anywhere in the world by reference to nation alone. You don't even have to add the word whisky.
So in summary, I believe the outlook for Scotch is healthy indeed. We have, of course, to put a rider there concerning political, economic and social impacts, because nothing is ever absolutely certain. But adverse impacts in those areas will not only affect Scotch. I believe that Scotch will always stay ahead of the pack.
Inside the Cask: What surprised you most about working in the drinks industry?
I guess it was the more relaxed culture of it all. With the Swiss Insurer and Lloyds, business life was intense. Meetings were always scheduled and people mostly turned up on time or at least the right day! Notes, agendas and post-meeting notes and follow up plans were an inherent feature.
In the drinks world, things tend to be more relaxed and casual, and usually takes place in much more pleasant environments than offices with whiteboards and screens as the only décor!
Also, I was surprised about how an interest and passion for a drink can extend to a desire to understand where it comes from and how and where it is made. So when I travel abroad, I'm constantly surprised and motivated and proud about how a love of Scotch has translated into a love of Scotland itself for many people.
And that love becomes manifest in the number of people with a desire to visit Scotland and find out about our land and people and our whisky. As we know, many of those visitors come back again and again.
For reference – click here for Inside the Cask blog post: 'An Inside the Cask chat with…VisitScotland'
Inside the Cask: What is the favourite part of your job? Anything you would like to share that not many people would know about you?
The favourite part is simply the engagement with members and guests through tastings and other events. Enjoying the camaraderie that being a part of this worldwide whisky club creates. Meeting people around the world. Representing my country through our national drink. And experiencing the never-ending flow of new flavours that the single cask gives us, while enjoying the chat and debate with member friends about each new one-of-a-kind bottling.
And of course, finding new members. Every new member brings their personality and character to our Society, adding another voice and views. And some very famous people are members (note: some famous members have been featured on Unfiltered magazine, such as actor Sam Heughan from TV's Outlander series pictured below).
I don't know if there's anything that people don't know that would actually be of any interest. I think I'm pretty much 'what you see is what you get'. I've mentioned a couple of things in the foregoing that might stretch into the answer to this question.
I once nearly got shot by a soldier in Havana guarding a monument. It's a bit of a story but my wife probably saved me. She sometimes says she doesn't regret it!
I played the accordion as a youngster and gave it up for football when I was selected to train with Queen's Park FC in Glasgow. But after a while they said I was probably better going back to the accordion.
I was known as Jock by most of my colleagues in Zurich except a few for whom I was Champagne McCheyne because I actually scored a winning goal for the team once.
I love big atmosphere football stadiums and two of my biggest experiences were at Boca in Buenos Aires and Barcelona at the Nou Camp. Hopefully I'll get back to Argentina and Brazil next year. Travel is a real passion, and I love South America.
I once worked with a leadership company in Herefordshire and South Africa that was owned and run by ex-SAS men. There were things I found out and stories I heard that if I shared with you, I would have to kill you. Or they might kill me! But I can tell you they loved their Scotch and two of them became members and are still members today.