Supposedly named after the Goddess of Gin, this small batch premium gin has been in the market since 2014 when first launched. The picture on the bottle of Daffy's Gin was painted by Robert McGinnis, the man behind the Breakfast at Tiffany's poster with Audrey Hepburn, and several James Bond posters from the 60's and 70's.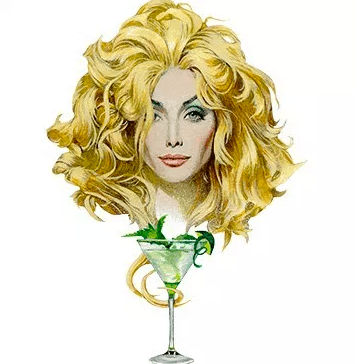 Interestingly, Daffy was also a nickname for Gin in Dickensian times. It was a medicine for children, named for a seventeenth-century clergyman. It consisted of senna (a laxative prepared from the roots of the cassia tree) and was commonly mixed with gin, thus daffy became slang for gin itself. Mrs. Mann gives the children daffy in Oliver Twist.
The brand was started by Chris Molyneaux, and his wife Mignonne Khazaka. They met in Scotland and are based in Edinburgh. His wife is passionate about food and drink and her sense of smell means that she is The Nose of Daffy's Gin.
Chris has been quoted to have developed 400 recipes, whilst working on the original recipe for Daffy's, mostly in the mornings when his palate was sharpest and he would start the day by nosing a line-up of around 15 recipe variations at 33 per cent ABV, writing out tasting notes and thinking about adjustments in botanicals and balances. His aim was to create a London Dry Gin that was well balanced and could be enjoyed neat over ice.

"There are two very simple things in distilling gin, and that's to get the process right and get the botanicals – the ingredients you're going to put in – right." Chris Molyneaux
Duffy's Gin has eight botanicals: juniper, coriander seeds, cassia bark, angelica root, orange and lemon peel, orris root and most notably Lebanese mint – donated by Mignonne's father, who grows it at his home in the Bequaa Valley.
The gin is distilled in a copper pot whisky still, going through a slow distillation with the botanicals being steeped for a long time in order to create this gin, which is bottled at 43.4% abv. The Daffy's Gin taste is smooth and well balanced with a hint of spiced caramel flavour.
Interested to know more and learn about Gin making from the team behind Daffy's Gin? Then Daffy's Gin School can help through their 3-hour course at Strathmashie Distillery in the heart of the Scottish Highlands. This involves foraging and gin making.