The Liquor industry continues to attract the attention of celebrities and this trend does not look like abating any time soon….
Inside the Cask has previously reported on this and listed some examples, as per the blog post 'The mutual attraction of Celebrities and Liquor Brands'
Rita Ora – Próspero Tequila
The British singer has joined the company as a shareholder and Chief Creative Partner. Próspero Tequila is produced at the Don Roberto Distillery in Jalisco, Mexico, by Stella Anguiano (both pictured below).
"Stella and her team are incredibly passionate about what they do and have given me the chance to collaborate on a project that celebrates all women. I can't wait to toast this new partnership with my family, friends, and fans." Rita Ora
Ryan Reynolds – Aviation Gin
The Canadian actor, writer and producer can also count creative director and part-owner of Aviation Gin to his CV. He has played an active role in the brand since buying into the company, especially when it comes to promoting it in a light hearted way, from videos explaining the production process (below), to celebrating a listing with Virgin and Richard Branson or some banter online with Hugh Jackman.
"Aviation is the best tasting gin in the world. Once I tried it, I knew I wanted to get involved with the company in a big way" Ryan Reynolds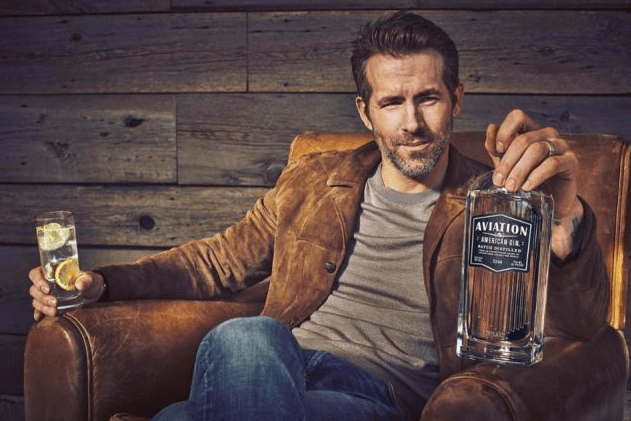 Drake – Virginia Black American Whiskey
Virginia Black was created by the Canadian singer Drake with the proven spirits producer Brent Hocking (pictured below). The partners recently announced that they are hoping to raise US$30 million in investments with an IPO starting at the end of this fiscal quarter.
Bob Dylan – Heaven's Door Spirits
The Heaven's Door range was launched by Bob Dylan in collaboration with Angel's Envy Bourbon founder Marc Bushala. The collection of premium handcrafted American whiskeys feature Bob Dylan's own artwork on the bottle.
The Heaven's Door range includes Tennessee Straight Bourbon Whiskey, Double Barrel Whiskey and Straight Rye Whiskey and most recently, a limited edition 10-year-old Tennessee Bourbon.
Adam Levine & Sammy Hagar – Santo Mezquila
The Maroon 5 frontman and former Van Halen member now have more than rock music in common. The pair bonded over their love of tequila and launched Santo, the world's first mezquila (a combination of tequila and mezcal) by blending the two liquors together.
Sammy Hagar – Sammy's Beach Bar Rum
The Van Halen frontman has followed up on the successful launch of Cabo Wabo tequila by creating a rum that captures 'the essence of Hawaii'.
"When I first met our master distiller and he said he could make a rum that captured the essence of Hawaii, I challenged him to the task. He captured the essence by using Maui Gold sugar cane, grown upcountry near the distillery. To develop the most flavourful cane juice, the cane remains in the pristine Maui soil a year longer than is typical. " Sammy Hagar
Ryan Seacrest – Casa Dragones Tequila
Television host, radio personality and producer Ryan Seacrest has a share of Casa Dragones tequila and helps to promote the brand co-founded by CEO Bertha González Nieves.
Billy F. Gibbons – Pura Vida Tequila
The veteran guitarist from band ZZ Top joined the tequila project started by his pal Stewart Skloss.
Miles Teller – The Finnish Long Drink
The Hollywood actor has invested in the company to secure some equity in the business. He first came across the product in his local liquor store and was hooked after a chance sampling with two of its co-founders, Ere Partanen and Sakari Manninen.
"People can sniff out an advertisement. They're tired of celebrity endorsements. For me, this is just a matter of showing how Long Drink fits in with my lifestyle, in an organic way. I really believe in it—extending the reach of it—because I think it's a great alternative to a lot of alcoholic beverages out there." Miles Teller
CeeLo Green — Ty Ku Sake
The singer-songwriter, Voice coach, and member of both hip-hop group Goodie Mob and soul duo Gnarls Barkley, has teamed up with Ty Ku, a Japanese premium sake and spirits company.
Below is what CeeLo Green has been quoted when asked about his thoughts on celebrities linking up with brands.
"I can dig it, you know, but you can't buy good taste. Business is more often impersonal than not. That said, you don't have to drink Bud Light exclusively to partner with them in a joint venture in which they use your name and likeness to promote their brand." CeeLo Green
and finally below is a TY KU Sake commercial featuring CeeLo Green himself…
For reference – Inside the Cask blog post 'The mutual attraction of Celebrities and Liquor Brands'