Technology continues to bring new approaches to marketing in the Alcohol/ Drinks category and one such example is the use of Augmented Reality (AR) by Treasury Wine Estates.
Back in 2017, the company launched an AR app to be used with their 19 Crimes wine brand, the first to use AR technology on wine labels. This featured British rogue characters on the label coming to life to tell their stories. The concept was simple to access with consumers simply downloading the app from the Apple or Google store and hovering their smartphone over the wine label to bring it to life.
More recently, given the sheer success of the 19 Crimes marketing campaign (helping it to grow in the USA to a 1.5m cases brand), the company has continued to invest in AR through the development of their 'Living Wine Labels' AR platform across its portfolio of wines, to help drive consumer engagement and growth of its brands around the globe.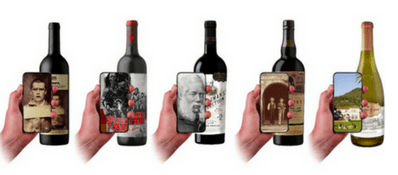 The Living Wine Labels platform, will include wine brands in their portfolio such as 19 Crimes, Lindeman's Gentleman's Collection, Beringer Brothers, the Walking Dead and Chateau St. Jean, with the app available in more than 90 countries.
"We know that it's often difficult for consumers to select wine from a crowded shelf. We wanted to find a way to add an experiential element to selecting and purchasing wine, and make our brands stand out beyond the traditional neck tags and shelf wobblers. This technology has been even more successful than we anticipated, bringing new consumers into the category as well as appealing to tech enthusiasts and wine lovers. It's a great example of how we're thinking differently about marketing wine." TWE Chief Marketing Officer, Michelle Terry
Video Interview with Tim Irwin from Treasury Wine Estates about the Living Wine Labels:
Another Wine AR label video example:
At the annual Consumer Electronics Show (CES) in January 2019, there was more innovation in the drinks category, this time from South Korean electronics company LG. They announced the release of the LG HomeBrew, an at-home beer maker that makes it easy to bring craft brews to life without needing access to a brewery.
LG's unique capsule-based system brings revolutionary simplicity to the art of brewing with one-touch activation. The machine works with a set of single-use capsules – which contain malt, yeast, hop oil and flavoring – and at the press of a button, users can relax as LG HomeBrew automates the whole procedure from fermentation, carbonation and aging to serving and cleaning. A free companion app (for Android and iOS devices) lets consumers check HomeBrew's status at any time, anywhere.
"LG HomeBrew is the culmination of years of home appliance and water purification technologies that we have developed over the decades. Homebrewing has grown at an explosive pace but there are still many beer lovers who haven't taken the jump because of the barrier to entry and these are the consumers we think will be attracted to LG HomeBrew." Song Dae-hyun, president of LG Electronics Home Appliance & Air Solution Company
Video from CES 2019 with Randy Overton from LG Electronics:
This is not necessarily a new idea, as Pico tried before with their PicoBrew, personal craft beer brewery, launched at CES 2016. Although this product probably has not quite captured the imagination of consumers, so LG Electronics will be hoping for a better result.
For the use of Artificial Intelligence (AI) in the Drinks category, please see a previous Inside the Cask blog post: 'Alcohol + Tech = The Future of Drinks Marketing?'