As reported recently by Scotchwhisky.com, there are a number of distilleries opening in Scotland in 2019 and some are already in place or finalising the last details prior to an opening date…
One such example is Hunter Laing's Ardnahoe distillery in Islay (pictured above), originally due to be opened in 2018 but now in its commissioning phase with the first casks expected to be filled in early 2019.
All of the Malt distilleries on the table above, such as Bladnoch Distillery from the Lowlands of Scotland (pictured below), were opened in 2017 and are displayed in order of the expected capacity size (based on Litres of Alcohol produced Per Annum).
New Malt Distilleries that had been expected to open in 2018 include the following:
Note that for the average production usually quoted in Scotland for a Malt whisky distillery is around 2.5 million liters of alcohol per year, so the new distilleries listed on this blog post are all below that figure and likely to bring down the average.
Also interestingly, many of the new distilleries are located in the Lowlands which brings the number up to 17 distilleries, up from only 2 back in the year 2000.
The current split of Malt distilleries per region in Scotland is as follows (totalling 128):
Highlands = 49 (10 in Islands)
Speyside = 50
Islay = 9
Lowland = 17
Campbeltown = 3 (sadly down from over 34 distilleries in the 1800's)
For reference – for an interview with Iain McAllister from Glen Scotia Distillery, see the blog post 'Campbeltown and Scotch Whisky'
Another major recent development was the opening of the new Macallan Distillery at Craigellachie with a 15 million LPA capacity (replacing the existing 11 million LPA malt distillery) – pictured below.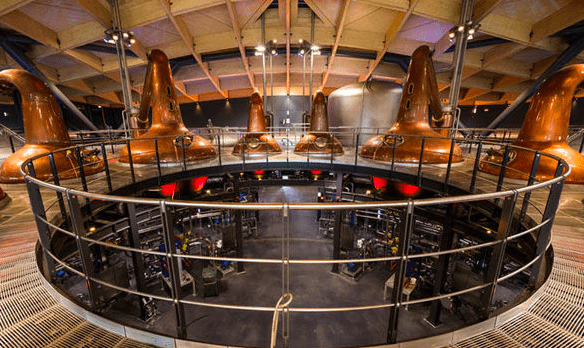 For 2019, aside from those distilleries delayed in their expected opening date, we should also be able to look forward to the following new Malt distilleries:
Ardross Distillery
Cabrach Distillery
Dornoch Distillery 2
Other 2019 openings have already been reported on the Inside the Cask blog post: Latest Drinks Industry Construction Projects
For Reference – Inside the Cask Blog post: Grain Distilleries and the Scotch whisky industry showcases the other side of the industry away from Malt distilleries, and just as vital.