In England, wine glasses have increased in size from 1700 to the present day according to author Dr. Theresa Marteau as reported in the British Medical Journal (BMJ). But has this led to increased wine consumption?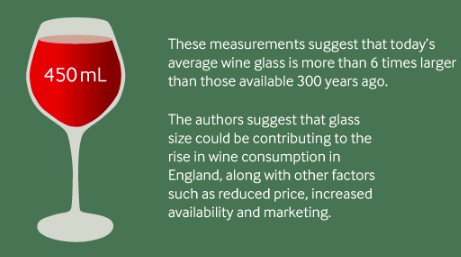 This was originally published in her paper entitled 'Wine glass size in England from 1700 to 2017: a measure of our time' on 13th December 2017.
It was the discovery of lead crystal in 1674 by George Ravenscroft, an English glass merchant, that created the fashion in England of drinking from glass vessels rather than pewter ones. Dr. Martheau and her colleagues from the Behaviour and Health Research Unit at Cambridge University suspected that the increase in consumption of wine was correlated to the larger sizes of glasses used over the years, amongst other factors influencing increased consumption.
As stated in her paper, wine glass capacity in England has increased from a mean of 66 mL in 1700 to 449 mL in 2017. However, whilst the amount of wine drunk in the UK has grown sevenfold since 1960, despite a population growth rate of only 25% over the same period, the proportion of adults drinking wine fell from 60% to 50% according to Britain's Office of National Statistics (ONS).
"Alongside greater capacity, the strength of wine sold in the UK since the 1990s has increased." Dr. Martheau
Dr. Martheau also looked at the consequences on consumption of wine by serving wine in different glass sizes (smaller and larger than normal whilst maintaining the serving sizes according to consumer choice). The results were not conclusive and seemed to produce mixed results.
Another perspective was presented by Dr. Basil Moss to her published paper. He suggests looking at some notable port drinkers for a different understanding of the reason for the change in size of wine glasses. Apparently William Pitt the Younger, routinely consumed a bottle of port before giving a speech to the house, whilst Samuel Johnson refreshed himself with three bottles a day, and the squire John Mytton polished off up to six a day.
"None of these merry gentlemen seem to have let the size of their glasses slow them down: perhaps it's not the size, but what you do with it that counts!" Dr. Moss
To better understand the use to which these glasses were put, one must review the history of toasting, which reached a peak of popularity in the late 18th century. When a toast was proposed, the contents of one's glass were polished off in one, and Lord Henry Cockburn complained that this was "a perfect social tyranny… Every glass during dinner had to be dedicated to someone". This style of drinking would be ill advised using the much larger goblets which were popular previously, during the renaissance. To return to the present day, while our glasses are large, we rarely drink them down in one…