The full book title is Whisky Rising: The Definitive Guide to the Finest Whiskies and Distillers of Japan and this book does not disappoint in the sheer level of detail and insight it provides, it is very much a reference or manual to the category of Japanese whisky as a whole…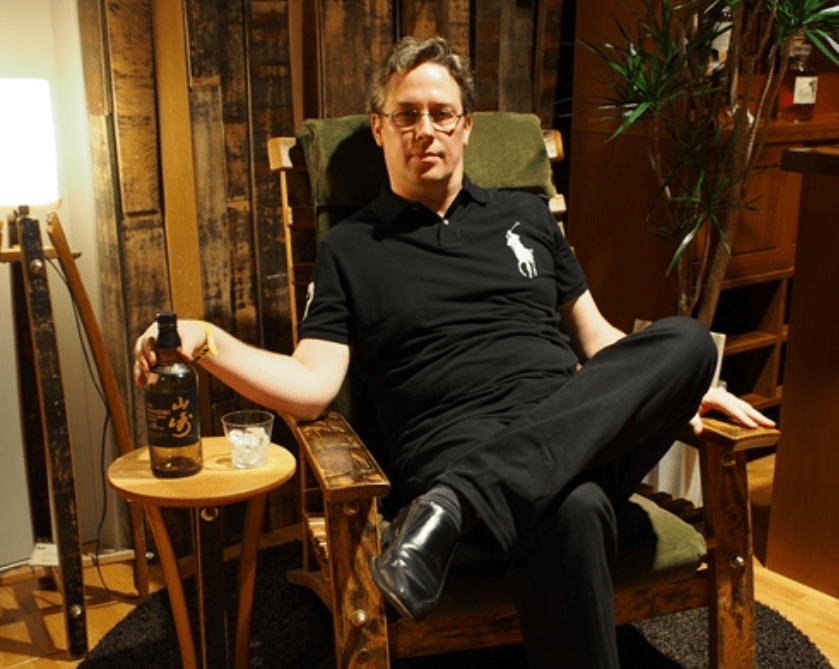 The book was written by Stefan Van Eycken (pictured above) who grew up in Belgium and Scotland before moving to Japan in 2000 and in due course becoming the editor of Nonjatta, the self entitled 'foremost online resource on Japanese whisky', as well as being a contributor to Whisky Magazine UK, Japan and France.
Originally released in April 2017, the 400 pages are full of new insights into Japanese whisky, including profiles on distilleries new and old, interviews with master distillers and blenders, and reviews and tasting notes. He also provides information on the history of Japanese whisky, inevitably interlinked with Scotch whisky.
There is a great interview available with Stefan Van Eycken on the website 'The Dramble' which is well worth a read – click here for the link – with a quote from him and the answer to one of the questions posed by The Dramble extracted below.
"I tried a lot of whisky in my late teens and early twenties, but no Japanese whisky. Like most people, I just wasn't aware there was such a thing. Even after moving to Japan (at the age of 24), I kept drinking Scotch for the most part… until, on my travels through the country, I stumbled upon a few distilleries left and right and tried their offerings. But that story is in the book…" Stefan Van Eycken
The Dramble: What convinced you to embark on writing Whisky Rising?
Stefan: I'm taking a few shortcuts here, but after getting involved with Nonjatta – the foremost web-resource on Japanese whisky – and writing about Japanese whisky for various magazines, I started getting requests from publishers in different corners of the world to write a proper book on Japanese whisky. I wanted to do it, but I have a full-time job (in education), am active as a composer AND have a family, so for many years I just didn't think I'd be able to find the time to write the book I wanted to write – comprehensive and in-depth but readable and of interest for novices, seasoned whisky-fans and anyone in between.
With Japanese whisky turning into a worldwide circus – I'm referring to the mad scramble for crumbs, crazy auction situations and concomitant bat-shit mental prices – many publishers were keen to ride the wave and wanted a book. I was asked again and again, and said "no" over and over. What finally made me say "yes" was 1) the fact that Cider Mill Press asked (I love their work!) and 2) the fact that I heard rumors through the grapevine – or should that be through the barley stalks? – that some people had been approached who were, to put it politely, "armchair specialists". I don't want to dwell on this too much, but if I had to draw an analogy, it'd be like me writing a book on Canadian whisky (I've never been to Canada, incidentally). I could do it, but should I be doing that? Personally, I don't think so.
To make a long story short: friends egged me on and said, "isn't it time you rolled up your sleeves and did it? Sure, it'll be a lot of work – sure, you won't have time for anything else while you are awake for the next year or so… but just do it, and then you won't have to listen to the nagging anymore." Fair enough, I thought. So that's what I did.
I'm an independent writer and so all the bills – traveling around the country to visit distilleries again to get "a state of the nation", hundreds of bar visits, bottle purchases, even paying photographers to take pictures for me…– all that came out of my own pocket. The notion of a "whisky writer" doesn't exist in Japan, anyway. Elsewhere, maybe writers get invited on all-expenses paid trips, get samples and other "support". In Japan, that simply doesn't happen. Producers don't need to do that – the whisky sells anyway. In fact, there isn't enough to go around.
At the end of the day, however, there's no such thing as free whisky. So not being "indebted" to anyone means that I can voice my opinions without having to look over my shoulder. It comes with a price-tag, that independence, but I'm happy to pay that price."