To celebrate the release of the 13th edition of the Malt Whisky Yearbook 2018, we caught up with its creator, owner and editor, Ingvar Ronde. The book is packed with new and updated information on more than 400 whisky distilleries from around the world and includes contributions and features from a variety of leading whisky experts.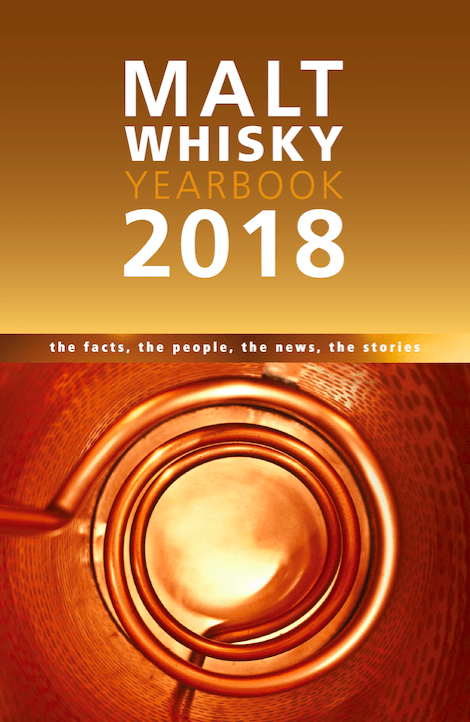 The Malt Whisky Yearbook 2018 is, in their own words, "a comprehensive summary of the whisky year that was and all the latest statistics is also included. Malt Whisky Yearbook 2018 includes more than 250 tasting notes describing the flavour of single malts from all working distilleries in Scotland and Japan. Finally, with more than 500 colour photographs, Malt Whisky Yearbook 2018 is as much an essential reference guide as a book to read for pleasure."
I have been reading Ingvar's Malt Whisky Yearbooks every year since I first came across them and they are very much one of my own reference books for the industry. I was delighted that he was willing to share some time and answer a few of our questions.
Inside the Cask: Ingvar, the newly released Malt Whisky Yearbook 2018 is the 13th edition of what has become a real reference for whisky aficionados. But how did it all begin? Where did the idea come from?
I have been doing a lot of things in my professional life over the years but mostly, it has included writing and marketing in one way or the other. The decision to start doing the Malt Whisky Yearbook actually came  from a self interest.
In my ambition to follow the development of the whisky world, I noticed there was no Yearbook covering all the latest happenings.
You could find books about cars, movies, guns and lots of other stuff but no whisky yearbook. Instead you had to focus on sources on the internet but the problem was you just did not know which ones to trust and it also took a lot of time searching through all these pages. I assumed there would be other whisky enthusiasts out there feeling the same way so I  decided to fill that gap and make a Yearbook myself. Early on, I also made the decision to restrict it to malt whisky. Mainly because that is what most drinkers today are interested in but I also feared that making a book every  year covering the entire whisky world would become an impossible task.
Inside the Cask: Who is Ingvar Ronde and what is your background? Can you tell us more?
I live in Malmo in the south of Sweden and I recently turned 60. I studied economy and marketing at the university and my working life includes owning a chain of stores, selling outdoor equipment as well as producing various magazines. Apart from whisky, my main hobbies are history and bird watching.
Inside the Cask: When did you first drink Scotch whisky and what was it? Can you remember much?
I had my first whisky in the mid seventies. Not sure what it was but most likely a Johnnie Walker Red. On the other hand, I know exactly when I enjoyed my first single malt. It was the second week of July 1980. A friend and I took the Flying Scotsman from London to Inverness and on the train  we shared a bottle of single malt from a Dufftown distillery. In Inverness, we rented a car and followed the Whisky Trail, stopping at Glenfiddich, Glenlivet, Glenfarclas and Strathisla. After that there was no turning back.
Inside the Cask: What made you fall in love with Scotch whisky? 
For me, Scotch isn´t just about the whisky itself. It involves the history of Scotland, the struggle against vikings and the struggle for freedom, the scenery and the people. Everything put together makes a fascinating mix.
With all due respect, cognac is a great spirit but few people have written books or made films about the region itself!
Inside the Cask: What is your view on the debate around how much innovation is allowed within Scotch whisky compared to other World whiskies?
First of all, I am sick and tired of people saying that craft whisky is the big thing. Everybody has their own definition of the word "craft"  and a lot of new distilleries, especially in the USA, don´t even want to be associated with the word any longer. There is a craft fatigue. I am even more annoyed when "whisky experts" say that the innovation comes from these small, new distilleries while the big guys are just doing what they have always done.
To start with innovation does not always equal improvement. Sometimes the result is lousy whisky and you should be honest and not release it. Secondly, there are many of the established producers that experiment and try to come up with new stuff.
Perhaps they don´t talk that much about it and they also have the financial muscles not having to release the spirit if it is crap. One good example is Irish Distillers and their experimental distillery at Middleton. They produce Jameson, the world´s best selling Irish whiskey and a mega brand yet at the same time they devote time and money trying to come up with new exciting stuff.
I think part of the success story for Scotch whisky is that they have stuck to traditions. That is why I get really mad when I  see producers tampering with their brands by making flavoured Scotch. To me, it just shows a lack of confidence in your own product and an eagerness to make some short term profits. If that is allowed to continue, it will only damage the reputation (of the industry). You can attract young consumers in so many other ways. By dumbing down the whisky you underestimate both the drink and the customer.
Inside the Cask: Sweden seems to have a real passion for Scotch whisky and now has its own established distilleries such as Mackmyra, BOX, Spirit of Hven and Smögen. How do you see the development of Swedish whisky?
The vast majority of Swedish whiskies are still quite young and if you compare them to Scotch whiskies of the same age, there is no doubt they can give their Scottish counterparts a match in terms of quality. The good thing with most of the producers in Sweden is that they are dedicated whisky distilleries, producing in classic pot stills and  being very focused on  the quality in every step of the production.
In some other countries, you often find that distilleries divide their time and efforts between so many different types of spirit instead of making a first class whisky. The moment of truth for producers from  any of the new whisky countries is when they start exporting their product. Attracting your home market and trying to sell overseas is a huge difference.
Because of that, it could make sense to join forces and try to establish a Nordic whisky category. The downside of that could be that you put a restrain on the producers. I would not like to see a streamlined whisky production where every brand tastes like the other. The beauty of these new whisky countries is the versatility where there is a place for all the bold, new ideas.
Inside the Cask: You interact with whisky writers for the book. Who do you see as the next generation of whisky writers and bloggers coming up?
To name all the whisky bloggers in the world would probably take me a couple of days. Some of them are really good and know their stuff while most of them may have a passion for whisky but what they say in their blogs is not that fascinating. I must confess I am not that interested in reading what other people may think of a whisky. For me it is so much better if you try to analyse the world of whisky, spot trends, discuss the history, dissect the different steps of the production etc.
Regarding the next generation of writers, hmm… It does not seem right to say that Neil Ridley and Joel Harrison belong to that generation because they are already so well established, producing great books. Perhaps I could mention Blair Bowman (pictured below) and his recent The Pocket Guide To Whisky, a fun way of presenting whiskies. There is also Stefan Van Eycken who recently published an amazing book on Japanese whisky called Whisky Rising.
Inside the Cask: Finally, is there anything that you would share with us that most people may not know about you?
One thing is that I hosted a radio show for six years, presenting American and English dance band music from the 20s and 30s. That was a long time ago and seems a bit odd today when Bruce Springsteen has been my go-to music for decades.