This book is by the author, bartender, gin tutor and blogger Emma Stokes (aka Gin Monkey) and it was first released in October 2015 – it provides an easy way to get into cocktails!
As per her own biography online, Emma Stokes (pictured above), has worked in bars in Leeds, Newcastle and London for over five years. She has a degree in Pharmacology and after a brief stint in Geneva, working for the largest science experiment in the world (CERN), she returned to London, discovered many new bars but no way to search for them easily.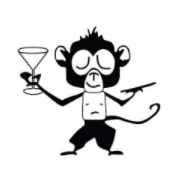 Based on that experience, Emma created Gin Monkey, an impartial and independent online guide to good cocktails and the best bars. She has also cofounded the London Cocktail Society and runs World Gin Day. She also presents the Gin Lab sessions at the City of London Distillery. Clearly someone with a thing or two to say about cocktails given her background!
I came across the book as I am currently looking to set up a bar at home in my office (once complete!). I was searching for ideas on the bar but also cocktails and saw this book. Needless to say, after just one click through Amazon, the book arrived and I've had the opportunity now to review the book and its concept although not planning to use it in practice until my home bar is in place later this year.
Emma uses the concept of the periodic table in an interesting way to try and give us a simple way to find other similar style cocktails, once we define, decide or discover (by trialling it!) our own preferences.
There are over 100 cocktail recipes in the book, and this is a perfect cocktail book suitable for everyone – from the beginner trying to set up a home bar to the more experienced cocktail supremo.