Courtesy of Scott Martin, a British Airways (BA) Executive Club member and frequent flier who is seriously questioning the value proposition on offer from BA.
This blog post has been shared across LinkedIn originally and received a huge amount of attention and feedback due to the growing frustration of BA Executive Club members and frequent fliers of the airline. This is in no doubt due to all the recent changes being made, the latest one being the move to stop providing free drinks and snacks as part of its offering and instead introducing 'Buy On Board' by selling products from Marks & Spencer.
PART 1 (Original Post) – Have British Airways lost the plot…? by Scott Martin
"Like many of you reading this, I'm a twenty year loyal customer of British Airways and a member of the Executive Club for longer than I can remember. Over that time I've generally been satisfied with my relationship with British Airways and have, where possible made it my preferred carrier.
I'm afraid though that this loyal relationship may soon be coming to an end as the airline is most certainly changing for the worst.
Let me give you just a few examples. I travel globally and have cause to regularly visit Canada and North America, SE Asia and Europe.
On routes West, I find BA totally uncompetitive. I can regularly find a direct business class flight to Calgary with Air Canada (on a brand new 787 with a superior cabin to Club World I would add) for 30-40% less than the cheapest BA fare.
Going East is worst. Their direct club world ticket to Dubai or  Kuala Lumpor is almost always double that of the fare with Emirates. I accept this is indirect but a few extra hours of travel cannot possible justify the additional £1500 – £2000 BA seek to charge. As such I have taken over 15 business class flights with Emirates this last 6 months alone.
Their reinvestment in the fleet seems sluggish at best. On the 6th Jan this year I flew return to New York on the oldest and most tired 747 I have ever had the misfortune to board. It actually leaked on take off, a matter the CSD appeared to dismiss off hand – most rudely I would add.
The Executive Club has become worthless to very frequent flyers like myself. Almost every passenger on short haul appears to qualify for fast track boarding meaning boarding is usually a chaotic bun fight.
The ability to use and spend air miles is almost impossible. I used to regularly upgrade to first when booked Business but that option has virtually disappeared. In the 10 years of holding a gold card I have only once found a reward flight. Other loyalty schemes like Emirates Skywards are simply a better way to reward and motivate regular travellers.  Oddly I can now buy a cheese sandwich on board using Avios – the same I earn for a short haul flight!! – but I will get to that.
Apart from some of their very key routes, Executive Club member are subordinated into 3rd party business lounges (Aspire etc) where access and benefits can be gained by purchasing a Priority Pass. A such theses lounges (Calgary, St Petersburg to name a few) are unusable if you seek peace and quiet. I have started using some of the premium F&B at these airports for a more tranquil experience.
But I think was has tipped me over the edge is a recent flight to Helsinki and return from St Petersburg where I experienced M&S on board – Or M&S (not) On Board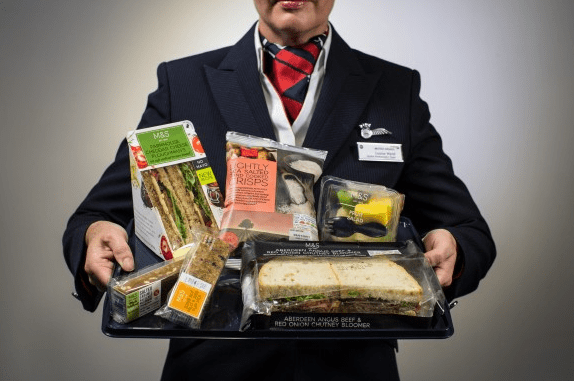 I have never seen anything more shambolic. On the outbound flight the crew ran out of all fresh food by row 8 – so at best 18 satisfied customers. They ran out of all drinks bar Diet Coke by row 20 and out of time by 24. 2hrs 35 minutes to serve a flight.
My return from St Petersburg was no better. No Earl Grey tea – I was sitting in seat 6F. I'm not sure what consumer research they did before embarking on this debarkle but I'm sure it was shareholder biased not customer centric. Most of the customers on my flight were quite direct in their feedback, all of it viciously negative.
If I want no frills I have plenty of choice. I regularly fly easyJet to my home in Spain and accept it for what it is in comfort that I'm not paying through the nose for flights. I would add here however that they do a much better job than BA judging by my first and only experience of M&S (not) on board.  They have lots of fresh products and can serve a full flight in half the time I experienced with BA. (Note: I have added the table below which I found online).
This change in strategy for me is the last straw. They are clearly 'sticking up two fingers' to frequent business travellers. On every other carrier in Europe that operates a 'paid' meal service they also offer free tea, coffee and water. I don't want to pay them £2.30 for a cup of tea – they are not Starbucks or Costa and there is nothing experiential about drinking from a cardboard cup with artificial milk and scalding water.
I have lodged several comments and complaints over recent and not heard a peep from them. So for me, that's it. My longstanding relationship with BA is over due to loss of focus on the customer and frequent traveller.
Their management should be warned that in these challenging times loss of focus on the customer and the core proposition is business suicide – the mighty have most certainly fallen over recent years with Giant brands like Tesco and others materially losing their way. I fear BA are heading that way too and as an increasingly disenfranchised and generally unhappy customer I can only vote with my feet. And stop booking with them.
I really loved the brand and what it stood for. I hope I am wrong but I can't help but feel other regular traveler, like me, will start to reconsider."
PART 2 (Follow Up) – Have British Airways lost the plot…? by Scott Martin
"Well my article a few days ago has certainly stimulated plenty of interested and its clear that there are many other travellers out there that are falling out of love with British Airways. I've had comments back from current and ex BA employees, regular travellers and business people all of whom bemoan the demise of this one great airline.
Surprisingly I received a reply from the Chairman and CEO, Alex Cruz (pictured below). Well I say a reply, it was more of an automated response from some customer service minion but it was something at least.
Most reassuringly, I am advised, everything is A.O.K at British Airways Towers.
My complaint about the ageing fleet is, I'm assured, mis-guided. Apparently I was unlucky to fly on one of the twenty "unrefreshed" aircraft (BA speak for old and knackered) and I should stick with it because all the fleet will be upgraded by 2021. Well thats OK then
Thankfully they recognise that "spending" Avios points can be difficult but they have made lots of changes to make it easier based on real customer feedback. I'm really non the wiser but maybe this is why, for the points you earn on a return flight to Paris you can use the Avios points to buy a cheese sandwich with M&S on board. If they have any, that is.
I've saved the best till last. The disaster that is M&S on-board. I probably shouldn't, but I've pasted the best bits below.
"The change was made following extensive customer research and feedback, which found customers wanted meals that reflect what they'd normally choose on the go.  We offer fresh, premium quality food, so we can give our customers the best on board dining experience.  The food and drink options available are fairly priced.  We're not charging inflated prices like some low-cost carriers. I realise your frustration must have compounded further when meal and drink choices ran out. We keep an eye on trends so we can make adjustments to the loading ratios based on the products we serve, but it can be hard to get it right on every flight.  We also have to bear in mind the limited space in our galleys, which means we can't carry the full range of products for everyone on board. I've sent the details of your email to our Catering team, so they're able to use your comments to help them tailor any changes.  I know they'll definitely value your insight."
I would heartily agree that M&S is a great British brand and that they provide excellent quality food and drink. BUT, British Airways, YOU DONT STOCK ANY! I would love to meet the chap responsible for "..keeping an eye on trends…" because he obviously ran out of fingers and toes to count!
The kicker though is the closing comment. "Please don't hesitate to contact us if you have any further questions. We value your loyalty as a member of our Executive Club since September 2004. We hope you'll still continue to travel with us and see positive changes in the future"
AKA – Thanks for being a loyal customer for the past 13 years, we've listened to your blabbering and on reflection we are right and you are wrong, but do keep flying with us. But I won't – and will be true to my word. I have booked three flights this week – one shorthaul and two long haul and none of them have been with BA.
And for all my efforts did they offer me any form of compensatory gift – some airmiles perhaps, a free flight, upgrade. Nothing, zip, nada – not even a voucher for a free cheese sandwich (subject to availability of course!)"
So there you have it….please make up your own mind and if you want to share any insights, let me know. I'd also be happy to hear from BA.