I attended The Middle East & Africa Duty Free Association (MEADFA) conference at the end of November 2016. Here is my summary of highlights from this event, held in Dubai this year.
For details on the MEADFA Conference – please check the following links which include some of the coverage by the travel retail press:
The conference was opened by the MEADFA President, Sean Staunton, who highlighted the current status of business in the region and the challenges faced as exemplified by a decline of -2.6% in the GTR Middle East and -3.7% in GTR Africa.
This was followed by an interesting session from the UN World Tourism Organisation (WTO) Regional Director for Middle East, Amr Abdel-Ghaffar. He shared a number of facts and figures on the global tourism industry and the sheer reach of it with 1/7 of the global population having crossed international borders in the last 12 months. A staggering 10% of the global GBP – 1 in every 11 jobs – is linked to tourism and this also is one of the hallmarks of globalisation.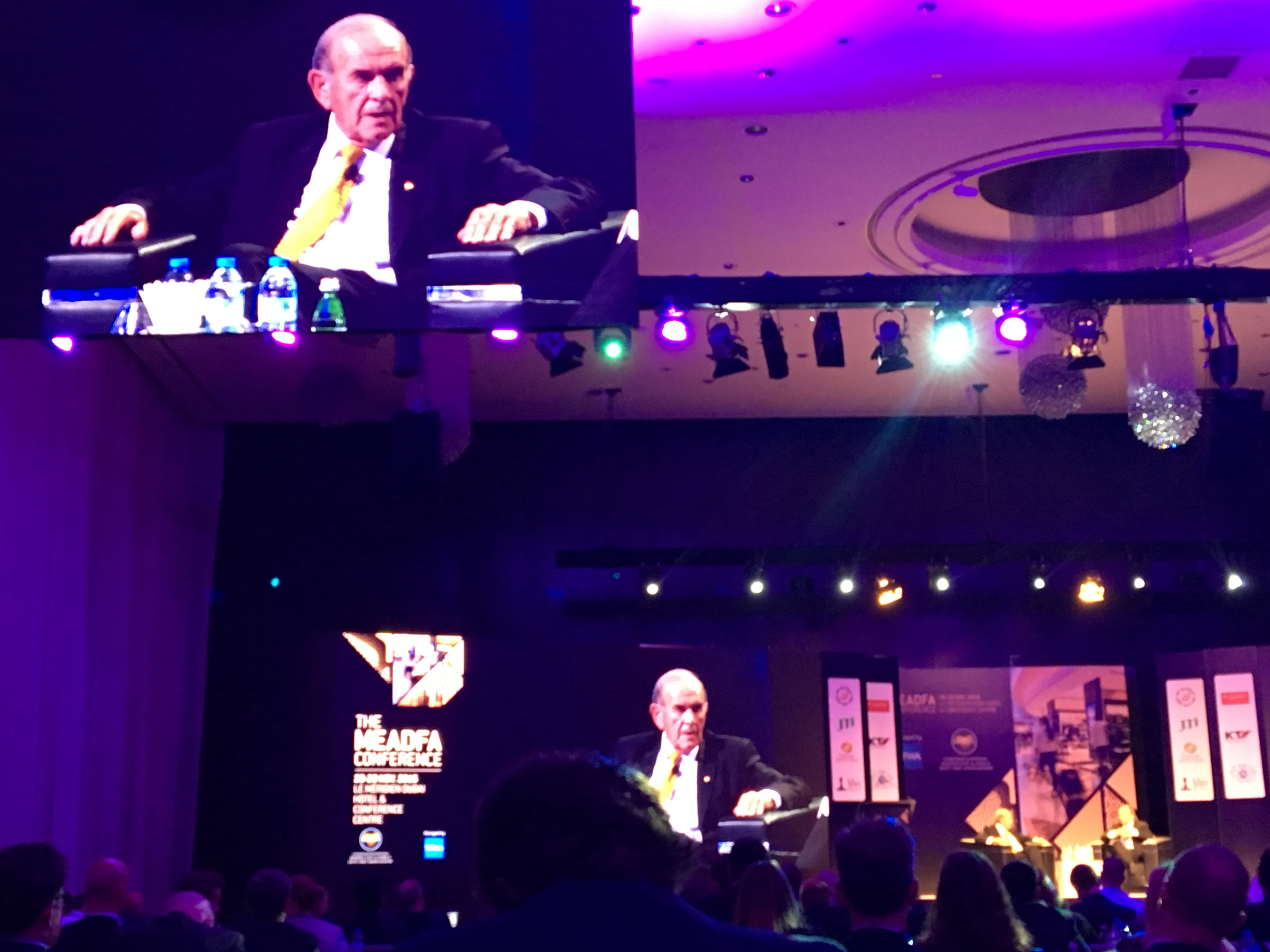 Colm McLoughlin, the Executive Vice Chairman and CEO from Dubai Duty Free (pictured above) spoke candidly about their business and how despite a recent slowdown in sales (-3% yoy), Dubai Duty Free has still managed to deliver its bottom line P&L budget targets. Recent trends have impacted on the sales per head which had increased year on year until 2016, with the FX currency fluctuations also having an impact. However, the plans for the future remain ambitious and positive, with a new airport planned for 135M PAX capacity bringing the total to c. 240M PAX for Dubai once opened. Other changes and recent developments include the introduction of VAT to domestic market in 2018 and the impact of the one bag rule to passengers travelling through the airport with certain airlines.
The Chairman and CEO of Lagardere Travel Retail, Dag Rasmussen (pictured above), spoke next about the company's ambitions for the region. This is in no doubt influenced by the spend per basket for the Middle East $150, compared to other regions at $80 Europe, $85 ASPAC, $90 America. The three pillars of Lagardere TR are local uniqueness; retail excellence; partnerships and they see themselves as an 'omni-channel' retailer with the desire to speak to passengers before they travel and equally to listen to them afterwards also. Use of technology was a prominent topic and this was to be accelerated via partnerships such as one with Holition agency. There were some interesting concepts shared such as the 'Liquor Discovery Desk' and the specific use of existing ones, such as Click & Collect in New Zealand and its impact with a 20% share of the business. Finally, Dag raised the question of where the GTR channel will be in 10 year's time and stressed that we as a trinity cannot follow in the footsteps of supermarkets or department stores as GTR is a different environment altogether. There has to be a 3rd option with great entertainment, architecture, retail and foodservice.
"We cannot wait for what travel retail will become, we have to act." Dag Rasmussen
This session was followed by a 'Retail 2025' discussion with speakers such as Jason Ming from ThoughtWorks and Joseph Francis Bihag from Almost Impossible DMCC. They touched on different elements of future retail such as Immersive technology (e.g. google contact lens; Alibaba shopping using 'magic leap') suggesting that future stores will have bi-directional mixed reality experiences; Semantic technology (e.g. tensor flow from Google, open source software library for machine learning); Deep Data (e.g. treat bricks & mortar how you treat eCommerce sites) highlighting the four layers to current intelligence retail analytics: sensor; processing; analysis; presentation; and finally Hybrid technology (e.g. reality editor from MIT Labs). Other worthwhile messages coming out of this session were the nature of evolving interactions and how apps are being used less (77% of people in the US do not use an app again 72 hours after downloading) and just one 'thing' or platform or app with lots of services is more likely to be used, such as WeChat.
There were also other speakers with interesting presentations such as: Christopher Tantoco (IDFS Morocco); Ahmet Kotehne (ATU Duty Free); Suzie Wokabi (local entrepreneur and founder of Suziebeauty); Paul Topping (Flemingo International); Blacky Komani (Tourvest).
The next day was the same with more speakers with different stories to tell such as: TV journalist and Middle East expert Jay Tuck; Vrinda Singh (Google Dubai); Elena Nikolova (Muslim Millenials blogger); Sarah Branquinho (ETRC); Andrea Belardini (DUFRY); Sinead el Sibai (Dubai Duty Free); Luis Gasset (Qatar Duty Free); Stewart Dryburgh (Nestle); Philip Heine (JTI).
Most of the above were covered either in full or in part through the other links provided through the travel retail press.
Finally, the Aer Rianta (ARI) CEO, Jack MacGowan (pictured below), explored how the industry needs to adapt for the future. The key message was how the Travel Retail industry needs to redefine how travel retail offers value to the consumer. Jack challenged the industry on what they were going to do about it. The issues were clear: huge variations in penetration rates, customer is not as excited or engaged with duty free s they once were and the absolute need to 'redefine' the duty free promise i.e. too easy to just cut price and discount.
"This business is about relationships, it is about people." Jack MacGowan
Jack shared an excellent video looking into the Duty Free Channel in 2016 – for a link click here.
The value proposition 'redefined' needed to look into: price messaging; product; customer experience. In terms of price, according to ARI research, only 1 in 4 passenger actively look to price benchmark, therefore rather than price cuts a more compelling message would be to create an industry 'price guarantee'. In terms of product, he suggests that we should focus on exclusive and personalised products that customers will not be able to find elsewhere. In terms of the customer experience, customer service can really help differentiate with a seamless shopping service, indulgent services (such as click & collect) and highly trained staff. Ultimately, we should be creating points of interruption that surprise and deliver a memorable experience to the passenger/ traveller…
"Continuous discounting will ultimately devalue the channel." Jack MacGowan
One last piece of advice (this time from my own experience whilst there), watch out for the Camels on the road when driving in the Middle East….