Ahead of yet another week spent in Cannes, as part of the annual TFWA World Exhibition & Conference duty free show, I have decided to look back on some material available about the industry.
Duty-free operators compete in a specialist market, sensitive to legislative issues, the whim of international travellers, currency fluctuations and the efforts of airlines, shipping companies and tour operators.
This comment is from John Nickols' first editorial piece in issue 1 of Frontier Magazine back in May 1984. Some of it could still apply today, 32 years later.
A note of thanks to Frontier Magazine, as anyone interested in reviewing the past of global travel retail/ duty free channel can do so by checking their back catalogue here.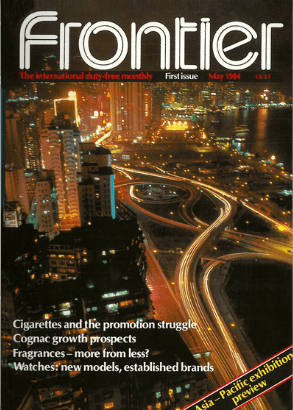 Even back in 1984, the industry was concerned with penetration levels (i.e. number of people going into the store) and realised that there was plenty of untapped potential as the number of travellers who did not shop at airports far outweighed the number who did shop.
The main duty free markets used to be Europe and the Far East, and although this remains the case today with Asia powering past Europe as the top region, the Middle East has caught up also with Dubai Duty Free the number 1 in airport sales.  As a region, the Middle East has developed tremendously with plenty of support from the pioneers from Ireland. This should be no surprise given that the entrepreneurial Irish were the brains behind duty free at Shannon Airport in 1947.
Below an extract of the editorial reviewing airline sales by John Nickols from Frontier magazine.
A particular and personal area of interest is Scotch whisky and this was a main product offering from duty free in 1984 just as it remains the case to this day. Below was a picture of the William Grant & Sons' travel retail team in those days. It should be no surprise that the duty free channel (or Global Travel Retail) remains an important channel for this independent family company.
Duty Free experienced first hand the change in attitude and growth behind the Single malt Scotch whisky category, as per the article below indicates, as at the time it was dominated by Blended Scotch (see table).
It is always fascinating to look back in the past, to learn and try to find new ways of moving forward into the future. The individuals involved may have changed in duty free since 1984 but the industry remains strong and growing, and this will be celebrated once again in Cannes in early October during the TFWA World Exhibition & Conference.