This post is all about becoming a member of one of the most exclusive clubs, certainly in the Drinks Industry – the world of the Brand Ambassador.
It is a tough job for sure, but someone has to do it…so what do you need to make it happen?
Get involved! The first step is to become involved with the brand of your dreams. Forget about whether or not you work directly for the company that owns that brand for a second. You need to show that you care and share that with others around you, whether in person or online and via social media. Become an advocate and get noticed. Try to find ways to work on a voluntary basis or through a 3rd party company in association with the brand if no jobs are available right now (with the brand). Your desire for the brand should come through and in time more opportunities should open up. Quite a few people come to mind over the last few years when I think of those who want to be a Brand Ambassador – you always remember them well.
Be Passionate…about the brand and its industry and have this as your most defining characteristic. Champion the product and demonstrate a knowledge of its creation and admiration for its potential. Influential people (whether in the trade or consumers) are cynical, savvy and immune to spin. The best way to cut through is to develop an open communication with them which comes from the heart, through a personal relationship with a Brand Ambassador.
Below is a picture of myself (far left) with the legendary Tullamore DEW Irish Whiskey Global Brand Ambassador, John Quinn (far right)
Just as a Scout would, be prepared. Never underestimate how many eyes are on you, whether it is a training session, a tasting you are conducting or a full-on function, so make sure you are ready and raring to go. Understand your own strengths and delegate the rest to people who you trust to do the brand justice. Be a perfectionist, but not a control freak – it is a fine balance. Prepare, prepare, prepare and try not to stress!
Video with Ludo Ducrocq, who used to be the Grant's Scotch Whisky Global Brand Ambassador (note that at the time this post was written, the position was being held by Rob Allanson – Rob Allanson becomes Grant's Global Brand Ambassador )
Be Nice.  Everyone knows everyone in the industry. Don't give anyone an excuse to dislike you. Remember also that you are an ambassador for the category and industry, not just your brand, so never knock the competition. You do not have to convert the world, just be friendly and patient.
Picture below with the Brugal Rum Maestro Roneros, Gustavo Ortega (center with glasses) and Jassil Villanueva (third from right), 5th generation from the Brugal family and an example for any Brand Ambassador to follow.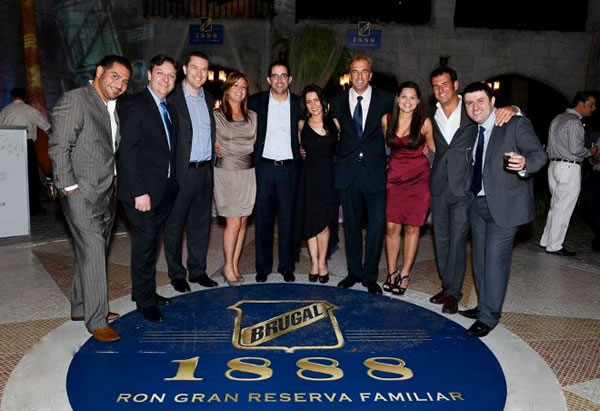 Be Cool. At events, do not stress over logistics, mingle with guests. Always be constructive. If you need to have a go at someone, do so in private. A brand ambassador cannot afford to ever lose their cool in public.
Picture taken at Viking Whisky Fair event – can you spot the ambassadors?
Get your passport out and be ready to travel (a lot)…but also have a virtual profile. A Brand Ambassador cannot be everywhere at once, so an online virtual profile is key (Facebook, blogs, Twitter, etc). But nothing beats the opportunity to interact with people face to face, so have the passport ready for some travel.
Picture below of the famous Glenfiddich Global Brand Ambassador, Ian Millar (on the right) whilst in Turkey.
Live the values of the brand and be a character. Understand what makes your brand special beneath its surface and hopefully discover that you share those same values. Live up to your brand ethos and be authentic. There is no definitive approach to take for Brand Ambassadoring, but it should be looked upon as the role of a lifetime.
Lastly, Be Yourself!
Being a Brand Ambassador means passing on enthusiasm about your brand in any number of ways.
"The only limits are your imagination" Oscar Wilde
Note: All views on this post are my own and may not necessarily reflect the views of my employer. Others quoted on this post were used for context only.
This blog was originally published in September 2015 on LinkedIn